SC Braga cruise into their seventh consecutive semi-final as Grand Motte, Falfala and Casa Benfica make history
---
– Four teams left in race for European title
– Falfala comeback to win Israeli derby
– Braga breeze into semis with eight goals
There are now just four teams left in the contest for the Euro Winners Cup, as an intense day of quarter-finals decides tomorrow's pairings.
Falfala comeback to edge Israeli derby
Rosh Haayin went ahead in their quarter-final match against Israeli rivals thanks to a brilliant strike from Ze Lucas and a Catarino header to lead the first period. Falfala's stars came to life in the second 12 minutes to get right back in the match with goals from Swiss star Noel Ott and Moad.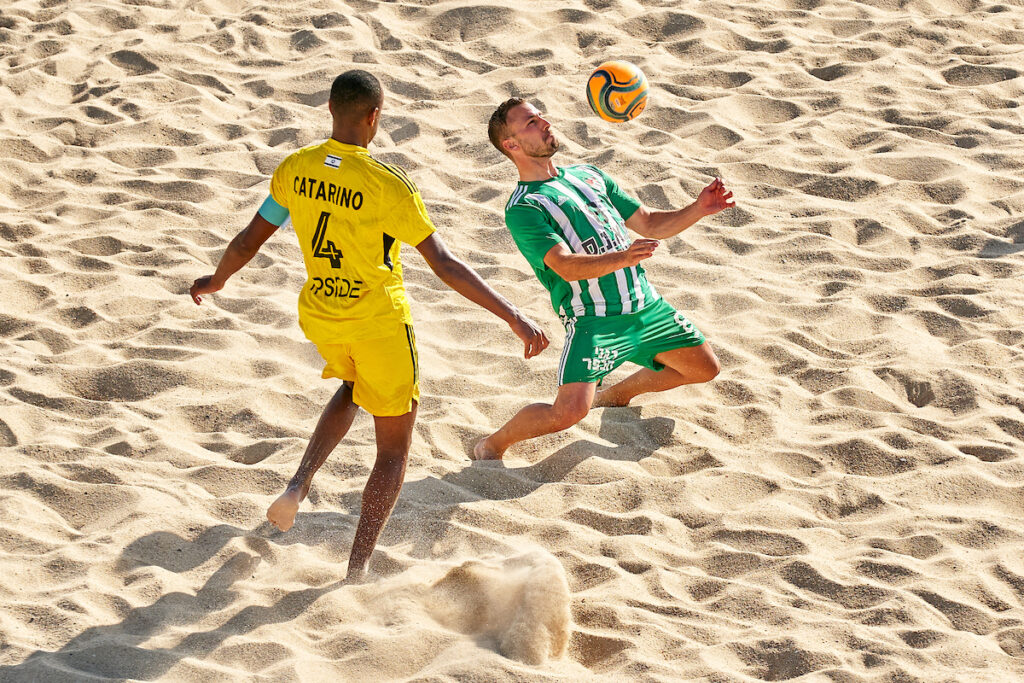 The final period was just as tight, as Moreb converted a set-piece to put Falfala ahead for the first time, but Elihay chipped the keeper from distance to have Rosh Haayin back on level terms with just minutes to go. It was with just seconds on the clock, however, that Noel Ott rose to meet a long pass from keeper Eliott to nod in a dramatic winner and seal a place in the semi-finals.
Braga remain unbeaten to reach eighth final
The Portuguese champions cruised, as they have so often in the campaign in Nazaré, to victory against their Turkish rivals Alanya in their quarter-final match. Filipe kicked the match off with two stylish goals and Leo Martins continued his prolific form with a strike of his own.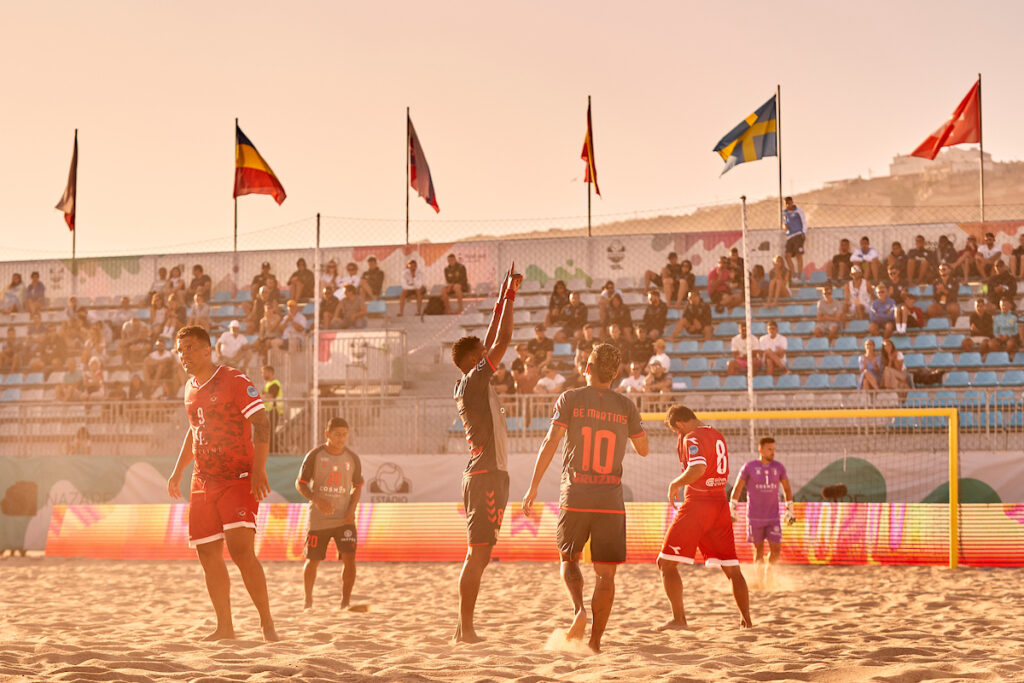 Thanger then joined the scoring as the second period began, as Alanya BS threatened rarely and in the final period Braga didn't show any mercy as Filipe took his final tally to four for the day, and Leo Martins bagged a hat-trick. Braga will now face Grande Motte in tomorrow's semi-final.
Spaniard Chiky knocks out Levante in extra time
In the heated quarter-final match, Casa Benfica and Levante tussled in a closely-fought Iberian derby, but nether side was able to break the deadlock during the first two periods, and the keepers were kept busy. It was the World Cup top scorer, Glenn Hodel, who final found the net with a well-worked goal to give Levante the advantage, but Andre equalised to force extra time.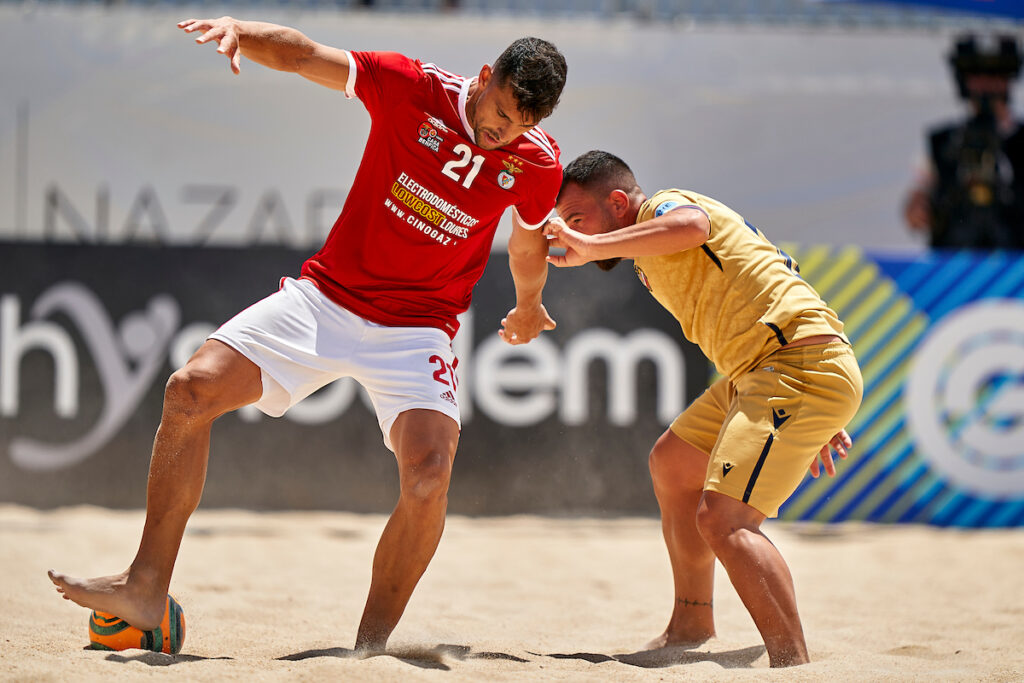 Batalha thought he'd won it for Benfica but Pedro put away an incredible bicycle kick moments later. A winner did come though, and it was Spanish international Chiky, against many of his La Roja teammates, who put away the decider with just 30 seconds to go. Casa Benfica will play Falfala in the battle for the final, as both clubs reach the last four for the first time.
Grande Motte hang on to edge Copenhagen
Grande Motte and Copenhagen met in a fierce and tense, but low-scoring, quarter-final in Nazaré, and sloppy finishing by the Danes had Grande Motte leading at the first whistle through a spectacular strike from French international Seb Huck.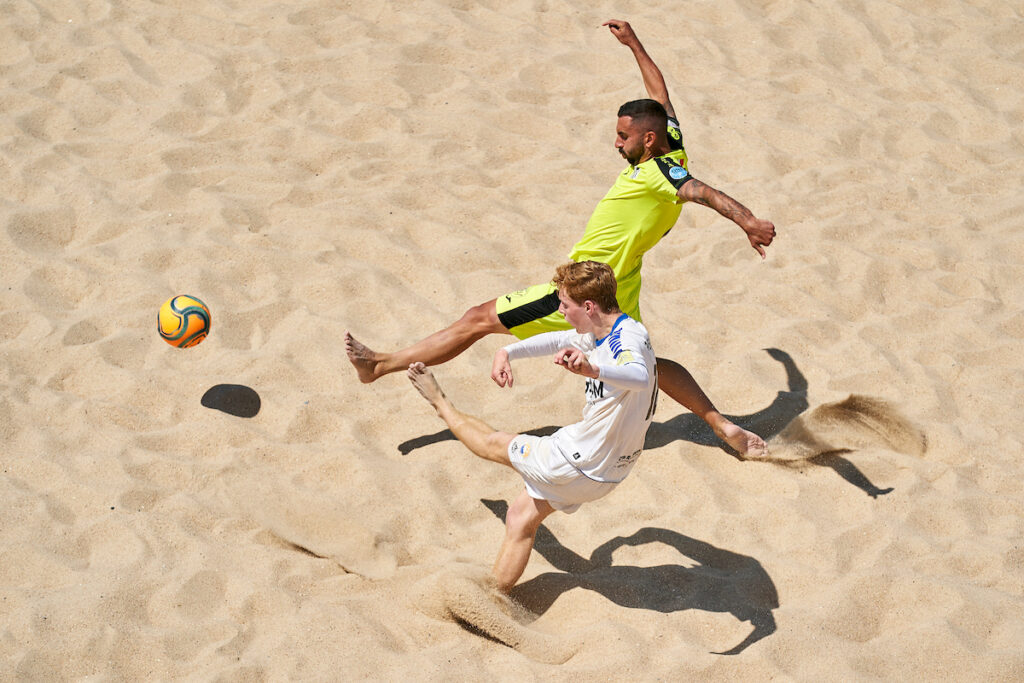 Kuman leapt on a defensive error to make it two in the final period, and although Copenhagen finally broke through the French backline with a Damm freekick, it wasn't enough to save Copenhagen from exiting the competition. It was an historic win for Grande Motte, who become the first ever French club to reach the semi-finals. They will now face their biggest test yet against the three-time champions, SC Braga.
Playoffs
There were wins for Sporting, Boca Gdansk, Pisa BS and Husty in the race for ninth place. In the other tussles for as high a finishing spot as possible, Huelva beat Bemannia, ACD O Sótão mounted an amazing comeback against Atlas, Bavaria beat Portsmouth while Slavia Praha and SK Augur needed extra time to down Spartak Varna and Vamos Manage.
Watch all of the action live on Recast.
RESULTS
Quarter-finals
Copenhagen BSC (DEN) 1-2 Grande Motte (FRA)
Casa Benfica De Loures (POR) 3-2 Levante UD (ESP) *AET
Falfala KQ BSC (ISR) 4-3 Rosh Haayin BSC (ISR)
Cityline Alanya (TUR) 0-8 SC Braga (POR)
Playoffs
Bavaria Beach Bazis (GER) 5-3 Portsmouth (ENG)
Spartak Varna (BUL) 4-5 SK Augur Enemat (EST) *AET
BS Slavia Praha (CZE) 5-4 Vamos Manage (BEL) *AET
BSC Husty (SVK) 4-2 Marseille BT (FRA)
Pisa BS 2014 (ITA) 7-6 Newteam Brussels (BEL)
FC Baggio (FIN) 0-3 BSC Nistru (MDA)
West Deva (ROU) 4-5 Boca Gdansk (POL)
Beach Royals Dusseldorf (GER) 8-3 Rostocker Robben (GER)
Recreativo De Huelva (ESP) 5-2 Bemannia FC (SWE)
Atlas A.O. (GRE) 4-7 ACD O Sótão (POR)
Sporting CP (POR) vs Napoli Patron (GRE)
For full details on the Euro Winners Cup, including groups, fixtures, results and standings, head to beachsoccer.com.