Spain and Italy will fight in the quarter-finals for a place at the FIFA Beach Soccer World Cup
---
The FIFA Beach Soccer World Cup 2021 European Qualifier has all of the final eight sides decided after Matchday 3 saw Azerbaijan and Switzerland make the cut.
The nations that qualified on Tuesday found out who they will be playing on Friday in the tussle for the highest finishing places.
The defending world and European champions Portugal, after an incredibly tight win over Ukraine, will play Azerbaijan after topping the Group A and Italy will play Spain meaning that one of the Mediterranean sides will not be going to the World Cup.
Switzerland won again to earn a knockout match against Ukraine and Belarus, after beating Spain in dramatic fashion, will take on Germany.
SUI 6-5 FRA (Group D)
Group D was the only one of the four where the places in the knockout stages were not already decided ahead of Matchday 3, as France looked to match Switzerland's six-point tally by claiming a normal time win against the Nati.
But the worst thing you can do in a match against Switzerland is take the lead, and that is exactly what France did, as Basquaise hit a brilliant twisting bicycle kick to get France off the mark.
The Swiss press came immediately, but in the end, it was the French defender Tremoulet who redirected the goal into his own net while attempting to stop Glenn Hodel doing exactly that.
Borer and Ott then slotted home brilliant set pieces to extend the lead before the first whistle. Switzerland claimed the next period 3-1 too, with a second for Ott, as well as strikes from Spacca and Ostgen. Barbotti slotted away the French reply.
However, in the final period, Claude Barabe's men surged onto the sand with goals – and not your average goals – from Belhomme, Basquaise, and in the last minute Seb Huck smashed in a fifth to put France just one behind at 6-5.
But Schirinzi's men held strong in the face of a Swiss-style comeback, and top the group, taking Azerbaijan through to the next round with them. Switzerland will now play Ukraine on Friday.
Goals: 0-1: Basquaise, min. 10 (1); 1-1: Tremoulet (OG), min. 7 (1); 2-1: Borer, min. 6 (1); 3-1: Ott, min. 4 (1); 4-1: Ott, min. 10 (2); 5-1: Spacca, min. 9 (2); 6-1: Ostgen, min. 5 (2); 6-2: Barbotti, min. 4 (2); 6-3: Belhomme, min. 5 (3); 6-4: Basquaise, min. 1 (3); 6-5: Huck, min. 0 (3);
ESP 3-4 BLR (Group C)
Both sides were already through to the knockout stages ahead of today's tie, but the reward for a win today would be facing the loser of the later game between Italy and Germany, in what would be a straight shootout for a World Cup place…
Llorenç Gomez, whose famed left foot sealed the quarter-final spot with an extra time freekick yesterday, converted another one against Belarus in the opening section of the battle for the Group C top spot.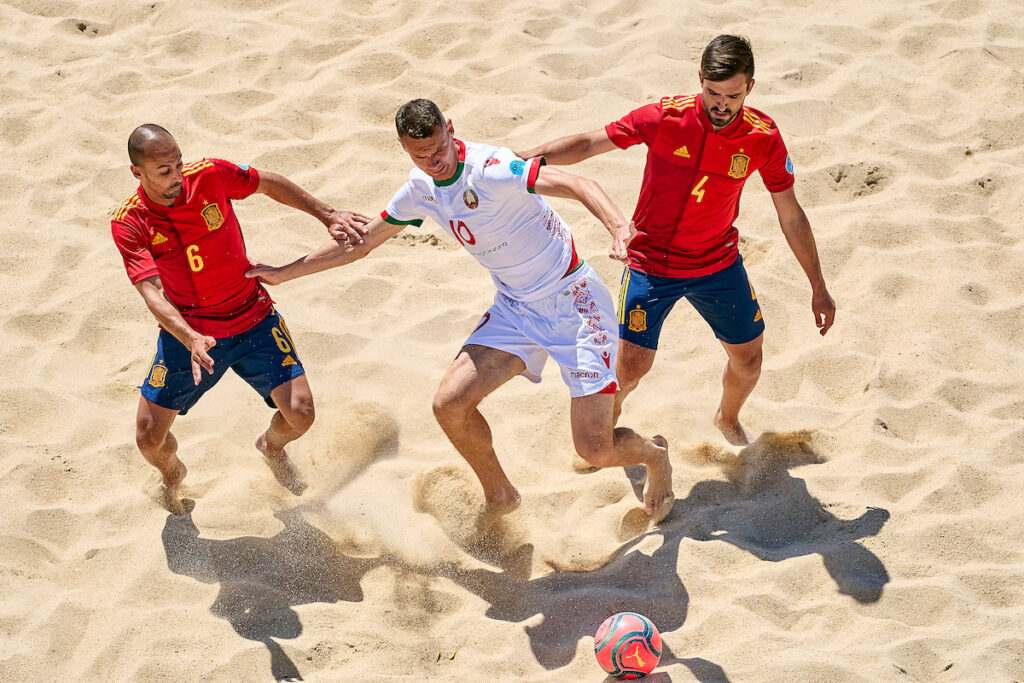 However, Belarus were straight back at La Roja with a deflected shot straight from the kick-off. In a spell of Spanish domination, Javi Torres redirected a long throw to head home a second, and then David Ardil powered in a third with the outside of his right foot.
Either side of the second break, Ryabko and Piatrouski – with the goal of the game – got Belarus back on level terms.
Javi Torres had a golden opportunity to convert a close-range freekick, but moments after he saw it saved, Hapon hit a low shot to complete the turnaround for Belarus to clinch Group C first place in the final seconds!
Alvarado's men are now one win away from their second consecutive World Cup qualification.
Goals: 1-0: Llorenç, min. 8 (1); 1-1: Novikou, min. 8 (1); 2-1: Javi Torres, min. 10 (2); 3-1: David Ardil, min. 10 (2); 3-2: Ryabko, min. 4 (2); 3-3: Piatrouski, min. 7 (3); 3-4: Hapon, min. 0 (3);
ITA 3-1 GER (Group B)
Spain awaited the winner of this contest, in the shootout for a World Cup place, while Belarus would be the opponent for the loser.
Josep Jr has been in exceptional scoring form in the 2021 season so far, and it was he who calmly controlled a throw to volley home the opening goal midway through the first period.
A slim advantage intact, Italy started the second period with another strike from the young number two, who won the Rising Star award in the Beach Soccer Stars event in Dubai in 2019.
The goal of the game, however, came from the seasoned Azzurri number nine Zurlo who found the top corner from an unreasonable distance with a freekick, but German got off the mark from the restart when Biermann volleyed in Germany's first.
There were late chances but the final whistle of the day sounded with Italy's lead intact, and their meeting with their Mediterranean rivals confirmed.
Goals: 1-0: Josep Jr, min. 5 (1); 2-0: Josep Jr, min. 10 (2); 3-0: Zurlo, min. 6 (3); 3-1: Biermann, min. 5 (3);
POR 1-0 UKR (Group A)
Portugal had been a long way from their brilliant best in the campaign so far, and struggled to break down a Ukraine team who sit 17 places below them in the Official World Ranking.
Known for being a defensive and physical side, Ukraine held their line and pushed forward, showing no fear in the face of the world champions.
Andrade was called into urgent action on several occasions in the first period, but some breathing space came for Narciso's Portugal when Be Martins, who assisted two and scored one yesterday, drilled in the opener.
But that was all Portugal could manage and they fought furiously to keep some of the best strikers of the ball, such as the vicious left foot of Medved, at bay. As the third period stretched on, Andrade was fast-becoming the busiest player on the sand, making incredible save after save to maintain the slim advantage.
In the end, it was his heroics that won Portugal the match as Ukraine just could not get past him; Ukraine may have lost the match, but they clearly showed that they are a real contender to be competing on the world stage in Moscow.
Portugal will now play Azerbaijan, while Ukraine are set to face Switzerland in the all-important match for the reason Europe's teams made the trip to Nazaré – one of the places at the FIFA Beach Soccer World Cup.
Goals: 1-0: Be Martins, min. 8 (2);
AZE 4-3 EST (Group D)
There was everything to lose in the opening game of Day 3 of the European Qualifier, in one of the few ties which could still influence the teams making the next round.
Estonia, coming from the Preliminary Round for Division B European teams, were technically the underdogs, but they were ahead after just seconds.
Juha scrambled the ball over the line within the first minutes following confusion in the Azerbaijani penalty box, and Lepik converted a penalty minutes later, calmly sending Elchin diving the wrong way.
Defender Laurits also scored before the break, but he nodded the ball over his own keeper into the Estonian net, gifting Azerbaijan a precious goal. The second period remained locked in this stalemate, until the third period when Orkhan looked to have won it with two minutes to go but a sublime strike from Estonia keeper Kotter equalised with ten seconds on the clock.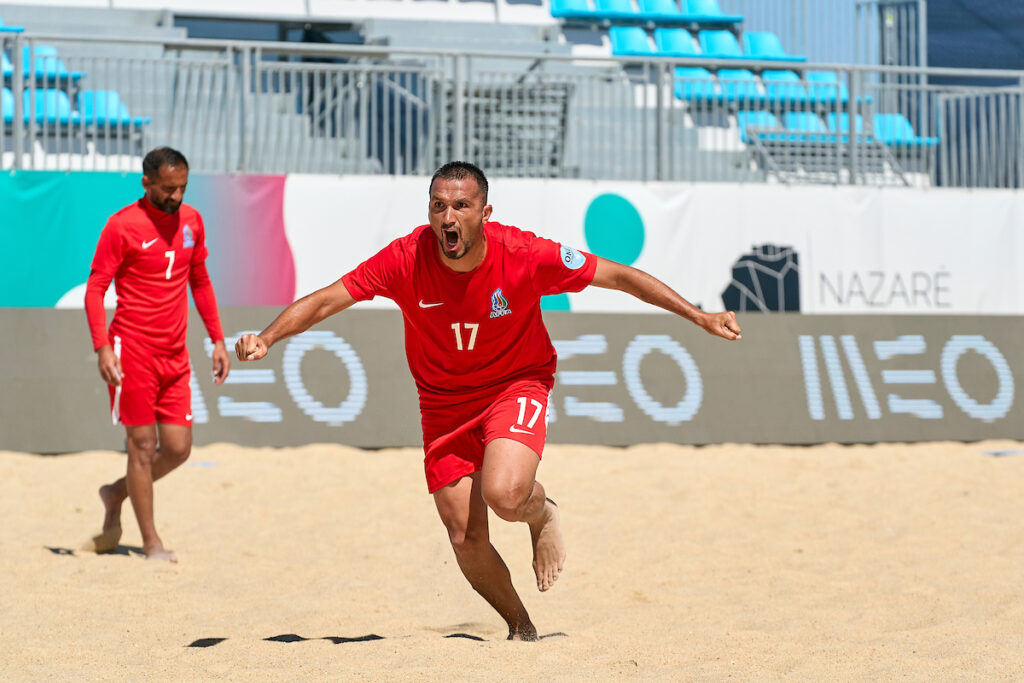 There was time for one last goal though, and it came straight from kick-off as Sabir pounded in the winner, his fourth of the campaign and by far most important.
Estonian hopes were crushed at the last moment, they exit the competition while Azerbaijan wait tentatively to see if Switzerland beat France to grant Zeynalov's men a place in the knockout stage.
Goals: 0-1: Juha, min. 11 (1); 0-2: Lepik, min. 7 (1); 1-2: Laurits (OG), min. 3 (1); 2-2: Elchin, min. 2 (1); 3-2: Orhkan, min. 2 (3); 3-3: Kotter, min. 0 (3); 4-3: Sabir, min. 0 (3);
POL 3-1 NOR (Group C)
Hopes of a place in the knockout stages had been snuffed out for both of these sides on Day 2, but three points and a third-place finish were at stake in the final group match.
Poland had had no shortage of goals in the campaign so far, having scored eight against two of Europe's top sides, and they opened the scoring against Norway, as Papierniak and Klopec powered in first-period goals.
Klopec fired in a third from his own half and although Rasch turned in a consolation for Norway, Poland hung on for a final group stage win, and will continue in the playoffs tomorrow to battle for ninth place.
Goals: 1-0: Papierniak, min. 9 (1); 2-0: Klopec, min. 2 (1); 3-0: Klopec, min. 8 (3); 3-1: Rasch, min. 0 (3);
DEN 3-4 ROU (Group B)
Romania's star player in Nazaré has been keeper Andrei Paul, as he scored three goals in three games in the Preliminary Round and netted his fifth the kick-off the battle for the Group B third place.
Denmark's dangermen, Casper Dorph and Axel Damm, forced the Romanian keeper into splendid action, and Pislaru hit a second to double the Danish deficit at the break.
In a scrappy second period, Toma put away a set piece for Daniel Petcu's side, but soon after Axel Damm did the same for Denmark, who were a different team in the final period. Wegeberg polished off a twisting run through the defence and then Damm set himself up for a second strike from distance.
However, a late Zaharia goal won the third place for Romania, as a spirited Denmark suffer a third group defeat.
Goals: 0-1: Andrei Paul, min. 9 (1); 0-2: Pislaru, min. 5 (1); 0-3: Toma, min. 3 (2); 1-3: Damm, min. 1 (2); 2-3: Wegeberg, min. 10 (3); 3-3: Damm, min. 8 (3); 3-4: Zaharia, min. 5 (3);
TUR 3-1 KAZ (Group A)
Turkey and Kazakhstan had lost both of their opening games but now fought for pride, points and a third-place finish in Group A.
A physical and high-intensity first period somehow went the entire 12 minutes without goals, but not long into the second, Baris' spinning shot couldn't have been more in the top corner as Turkey nosed ahead.
In a crazy 10 seconds of play, Demeshko equalised with a decent strike but after the restart tried a no-look pass back to his keeper, which ended up in the back of the Kazakh net, restoring the Turkish lead.
Emrah Aykurt's men dominated the final period and pushed their lead to four with a second goal from Baris, and clinical finishes from Cem Keskin and Semih to wrap up a third-place finish.
Goals: 1-0: Baris, min. 9 (2); 1-1: Demeshko, min. 7 (2); 2-1: Demeshko (OG), min. 7 (2); 3-1: Baris, min. 11 (3); 4-1: Cem Keskin, min. 8 (3); 5-1: Semih, min. 4 (3);
For full details on the FIFA Beach Soccer World Cup European Qualifier, including standings, stats and fixtures, head to beachsoccer.com.