Portugal, Ukraine, Italy, Germany, Spain and Belarus take one step closer to the FIFA Beach Soccer World Cup
---
The first teams made the final eight and six nations exited the FIFA Beach Soccer World Cup 2021 European Qualifier, after two matchdays in Nazaré, Portugal.
Groups A, B and C have their two places in the next round filled, while the games in Group D will be the ones to watch tomorrow, as the final two spots will be contented.
Philipp Borer remains top of the scoring chart as Switzerland won their second game but are still not officially confirmed as one of the quarter-finalists, while Gabriele Gori marked a huge win over Denmark with his milestone 300th got for the Azzurri.
But the most thrilling game, a straight shootout for survival or the first place in the knockout stage, saw Spain take on Poland…
ESP 7-6 POL *AET (Group C)
Spain scored eight and Poland conceded eight in yesterday's matches, but the Poles were the sharper of the two sides in the opening period of their match on Day 2.
Becker slotted in a low shot which totally caught Dona by surprise between the Spanish sticks. Chiky burst down the right wing to smash in an equaliser but the Spanish relief was short-lived as Klawikowski curled the kick-off round the wall to make it 1-2.
With just two minutes of the period remaining, Gac nodded over the encroaching Dona to make it three. Jesionowski began the second period with a rocket from his own half and just when it looked like Poland were running away with the match, Javi Torres expertly put away a freekick after the restart and then Chiky hit a third.
Polish heads did not drop though, and Wardzinski and Madani hit numbers five and six for the White and Reds. Spain needed a hero, and he came in the form of the number 11 Chiky, who hit two either side of a fine Domi strike to mount a brilliant comeback and force extra time!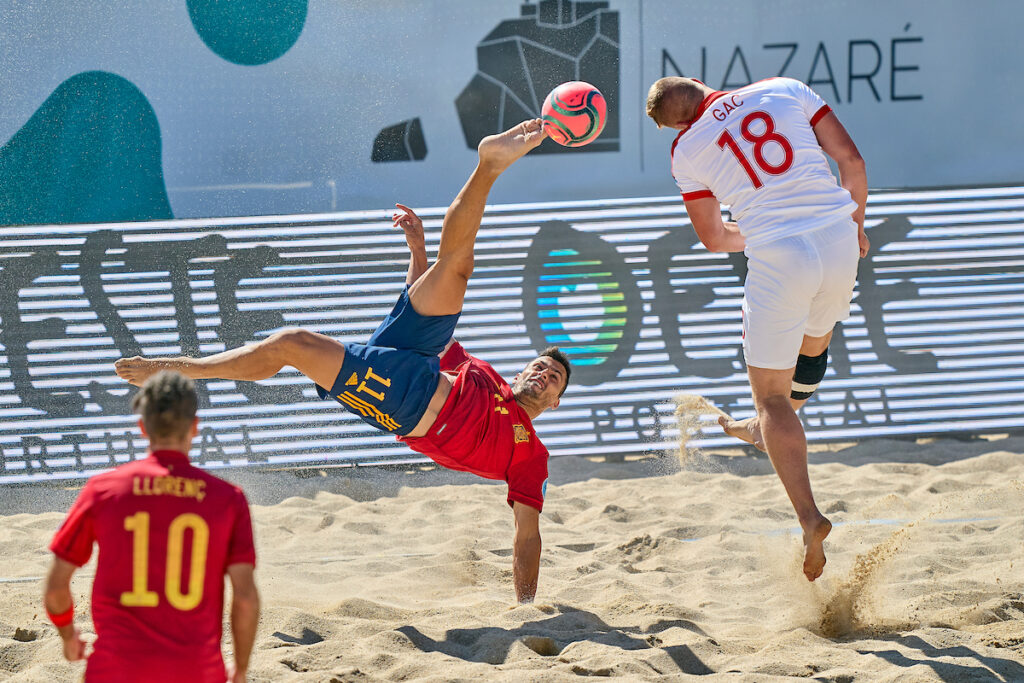 In the dying seconds of the added minutes, Llorenç, 2018 Best Player in the World, stepped up to curl a freekick home and snatch the victory at the death!
Their second loss in as many days means that Poland, despite leading for much of the match, will not be repeating their heroics of 2017, when they qualified to the FIFA Beach Soccer World Cup in Bahamas. Spain, on the other hand, are through to the knockout stages and take Belarus with them from Group C.
Goals: 0-1: Becker, min. 11 (1); 1-1: Chiky, min. 3 (1); 1-2: Klawikowski, min. 3 (1); 1-3: Gac, min. 2 (1); 1-4: Jesionowski, min. 9 (2); 2-4: Javi Torres, min. 7 (2); 3-4: Chiky, min. 6 (2); 3-5: Wardzinski, min. 3 (2); 3-6: Madani, min. 2 (2); 4-6: Chiky, min. 10 (3); 5-6: Domi, min. 7 (3); 6-6: Chiky, min. 5 (3); 7-6: Llorenç, min. 0 (ET);
SUI 8-5 AZE (Group D)
Switzerland scored an incredible 12 goals against Estonia yesterday but their leaky defence allowed their Division B opponents to find the net on four occasions.
Glenn Hodel powered in a brilliant bicycle kick to open the scoring but a bizarre rebound from an Eliott shot saw Jomard inadvertently equalise from his own penalty box. Hodel scored again with just 10 seconds of the first period left to snatch the lead back.
After the break, Orkhan did well to make space for a shot and pulled the men from the Land of Fire level again. However, the usual suspects Dejan Stankovic and Noel Ott converted set pieces to get on the scoresheet, and Hodel completing a hat-trick. Ostgen also scored to take the Swiss tally to seven, but once again, conceding remained an issue…
Defensive and goalkeeping errors permitted the clinical and ruthless Azerbaijani strikers to punish Schirinzi's men and pull the score back to 7-5. Sabir pounced on a parried save and then Orkhan chipped a stranded Eliott from distance to complete his hat-trick.
Switzerland held on though, and competition top scorer Philipp Borer bagged his fifth of the campaign to make it 8-5 in style, picking the pocket of the defender, dribbling round the keeper and chipping the ball over the head of the last man on the goal line.
Shaky at times, but Switzerland have six points out of six and are on the brink of making the last eight, while Azerbaijan may well find themselves in a straight shootout for a place in the quarter-finals when the play France tomorrow.
Goals: 1-0: Hodel, min. 5 (1); 1-1: Jomard, min. 3 (1); 2-1: Hodel, min. 0 (1); 2-2: Orkhan, min. 7 (2); 3-2: Ott, min. 6 (2); 4-2: Ostgen, min. 6 (2); 5-2: Hodel, min. 5 (2); 6-2: Stankovic, min. 3 (2); 7-2: Ott, min. 11 (3); 7-3: Orkhan, min. 10 (3); 7-4: Sabir, min. 6 (3); 7-5: Orkhan, min. 6 (3); 8-5: Borer, min. 2 (3);
POR 4-2 TUR (Group A)
Despite winning all their games in the EBSL Regular Stage and their first match in the Qualifier yesterday, Portugal hadn't been performing at their usual impeccable level, conceding more and scoring less than many expected.
Their opening period was slow against a Turkey side who have also suffered a noticeable dip in form recently, but Leo Martins linked up with his twin brother Bernardo, to power home the first. Moments later Belchior doubled the lead when his penalty was saved but he bundled the loose rebound over the line.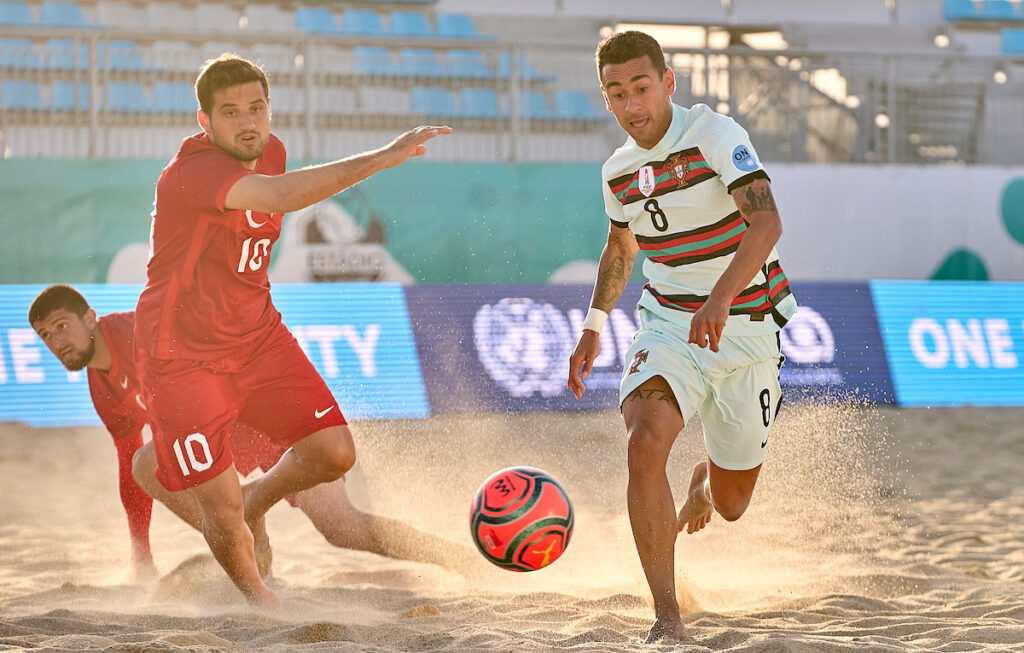 Another moment of Martins magic saw Be assist Leo again to double his tally in the second period and in the third his Bernardo added a goal to his two assists. But the ever-dangerous Cem Keskin could not be kept out forever, and the number 10 lead the charge for the comeback.
Keskin netted two, the second coming just a minute before the final whistle, but it wasn't enough to save their chances of winning a place in the next round.
Another 4-2 Portugal win sends the reigning world champions, as well as fellow Group A team Ukraine, through to the knockout stages.
Goals: 1-0: Leo Martins, min. 3 (1); 2-0: Belchior, min. 3 (1); 3-0: Leo Martins, min. 0 (2); 4-0: Be Martins, min. 10 (3); 4-1: Cem Keskin, min. 6 (3); 4-2: Cem Keskin, min. 1 (3);
ITA 12-0 DEN (Group B)
Italy had struggled in their first match against Division B side Romania but in their second group match, it was a very different story.
Denmark had done extremely well to win their match in the Preliminary Round and finish as the top side from the initial stage, but when the Azzurri are in the mood, there is very little defenders can do to stop them.
Zurlo rifled in the opener after five minutes, then Marinai sent a missile from deep in his own half, right into the top corner, but the next goal was a very special one…
Gabriele Gori scored a sublime bicycle kick which just happened to be his 300th for his country. From then on it was one-way traffic, as Frainetti, Percia Montani and Giordani also got their names in the match report. The goals just kept coming and apart from a few decent saves from the rotating Italian keepers, Denmark rarely threatened the goal.
Gori finished the match with a hat-trick, and as soon as the final whistle went he was presented with an Italy shirt with 300 printed on the back.
Italy's win means that they and Germany make the quarter-finals with a game to spare, and Denmark and Romania, who are now both out of the qualifier, will play for the Group B third-place finish tomorrow.
Goals: 1-0: Zurlo, min. 7 (1); 2-0: Marinai, min. 11 (2); 3-0: Gori, min. 9 (2); 4-0: Frainetti, min. 9 (2); 5-0: Percia Montani, min. 4 (2); 6-0: Marinai, min. 2 (2); 7-0: Frainetti, min. 0 (2); 8-0: Giordani, min. 11 (3); 9-0: Giordani, min. 9 (3); 10-0: Gori, min. 9 (3); 11-0: Zurlo, min. 9 (3); 12-0: Gori, min. 1 (3);
BLR 9-2 NOR (Group C)
Belarus scored eight and Norway conceded eight in their opening games of the FBSWC European Qualifier, and many may have written the Scandinavians off in this tie, but Belarus struggled to break them down.
It took an unstoppable overhead from Bokach to penetrate the Viking shield wall, but the team looking for their second consecutive World Cup appearance didn't find the net again until a Hardzetski penalty deep into the second period.
At just 2-0 with 11 minutes left, Norway were still in the game. They had their chances but Mahaletski was always there to deny them, but when the Belarus keeper scored a screamer in the final period as Belarus suddenly upped their attacking game, showing with devastating effect why they belong among Europe's elite teams…
The goals came in a tidal wave, Ryabko and Novikou bagging two each and captain Kanstantsinau and Piatouski also getting on the scoresheet to blow Norway away in the final third, taking the final tally to nine, one better than yesterday.
Jaaland and captain Salveson netted late consolations, and they will be looking for more when they face Poland tomorrow. Nico Alvarado's men go top ahead of the match against his home nation, Spain, who did Belarus a favour by beating Poland later on, sending both teams through to the next stage with their game still to play.
Goals: 1-0: Bokach, min. 6 (1); 2-0: Hardzetski, min. 8 (2); 3-0: Ryabko, min. 11 (3); 4-0: Mahaletski, min. 6 (3); 5-0: Novikou, min. 6 (3); 6-0: Kanstantsinau, min. 5 (3); 7-0: Ryabko, min. 5 (3); 7-1: Salveson, min. 1 (3); 7-2: Jaaland, min. 0 (3); 8-2: Piatouski, min. 0 (3); 9-2: Novikou, min. 0 (3);
GER 5-0 ROU (Group B)
Germany hit eight against Denmark yesterday, but it took them a long time to break down a tight Romanian defence who had performed so well against Italy.
The first period was a closely contested 12 minutes with squandered opportunities and brilliant goalkeeping maintaining a 0-0 scoreline. It was the number 10 Metzler who finally slotted in from close range soon after the restart to give Olli Romrig's men the lead.
Körner then bundled in a rebound for two, and before the second period was over Christian Biermann smashed in a superb overhead.
Die Mannschaft dictated the play from this point on, comfortable with their three-goal cushion as Romania appeared to tire and lose hope of a comeback. In the last period, Metzler and Biermann doubled their tallies for the day, wrapping up another three points for Germany who, after Italy won later in the day, are through to the final eight.
Romania will play Denmark in their last group game tomorrow, but they are now out of the running for a World Cup place.
Goals: 1-0: Metzler, min. 11 (2); 2-0: Körner, min. 8 (2); 3-0: Biermann, min. 3 (2); 4-0: Metzler, min. 10 (3); 5-0: Biermann, min. 5 (3);
UKR 6-1 KAZ (Group A)
Kazakhstan put up a decent fight against the world champions Portugal yesterday, while Ukraine struggled against Turkey but eventually took the three points.
A win today could see Ukraine qualify for the quarter-finals of the FBSWC Qualifier, and keeper Hladchenko got the ball rolling with a fine shot which took a slight glance off the head of Shcherytsia to get the men in yellow ahead.
Hladchenko then found the net again, this time credited with the goal, and Voitenko scored before the first whistle to tighten Ukraine's grip on the match with the scoreboard reading 3-0.
Zborovskyi fired in number four after the break and then Sirenko went on a slaloming run, finally rounding the keeper to slot into an open goal. In the final period Glutskyi made it six and although Perevyortov pulled one back before the whistle, the loss leaves Kazakhstan all but out of the running for a quarter-final place.
Ukraine will qualify if Portugal win later, and the two side will meet tomorrow in the final match in Group A.
Goals: 1-0: Shcherytsia, min. 10 (1); 2-0: Hladchenko, min. 3 (1); 3-0: Voitenko, min. 2 (1); 4-0: Zborovskyi, min. 9 (2); 5-0: Sirenko, min. 3 (2); 6-0: Glutskyi, min. 6 (3); 6-1: Perevyortov, min. 2 (3);
FRA 4-1 EST (Group D)
France fell to a Sabir double against Azerbaijan yesterday and Estonia were beaten by the world champions Portugal, making today's Group D match a must-win for both teams…
Despite creating promising chances, the two teams' defensive lines held tight until the penultimate minute of the first period, when Angeletti nodded in at the back post to give Claude Barabe's side the lead going into the second.
Another goal in the second period, this time a Grandon freekick, doubled the French advantage. The number 17 secured his second after the restart, but an immediate response from Palm straight from kick-off maintained the two-goal cushion.
With just three minutes left, Belhomme ran on to a perfectly placed through-ball from his captain Jeremy Basquaise to slot in number four for Les Bleus and Estonia were well-beaten.
Essential points for Barabe's men, but a bitter defeat for Estonia, who will meet Azerbaijan in their final group game tomorrow. France will play Switzerland.
Goals: 0-1: Angeletti, min. 1 (1); 0-2: Grandon, min. 5 (2); 0-3: Grandon, min. 9 (3); 1-3: Palm, min. 9 (3); 1-4: Belhomme, min. 3 (3);
For full details on the FIFA Beach Soccer World Cup European Qualifier, including standings, stats and fixtures, head to beachsoccer.com.