Hosts ACD Sótão bag fourth win while defending champions and 2020 finalists Braga are on course to meet in the final again
---
– Kristall to meet Casa Benfica de Loures in R16
– GRAP hang on to eliminate Sporting
– Hosts ACD O Sótão remain unbeaten to face Nistru
The 32 teams have been slashed to 16 as the first day of knockout matches provides surprises, penalties, extra time winners and exciting Round of 16 matches tomorrow…
Kristall faced the majority of the Ukrainian nation team when they took to the sand against BSC Servit, many of whom had beaten Portugal in the European Qualifier in the very same stadium just weeks before, but the newly-crowned Russian champions brushed them aside with seven goals, and will go up against Casa Benfica de Loures in their next match.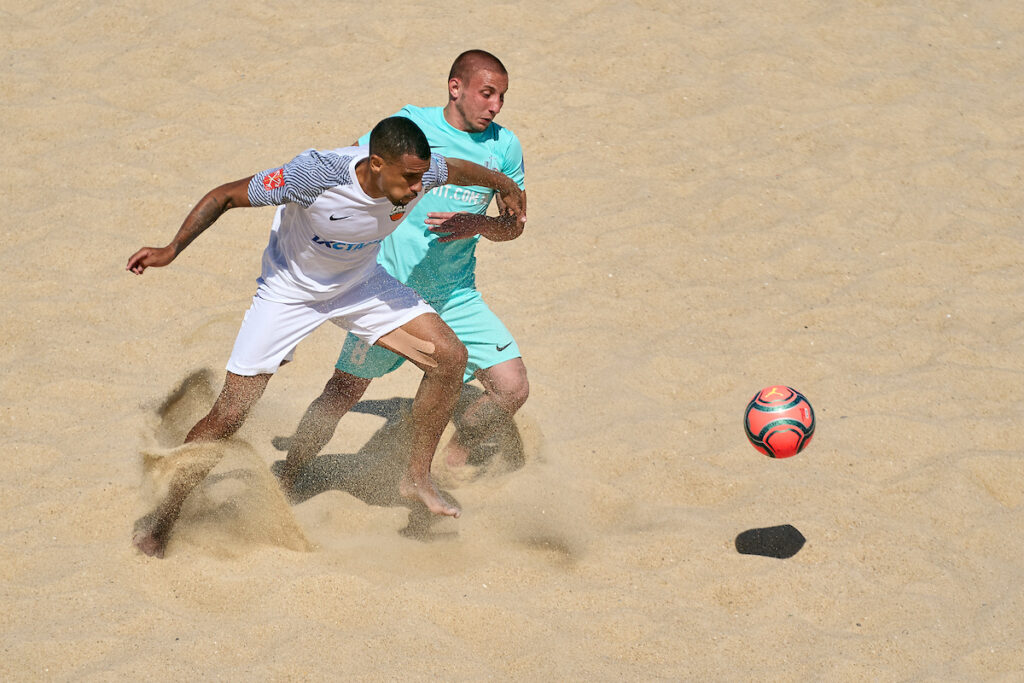 The other finalist from the last edition of the Euro Winners Cup, SC Braga, also won big, with the Martins twins each scoring twice to wrap up another knockout match tomorrow, this time against another Portuguese side, GRAP.
The Amigos da Paz, however, are also undefeated in the competition so far, and either they or three-time champions Braga will suffer defeat for the first time tomorrow in the fight for a quarter-final place.
As things stand, we may well still see a third meeting between Kristall and Braga in the Euro Winners Cup final this year.
Hosts ACD O Sótão sealed their fourth consecutive victory of the 2021 Euro Winners Cup, downing NewTeam Brussels with two late goals, but their B side exited the competition after losing to MFC Spartak (BUL).
The day kicked off with – by a curious coincidence – with a replay of yesterday's group match as CD Melistar (ESP) and Artur Music (UKR) were drawn against each other in the knockouts. The Spaniards had won the group with a tight victory on Wednesday, but the two-time runners-up of the Euro Winners Cup snatched the first available place in the last 16 with an extra time winner from Roman Pachev.
Rosh Haayin from Israel had enjoyed good results in their debut competition, but the Euro Winners veterans from Krylia Sovetov managed to keep pace with the rampant Edson Hulk who was unstoppable on Thursday, scoring all six of Rosh Haayin's goals, as well as netting his penalty in the shootout.
The Brazilian, who was Top Scorer at the CONMEBOL Qualifier for the FIFA Beach Soccer World Cup, surges ahead in the scoring charts with a total of 17 goals – four ahead of GRAP's Bernardo Lopes. Despite Hulk's heroics, it was the Russians who held their nerve from nine metres to secure a Round of 16 tie against another Israeli team, Falfala.
For full details on the Euro Winners Cup, including results, standings, stats and fixtures, head to beachsoccer.com.
Round of 32 Results
CD Melistar (ESP) 4-5 Artur Music (UKR) *AET
FC Delta (RUS) 4-1 Farmae Viareggio BS (ITA)
Levante UD (ESP) 4-6 Real Munster (GER) *AET
BSC Kristall (RUS) 7-2 BSC Servit (UKR)
Nistru (MDA) 4-0 Napoli Patron (GRE)
Casa Benfica de Loures (POR) 4-2 Rostocker Robben (GER)
SC Braga (POR) 8-3 Varzim SC (POR)
Lokomotiv BSC (RUS) 11-1 BS Bohemians (CZE)
CD San Francisco (ESP) 4-2 AD Buarcos 2017 (POR)
GRAP (POR) 5-4 Sporting CP (POR
Grande Motte (FRA) 7-2 Dinamo Batumi (GEO)
Falfala KQ BSC (ISR) 7-5 BSC Molniya (UKR)
BSC Krylia Sovetov (RUS) 6(8)-(7)6 Rosh Haayin (ISR)
CB Caldas Da Rainha (POR) 5-3 Norsjo (SWE)
ACD O Sótão (POR) 5-3 Newteam Brussels (BEL)
MFC Spartak (BUL) 8-4 ACD O Sótão B (POR)