The final match was decided from the penalty kick spot after the 1-1 draw
---
The 2022 edition of the Kebbi Beach Soccer league came to a climax on the finals on Sunday 12th of February 2022 in a four-month-long league that featured ten clubs from across Kebbi State.
With an impresive run, Yab Foundation clinched the title ahead of Marshal Academy BSC, Illiyasu Sports BSC and the defending champions Atiku Bagudu BSC which finished the season with bronze medals. These top four clubs on the league table were all favourites to win the league going into the Super Four finals.
The Most Valuable Player award of the tournament went to Monshur Guguwa of Marshal Academic BSC, the Best Goal Keeper of the tournament Sabi Boy of the same Club and Emeka Ogbona of Atiku Bagudu BSC emerged as the top goal scorer of the tournament.
Speaking at the closing ceremony, the Chairman of Kebbi State Football Association Alhaji Abubakar Chika Ladan described the competition as well organized and a laudable platform to produce skilful players.
"This 2nd edition is indeed an improvement upon the first, well organized and officiated and the crowd is very impressive. There is a lot of improvement from the players. With new players discovered, Kebbi State would be able to defend its title in forthcoming national League", he said.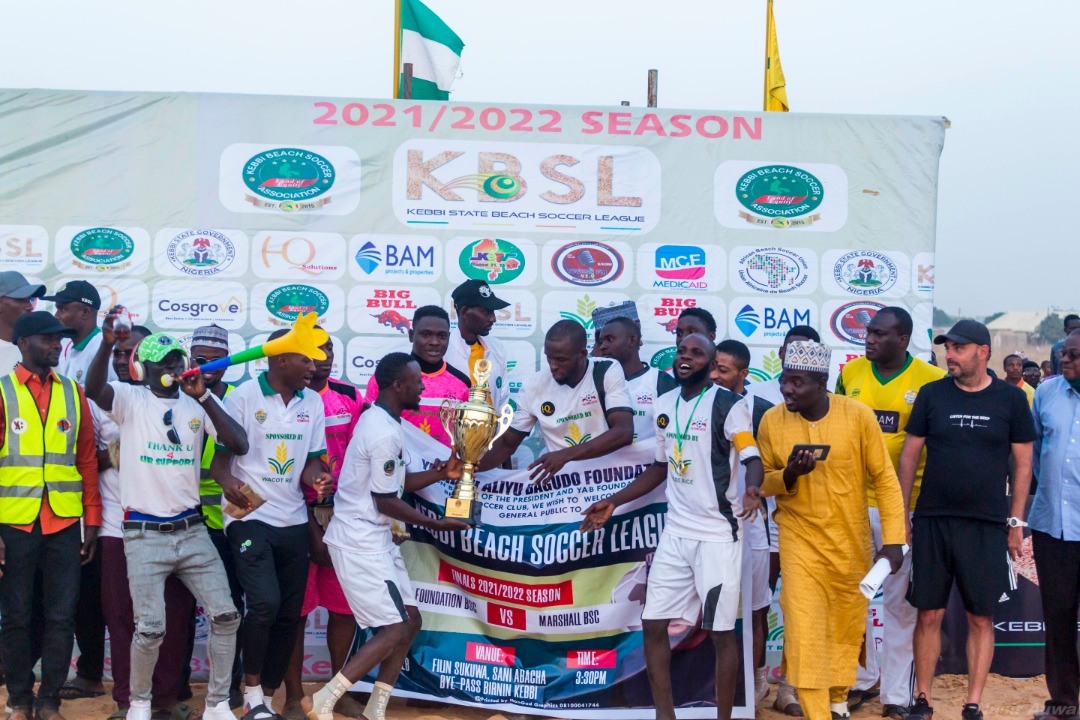 In turn, Mahmud Hadejia, President of the African Beach Soccer Union and founding Chairman of the Kebbi Beach Soccer Club, expressed his delight in the continued discoveries of talents and the increasing growth of the sport in Kebbi and other regions across Africa.
"We have discovered a lot of talents. From what I saw throughout the league, I can say Kebbi is absolutely developing with skillful players and I'll say we would soon start exporting players to the world" Hadejia added.