This year's quarter-finalists are confirmed
---
All fixtures of the round of 16 of the Women's Euro Winners Cup 2023 took place on Thursday, as the eight quarter-finalists are now confirmed…
To get the Women's matches underway, a 17th place play-off took place as AD Nazaré 2022 defeated Havana Shots 4-3 on penalties after being level 3-3 within three periods of play with addition of extra time.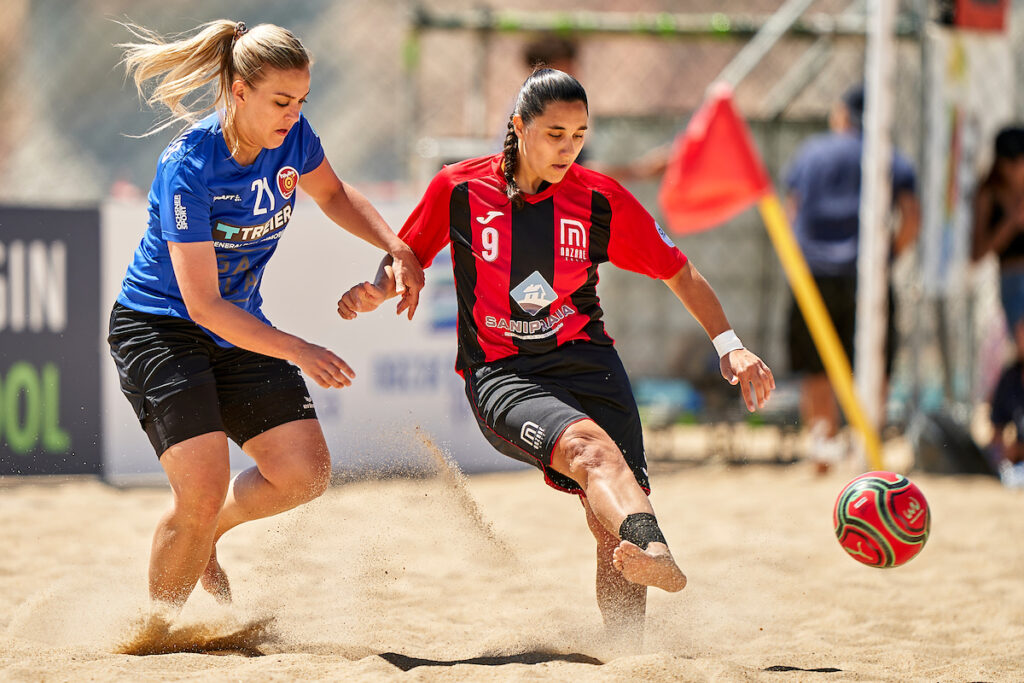 WATCH ALL MATCHES LIVE ON BEACHSOCCERTV.COM – SIGN UP HERE!
A slender victory for Pozoalbaense sees them through
Pozoalbaense booked their place in the final eight as they beat New Team BS Brussels 1-0 in Nazaré. María was the only goalscorer in the fixture, scoring in the first period.
Fc10 Ladies are quarter-finalists
A 7-1 victory for Polish side, Fc10 Ladies over SandGames secured their place in the quarter-finals of this year's tournament. Komisarczyk and Bednarska each bagged a brace for the Poland-based team as they assisted their team's qualification.
Terrassa qualify confidently
2022 champions, Terrassa – Bonaire BSC came out 8-1 victors in their round of 16 clash with German side, FC Lieberampool. A hat-trick was scored by Cris for the Spanish team, as five other players got their names on the scoresheet for Terrassa, as they comfortably made their way into the quarter-final, as they continue their quest to become back-to-back champions.
BS Zeeland knock out local side
Dutch outfit, BS Zeeland are through to the next round as they overcame Portuguese side, ACD O Sótão 2-1. A large majority of the crowd at the Estádio do Viveiro – Jordan Santos were in support of local side, ACD O Sótão, but BS Zeeland didn't let it phase them as goals from Syl and Olesia were enough to get the job done.
Higicontrol put three past their opponents to win
An all Spanish matchup went in the way of Higicontrol, beating Enpie Malaga 3-1. BSWW Ambassadors, Carol Glez, Ariele, and Clark scored the three goals for the Spainish side, as they look to improve on last year's fourth place finish.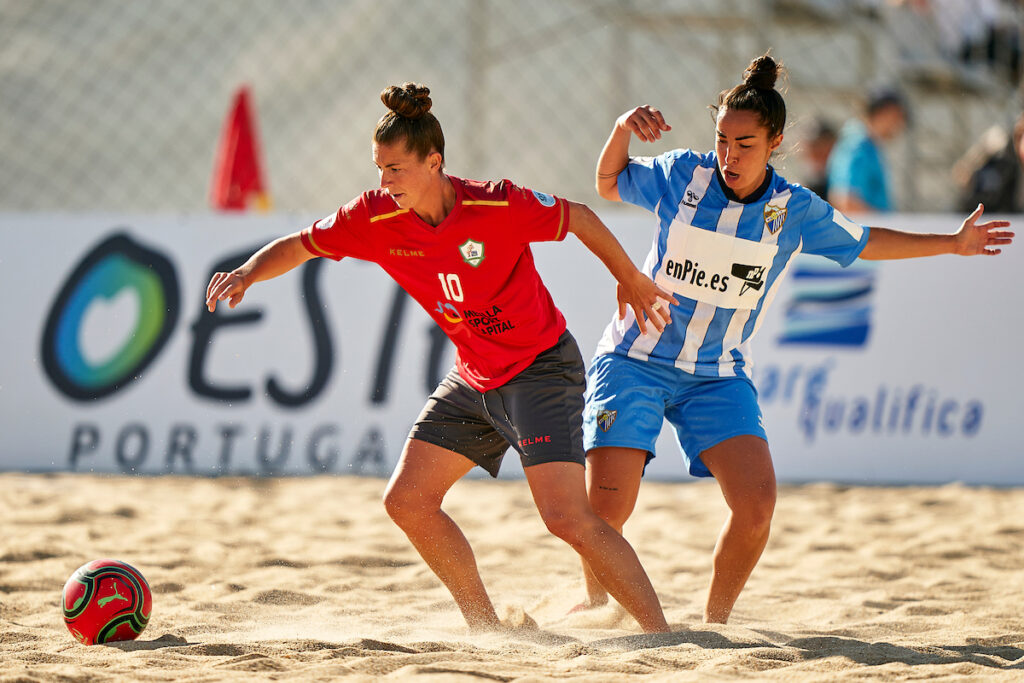 CFP Cáceres F come from behind to progress
It was CFP Cáceres F who advanced in their round of 16 fixture against Portuguese team, AD Pastéis, with a 3-1 win. Herrero scored a brace for the team from Spain, as Corbacho and Acedo hit the back of the net to complete the four goals.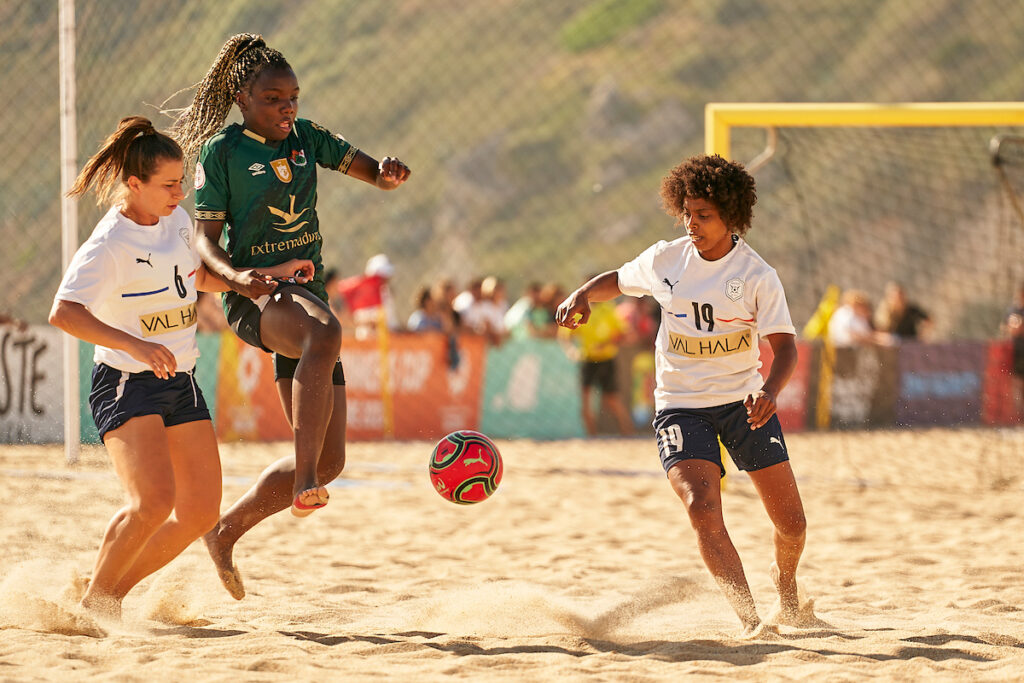 Playas de San Javier advance in the knockouts
2022 finalists, Playas de San Javier made it into the quarter-finals, defeating Fun and Learning 3-1. Palacios scored a brace for the Spanish side, as Wiard scored in between to achieve the outcome they wanted.
SC Rappiranhas win on penalties to go through
Swiss side, SC Rappiranhas had to win a penalty-shootout against Marseille BT to earn their place in the Women's Euro Winners Cup quarter-finals. Cavelti played a huge part in the match for winning team, as she scored two goals in normal time and converted the winning penalty, for the massive win.
To find out more about the Women's Euro Winners Cup 2023 make sure to visit beachsoccer.com
Results
17th/18th place
Havana Shots 3-3 AD Nazaré 2022
Round of 16
Pozoalbaense 1-0 New Team BS Brussels
Fc10 Ladies 7-1 SandGames
Terrassa – Bonaire BSC 8-1 FC Lieberampool
ACD O Sótão 1-2 BS Zeeland
Higicontrol 3-1 Enpie Malaga
CFP Cáceres F 4-1 AD Pastéis
Playas de San Javier 3-1 Fun and Learning
SC Rappiranhas 3-3 Marseille BT (SC Rappiranhas win 3-2 on penalties)
Quarter-final fixtures
Higicontrol vs SC Rappiranhas
Playas de San Javier vs BS Zeeland
Terrassa – Bonaire BSC vs CFP Cáceres F
Fc10 Ladies vs Pozoalbaense