Portugal and Italy took nervy wins while Switzerland scored 12 against Estonia
---
The Main Round of the European Qualifier for the FIFA Beach Soccer World Cup 2021, to be held in Russia in August, began in Nazaré today, where there were wins for the top seeded sides.
The side who made the Qualifier through the Preliminary Round last week suffered on their first day against the continent's elite, but Romania gave Italy a real run for their money, and Kazakhstan did the same against the world champions in the Monday's final match…
KAZ 3-7 POR (Group A)
Following a thrilling and surprisingly close match between Italy and Romania, Portugal also found themselves struggling against a team that, on paper, the world champions should sweep aside.
Coimbra took the lead with a sublime and cheeky chip, but Demeshko, an ever-dangerous member of a Kazakhstan squad who were missing key players for today's match, hit an equaliser minutes later.
Portugal went into the first break with a final sigh of relief when Be Martins retook the lead, and a second strike from Coimbra had Mario Narciso's side looking to regain control over the EBSL Division B side.
However, Perevyortov cancelled the difference out immediately, straight from the kick-off. The match passed it halfway point and Kazakhstan, who came very close to being promoted to Europe's elite league in the last Promotion Final, were creating chances and forcing Andrade into action on multiple occasions.
Von and Coimbra scored either side of the second break to restore some calm to the Portuguese bench, and when Leo Martins made it six and Ruben Brilhante seven, even a second Demeshko strike couldn't stop the Narciso's men from taking the three points.
Nervy at times, but Portugal moved into a superior gear in the final third to claim an essential points.
Goals: 0-1: Coimbra, min. 8 (1); 1-1: Demeshko, min. 6 (1); 1-2: Be Martins, min. 3 (1); 1-3: Coimbra, min. 8 (2); 2-3: Perevyortov, min. 7 (2); 2-4: Von, min. 2 (2); 2-5: Coimbra, min. 11 (3); 2-6: Leo Martins, min. 7 (3); 3-6: Demeshko, min. 7 (3); 3-7: Brilhante, min. 2 (3);
ROU 2-4 ITA (Group B)
After making the final of the last FIFA Beach Soccer World Cup in 2019, Italy remain many people's favourite to reach the 2021 edition, to take place in Moscow later this year.
The Azzurri got off to a positive start against a defiant Romania, who just made the cut with a final day win over England in the Preliminary Round, when the Rising Star of 2019 Josep Jr smashed in Italy's first from distance.
Zurlo then powered in a freekick in the last minute of the period, and another big win looked likely for the day's seventh game. But the Romanian keeper, Andrei Paul – who scored two in that essential victory over England, repeated his trick by pounding a long shot beyond the reach of his opposite number and namesake, Andre Carpita.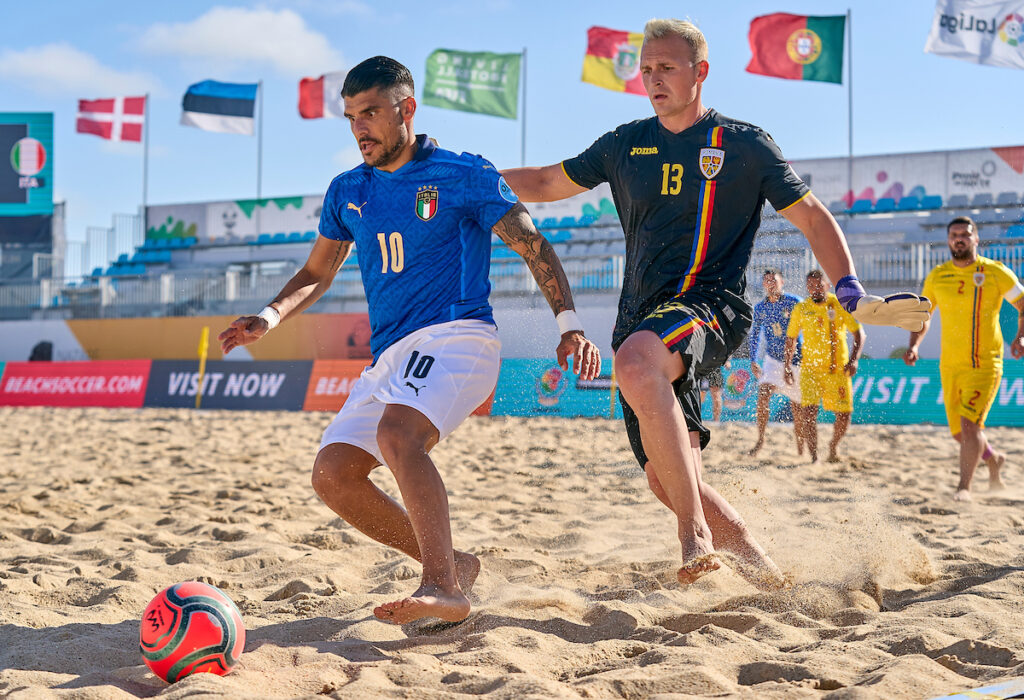 Gabriele Gori was expecting to net his 300th goal for Italy, but bicycle kicks, penalties and freekicks were not enough for him to beat the Romanian keeper, who was there to deny him every time, in what was a truly remarkable individual performance. Although Gori was kept quiet, Zurlo was awarded a penalty in the final second of the second period to restore the two-goal cushion.
Andrescu gave Del Duca's men another scare when he slotted under the approaching Del Mestre, and Italy's nerve was being tested by the solid and stubborn Romanians. A second Josep Jr goal, a sweet shot from distance, wrapped up the points, but Romania sent a clear message to their Group B rivals.
They take on Germany tomorrow, while Italy face Denmark, and the Azzurri number 10 will have to wait for another day for his milestone goal…
Goals: 0-1: Josep Jr, min. 11 (1); 0-2: Zurlo, min. 1 (1); 1-2: Andrei Paul, min. 8 (2); 1-3: Zurlo, min. 0 (2); 2-3: Andrescu, min. 9 (3); 2-4: Josep Jr, min. 2 (3);
EST 4-12 SUI (Group D)
Estonia were always going to have trouble keeping the prolific strikers of Switzerland out, and it took just three minutes for Philipp Borer, the MVP of the EBSL Regular Stage that took place last week, to blast in the opener.
Next came a hugely important goal for Angelo Schirinzi's side as their star number 10, Noel Ott, marked his return to the sand after 9 months out with a nasty knee injury with a simple headed finish. Before the first 12 minutes were over, Steinemann, Ostgen and another Borer goal took the tally to five at the end of the period.
Lepik pulled one back for Estonia, before Hodel and Stankovic joined the fray. Stankovic is famed for his incredible shooting ability and both goals – one a freekick and the other a superb bicycle kick – were worth a rewind for another look.
Estonia managed three in the middle period, as defensive and goalkeeping errors haunted the Swiss, who never struggle to score goals at will, but often fall short when it comes to keeping them out.
In the final period, Switzerland turned the screw to take their final tally to 12 with Stankovic and Borer bagging three apiece, but Estonia captain Lepik complete a hat-trick of his own with the final goal of the game, a respectable consolation after a heavy defeat.
Estonia showed spirit, but were well beaten by one of Europe's top side, and will now face France tomorrow, while the Swiss meet Azerbaijan.
Goals: 0-1: Borer, min. 9 (1); 0-2: Ott, min. 7 (1); 0-3: Borer, min. 7 (1); 0-4: Ostgen, min. 6 (1); 0-5: Steinemann, min. 6 (1); 0-6: Steinemann, min. 11 (2); 1-6: Lepik, min. 7 (2); 1-7: Hodel, min. 7 (2); 1-8: Stankovic, min. 5 (2); 1-9: Stankovic, min. 3 (2); 2-9: Kotter, min. 2 (2); 3-9: Lepik, min. 0 (2); 3-10: Borer, min. 11 (3); 3-11: Borer, min. 9 (3); 3-12: Stankovic, min. 7 (3); 4-12: Lepik, min. 6 (3);
NOR 0-8 ESP (Group C)
Having performed well in the Preliminary Round of the FIFA Beach Soccer World Cup European Qualifier, beating Czech Republic and Moldova, Norway faced a very different level of opponent in Day 1 of the Main Round.
The first goal came after 6 minutes and in the form of a headed rebound David Ardil, following a good save from Norwegian keeper Jørgensen. Pablo Perez rifled in number two then an over-hit headed pass-back from defender Nilsen saw him net an unlucky own goal.
Pedro hit number four before the break, and La Roja were cruising, scoring two more in the second period to leave the Viking crestfallen heading into the final stage. David Ardil and Domi got the goals, and Edu Suarez, scorer of the Best Goal of 2018, bundled the ball over the line to get his first of the tournament.
Riduan put the final nail in the coffin as Cristian Mendez' men sealed the three points at a canter, moving top of Group C, ready to face Poland tomorrow. Norway will regroup and go again on Day 2 against Belarus.
Goals: 0-1: David Ardil, min. 5 (1); 0-2: Pablo Perez, min. 5 (1); 0-3: Nilsen (OG), min. 3 (1); 0-4: Pedro, min. 0 (1); 0-5: David Ardil, min. 10 (2); 0-6: Domi, min. 3 (2); 0-7: Edu, min. 11 (3); 0-8: Riduan, min. 3 (3);
UKR 7-5 TUR (Group A)
The first Group A game took a while to get going as two teams coming straight from the EBSL Division A battles fought hard to move ahead. Shcherytsia managed to do just that when he was gifted the rebound from Voitenko's incredible strike which hit both the keeper and the crossbar before falling kindly to his teammate.
Volkan equalised straight from kick-off with a fine shot, but a ridiculous Medved freekick put Ukraine in front yet again.
Zborovskyi nodded a chipped cross into an open net for three before the break and Turkey, who's underwhelming performance in the Euro Beach Soccer League means that they will fight a relegation battle in September, slipped further behind.
In the second period, however, Emrah Ayhurt's side out-scored the Ukrainians by two to one, thanks to a second from Volkan and a clinical Baris finish.
The pressure built in the final period as both teams kept scoring, Volkan and Zborovskyi bagging hat-tricks with some incredible strikes, but Ukraine maintaining a one-goal advantage.
The final goal came with just three minutes left as Medved converted a penalty to finally end hopes of a comeback for Turkey, who will face the world champions and hosts Portugal tomorrow, in another difficult game.
Goals: 1-0: Shcherytsia, min. 4 (1); 1-1: Volkan, min. 4 (1); 2-1: Medved, min. 2 (1); 3-1: Zborovskyi, min. 1 (1); 3-2: Volkan, min. 10 (2); 4-2: Zborovskyi, min. 8 (2); 4-3: Baris, min. 2 (2); 4-4: Efe, min. 10 (3); 5-4: Borsuk, min. 7 (3); 5-5: Volkan, min. 6 (3); 6-5: Zborovskyi, min. 6 (3); 7-5: Medved, min. 3 (3);
GER 8-0 DEN (Group B)
Denmark had topped their group in the Preliminary Round of the European Qualifier, and therefore earned the third seed in Group B, and their first challenge was against Germany.
The EBSL Division A side were the first off the mark, as Körner poked in a rebound half way through the opening period. Denmark's Axel Damm missed a golden opportunity to draw level when his penalty was saved, and the number 10 also hit the post with a sublime overhead in the last second of the period.
Despite keeping pace with their German rivals in terms of possession and chances, Denmark trailed going into the second period. Another penalty miss for the Danes and a sudden flurry of goals from Bequiri, a second for Körner and a breath-taking strike from keeper Ebener saw Danish heads drop as Germany moved to four in front in just one minute.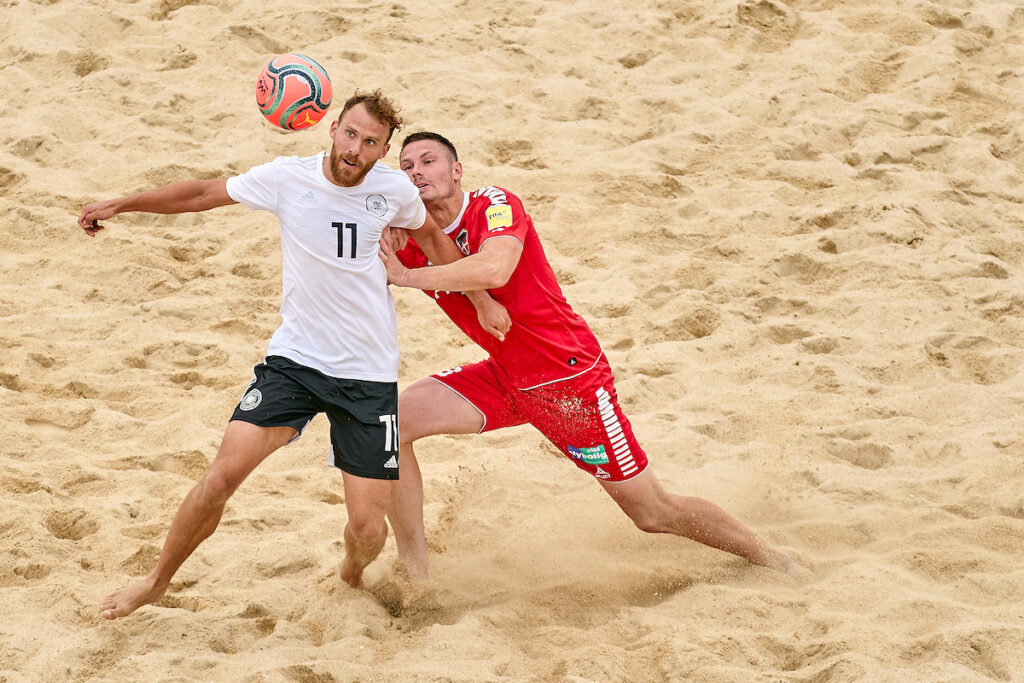 The game slipped further from a Danish recovery as an unfortunate Dorph own goal, plus strikes from Weirauch and Kniller, as well as a final long-range freekick from Cristian Biermann dealt Denmark a heavy blow, and their first defeat of the campaign.
They will face Italy, the team ranked third in the world, for their next chance at points on Day 2, while Germany will meet Romania.
Goals: 1-0: Körner, min. 6 (1); 2-0: Bequiri, min. 6 (2); 3-0: Ebener, min. 5 (2); 4-0: Körner, min. 5 (2); 5-0: Dorph (OG), min. 5 (3); 6-0: Weirauch, min. 4 (3); 7-0: Kniller, min. 1 (3); 8-0: Biermann, min. 0 (3);
BLR 8-2 POL (Group C)
A blistering overhead from Belarusian defender Bokach was the perfect start for Nico Alvarado's side, coming just seconds after kick-off and visibly frustrating the Poland squad.
Midway through the period, Hardzetski was on hand to slot home a rebound into an open net after the keeper had already committed to the previous shot. The second period, however, began with a superb long-distance hit from Polish keeper and captain Marciniak.
At 2-1, the game was open and exciting, as the Poles enjoyed a boost in morale, but that swiftly disappeared as Belarus suddenly began scoring at will…
Chaikouski, Mahaletski and Hardzetski – with his second of the match – took the score to 6-1 in the second period, as Poland were overrun and unable to deal with the long shots coming from distance and consistently finding their targets.
Chaikouski also got his second as the final period began and captain Kanstantsinau found his way onto the scoresheet too. Polish number seven Pietrasiak had had a quiet game, and the Top Scorer of the Euro Beach Soccer League Regular Stage finally got off the mark with a sweet strike in the final minute.
But Belarus wouldn't even allow Poland the last laugh, as Akulich curled a beauty into the top corner straight from kick-off, making the final score a comfortable 8-2 for the men in red, who are in search of their second consecutive FIFA Beach Soccer World Cup qualification.
Goals: 1-0: Bokach, min. 11 (1); 2-0: Hardzetski, min. 6 (1); 2-1: Marciniak, min. 11 (2); 3-1: Chaikouski, min. 9 (2); 4-1: Mahaletski, min. 2 (2); 5-1: Hardzetski, min. 1 (2); 6-1: Chaikouski, min. 9 (3); 7-1: Kanstantsinau, min. 6 (3); 7-2: Pietrasiak, min. 0 (3); 8-2: Akulich, min. 0 (3);
FRA 0-2 AZE – Group D
The Main Round of the FIFA Beach Soccer World Cup European Qualifier began with France and Azerbaijan taking to the sand to contend the first points in Group D.
A looping header from Sabir to put Azerbaijan ahead rounded off an opening period where each side created chances but had lacked clinical finishing, and there should have been more goals.
Zeynal Zeynalov's squad then sat on their advantage through the second period as France tried in vain to equalise. Jeremy Basquaise came close, and controlled much of the game in the middle of the pitch as he so often does, but when the next goal finally came in the last period, it was a second for Sabir.
The number 17 cheekily beat the French keeper to a loose ball, lifting it into the net to double the lead and kill the game.
Once they found their rhythm, Azerbaijan pressed more and more, hitting the post in the dying minutes and France were unable to break through their back line. An early win for the men from the Land of Fire, who will face Switzerland tomorrow.
Goals: 0-1: Sabir, min. 3 (1); 0-2: Sabir, min. 10 (3);
For full details on the FIFA Beach Soccer World Cup European Qualifier, including standings, stats and fixtures, head to beachsoccer.com.