La Roja beat Ukraine in the final on Sunday to claim the title while hosts Portugal take third
---
Spain are the FIFA Beach Soccer World Cup European Qualifier champions! They were superior in what turned out to be a comfortable win in a final battle between two previous winners.
Spaniard Chiky was named MVP while Ukrainian keeper Andreii Nerush, who stole the show against Portugal in the semi-final, won Best Goalkeeper.
In the match for third, Be Martins earned Portugal their best finish in the Qualifier since 2010 against Belarus who took fourth, one place below where they ended the last edition.
In a tight match against a difficult German side, Switzerland claimed not one but two Top Scorers, as Borer and Ott both reached 10 and took fifth after penalties. In the day's first match, Italy swept aside Azerbaijan to secure seventh at a canter. Azerbaijan finish in eighth for the third edition running.
FINAL
ESP 5-2 UKR
The last time Spain and Ukraine met, Ukraine claimed the victory. That was back in the European Games in Minsk and these very changed sides were playing in a very different match in Nazaré today…
Both sides had won the European Qualifier before, dominating the first four editions, with Spain taking three (2008, 2009 and 2012) and Ukraine one (2010).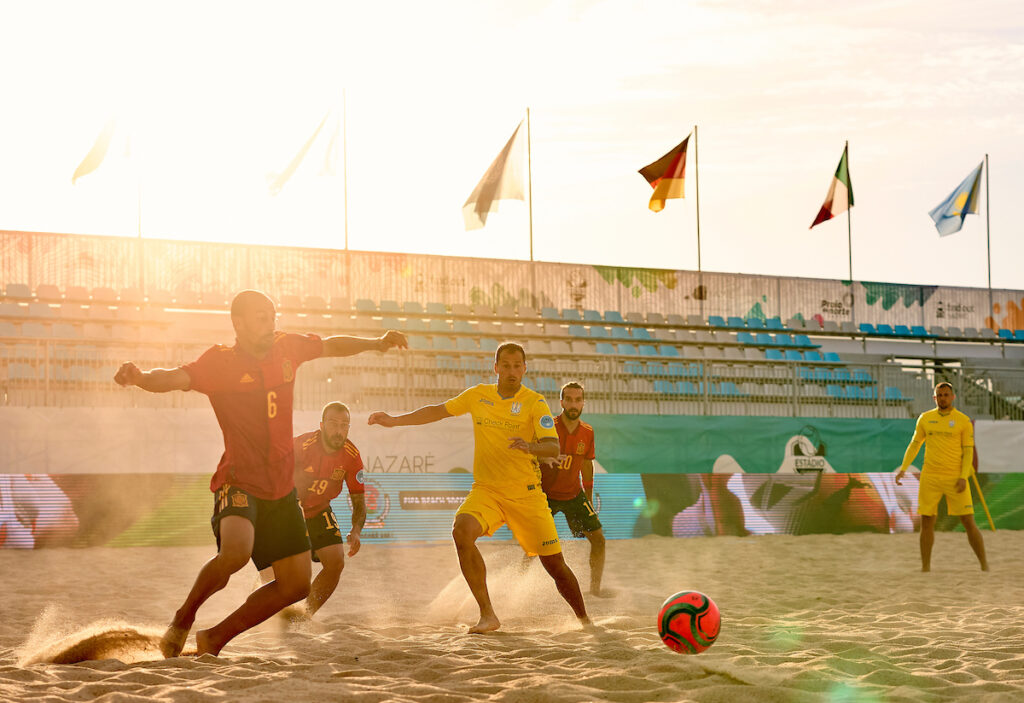 The last man to score for Spain yesterday was the first today, as Mejias pounded La Roja in front and Eduard Suarez struck a bicycle kick to double the advantage. The Ukrainians fought back though, as Zborovskyi converted a freekick and Shcherytsia hit the equaliser early in the second period.
But that was all the Ukrainians could manage by way of goal scoring, and Spain extended their lead in the second period with a fine hit from Pedro and a cheeky poke from Llorenç.
The men in yellow fought furiously to break down the Spanish back line but Mendez' men held firm and extended their lead with a second goal for Mejias as he volleyed in from distance to make it five with just two minutes to go.
Spain win their fourth European Qualifier title, the most by any team with Russia in second on just two titles, in what was a comfortable win in the end as the wild celebrations commenced.
Despite being suspended for the final, Chiky Ardil claimed the MVP, another trophy that the squad will gladly take back to Spain.
Goals: 1-0: Mejias, min. 9 (1); 2-0: Eduard, min. 9 (2); 2-1: Zborovskyi, min. 8 (2); 2-2: Shcherytsia, min. 4 (2); 3-2: Pedro, min. 3 (2); 4-2: Llorenç, min. 2 (2); 5-2: Mejias, min. 2 (3);
Playoffs
BLR 5-6 POR (3rd place)
Portugal suffered their first defeat since facing Brazil in the FIFA Beach Soccer World Cup in 2019 yesterday, but they were already guaranteed a better finishing place than they managed in the Qualifier for the last World Cup, where they just made the cut in fifth place.
Belarus shocked everyone in that event, finishing third ahead of many of Europe's giants including Portugal, Spain and Switzerland, and that is exactly what they came to do against the world's number one team today.
Andre Lourenço put the hosts in front with an early double, but a well-worked move saw Hapon beat Andrade to pull one back. The man of the match, though, was Be Martins, who didn't give the Belarussian defence a moment's peace and he made it 3-1 with a slick freekick.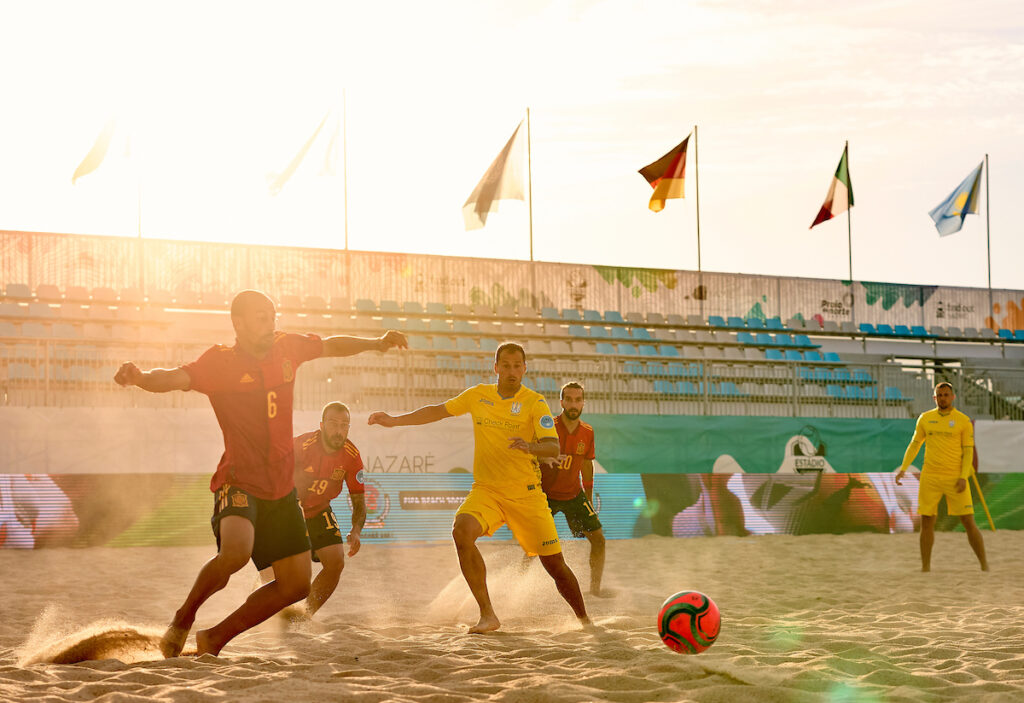 Drodz netted twice and Hardzetzki hit one too but the difference was the Portuguese number eight, as Be Martins' four goals sealed the third-place finish, which is surprisingly the best Das Quinas have done in a European Qualifier since 2010.
Goals: 0-1: Andre Lourenço, min. 9 (1); 0-2: Andre Lourenço, min. 7 (1); 1-2: Hapon, min. 6 (1); 1-3: Be Martins, min. 1 (1); 2-3: Drodz, min. 1 (1); 3-3: Hardzetzki, min. 2 (2); 3-4: Be Martins, min. 0 (2); 4-4: Drodz, min. 5 (3); 4-5: Be Martins, min. 5 (3); 4-6: Be Martins, min. 0 (3);
GER 5(0)-(3)5 SUI (5th place)
The last three European Qualifiers have seen Switzerland finish in the top four, twice making the final, but today they were taking on Die Mannschaft for fifth place.
Having been out of action for nine months, Noel Ott has picked up where he left off on the sand, and netted the opener after just three minutes. Ostgen then turned in a Stankovic shot from a yard out, but an overhead strike from Nowak, and then a spectacular freekick from Olli Romrig saw the player/coach hit both posts and score with a single shot to go level.
Another from Ott, and a Borer strike, took both players to the top of the scoring chart with 10 each to build a comfortable lead. Going into the final period, Schirinzi's men were winning 5-2 but a Swiss-style turnaround saw Die Mannschaft score three, the final goal a calm Biermann freeekick in the final seconds, to force extra time.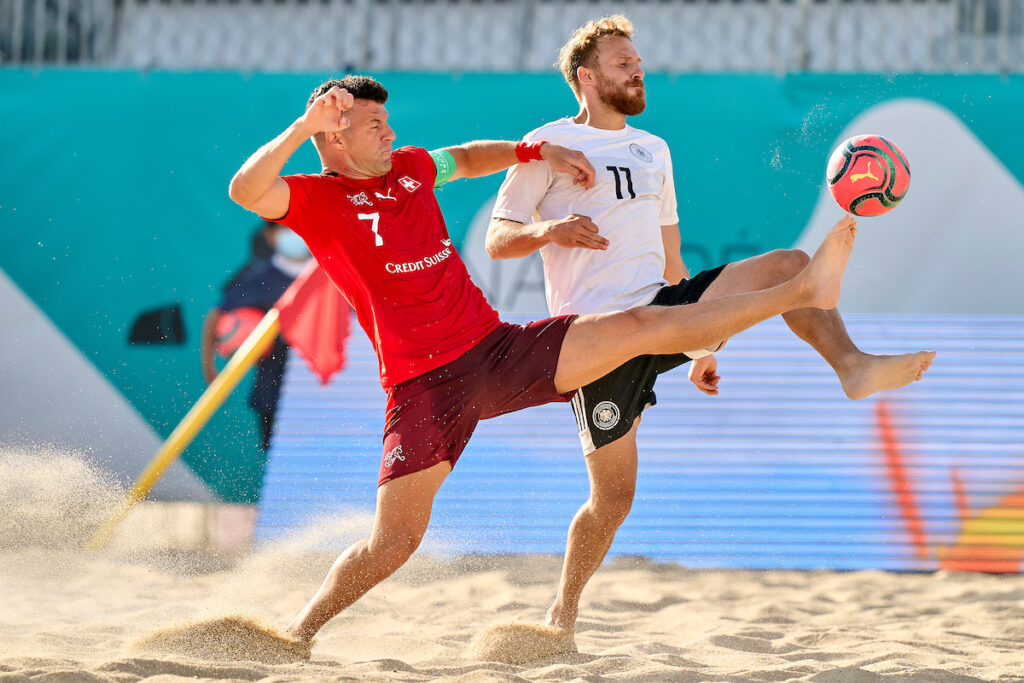 The match went to penalties where the German fell short, unable to score a single penalty, while Switzerland slotted away the three they needed to seal the fifth place.
Goals: 0-1: Ott, min. 9 (1); 0-2: Ostgen, min. 0 (1); 1-2: Nowak, min. 0 (1); 2-2: Romrig, min. 8 (2); 2-3: Ott, min. 6 (2); 2-4: Eliott, min. 5 (2); 2-5: Borer, min. 0 (2); 3-5: Körner, min. 7 (3); 4-5: Romrig, min. 1 (3); 5-5: Biermann, min. 0 (3);
PSO: 0-0: Weirauch, saved; 0-1: Ott, scored; 0-1: Metzler, missed; 0-2: Steinemann, scored; 0-2: Nowak, saved; 0-3: Borer, scored;
ITA 10-1 AZE (7th place)
Losses to Germany and Switzerland yesterday resigned Italy and Azerbaijan to a seventh-place playoff in the European Qualifier for the FIFA Beach Soccer World Cup in Russia.
Having had a quiet campaign compared to his usual prolific goal-scoring form, Gabriele Gori smashed in a signature bicycle kick to open the scoring. Goals from Josep Jr and Frainetti pushed the lead to three until Sabir hit the rebound from his own shot off the crossbar to get Azerbaijan off the mark.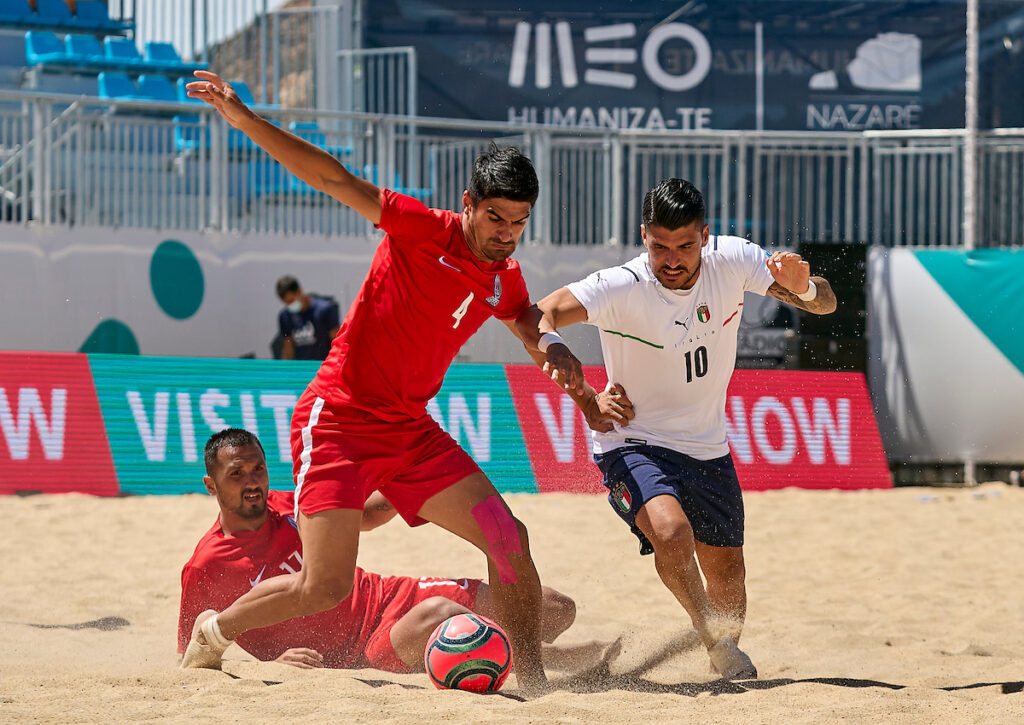 That was the last that Zeynal Zeynalov's side saw of the Italian net, Del Duca's men, however, ran riot in the second and third periods, with Gori returning to usual form and racking up four goals, to clinch seventh place on the last day of in Nazaré.
Azerbaijan finish in eighth, as they did in both the last Qualifier in Moscow (2019), and the one before in Jesolo, Italy (2017).
Goals: 1-0: Gori, min. 11 (1); 2-0: Josep Jr, min. 8 (2); 3-0: Frainetti, min. 6 (2); 3-1: Sabir, min. 4 (2); 4-1: Gori, min. 3 (2); 5-1: Corosiniti, min. 1 (2); 6-1: Gori, min. 10 (3); 7-1: Carpita, min. 10 (3); 8-1: Gori, min. 9 (3); 9-1: Giordani, min. 9 (3); 10-1: Corosiniti, min. 2 (3);
For full details on the FIFA Beach Soccer World Cup European Qualifier, including standings, stats and fixtures, head to beachsoccer.com.