Draw organises final 16 teams into knockout matches as three-time champions SC Braga face Boca Gdansk
---
– Round of 16 teams confirmed
– Filipov reaches 14 goals in three games
– SC Braga to face Boca Gdansk in knockouts
Just 16 clubs, 14 from the Euro Winners Cup and the two finalists of the Euro Winners Challenge, are left in the fight for the European title.
Draw organises Round of 16 matches
Undefeated Slovakian debutants Husty will face Copenhagen, Israel's Falfala will meet Lisbon giants Sporting and three-time champions SC Braga will go up against Polish club Boca Gdansk.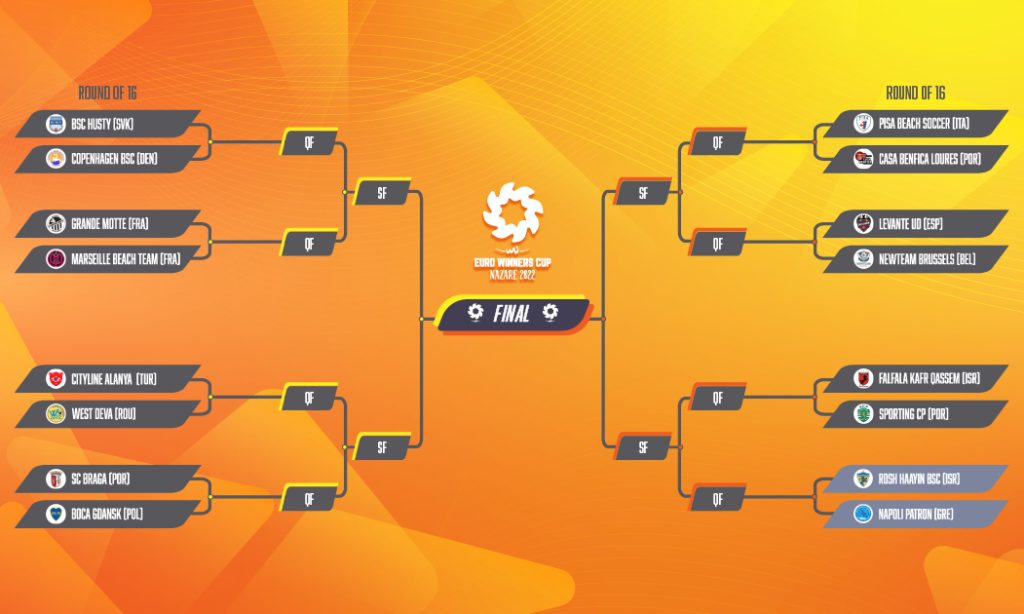 As for the other matches we can look forward to tomorrow, Levante will go up against NewTeam, Brussels, Alanya were drawn against West Deva, Pisa BS will play Casa Benfica de Loures, while a French derby will see Marseille take on Grande Motte, in the head to heads for a place in the final eight.
Napoli Patron from Greece and Rosh Haayin from Israel will face off in the Euro Winners Challenge final, the winner of which will claim a place in the Euro Winners Cup quarter-finals.
Final day of group games see debutants remain perfect
BSC Husty (SVK) remained perfect in Group D to cruise into the next round, putting eight past Bemannia FC to claim all nine available points. Filipov took his tournament tally to an incredible 14 with five more goals in just his third game. Hrnčiar also netted a hat-trick, and the Slovaks will now face Copenhagen in the Round of 16.
In a straight shootout for the group topspot, Karolak took the lead for Boca Gdansk against Grande Motte in the first period but a sudden spark of attacking saw the French club snatch the lead with goals from Spaniard Kuman, French international Huck and Alex. Grandon wrapped up the points in the final period for Grand Motte, who will take on French rivals Marseille in the knockouts.
In one of the most high-stake ties of the day, Cityline Alanya met Newteam Brussels in another shootout for the topspot in Group G. Alanya struck first but then Aymeric and La Grange took the lead back, and from the kick-off, a powerful Stankovic shot bounce off the head of Fran Mejias and rebounded back into the Alanya goal in a bizarre third for the Belgians. Alanya cruise to a 8-5 victory but both sides made it to the next round of the Euro Winners Cup.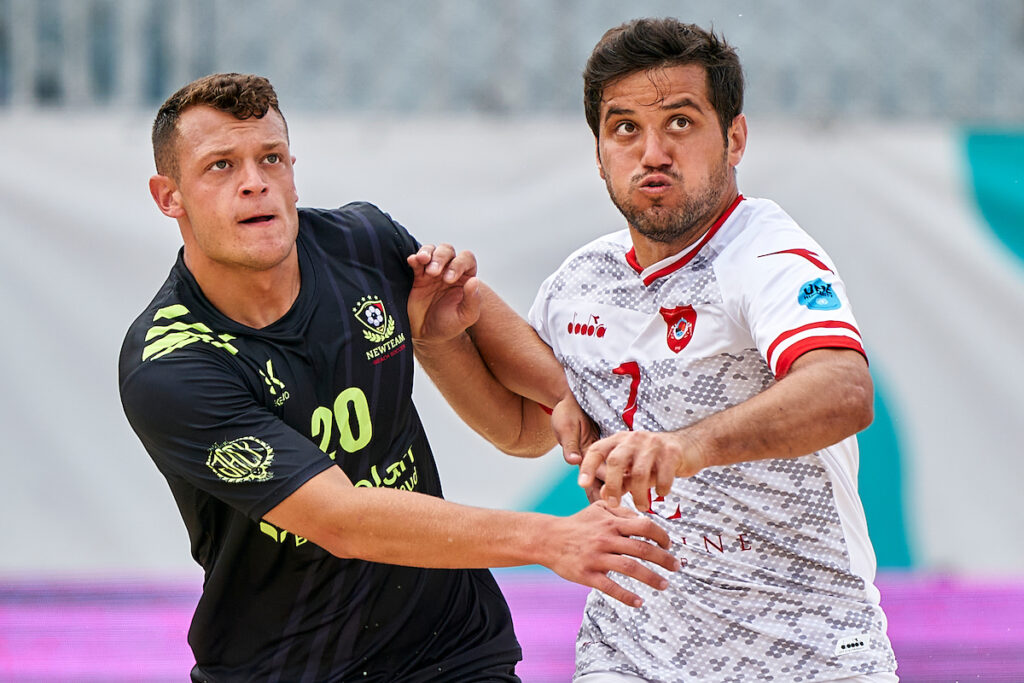 Falfala KQ BSC breezed to glory and on into the next round of the Euro Winners Cup on Wednesday in Nazaré. Their star signings, including Noel Ott and world's Best Player Ozu controlled the game from start to finish, and the Best Goalkeeper Eliott, not only kept Beach Royals Dusseldorf at bay, but netted two incredible goals to see the Israeli club seal the Group E topspot. Falfala will now face Sporting in the next round.
Six second place finishers reach Round of 16
Debutant club Husty had already clinched first place in Group D, leaving Sporting in desperate need of three points against their Spanish hosts, Melistar in the final group match. Portugal international Von netted after just a minute of play, then Ricardinho doubled the lead. Joãozinho put away a brace in just one minute in the second period, and Belchior and Mota also got on the scoresheet in the final period to clinch an easy win to take second in the group, and a place in the Round of 16.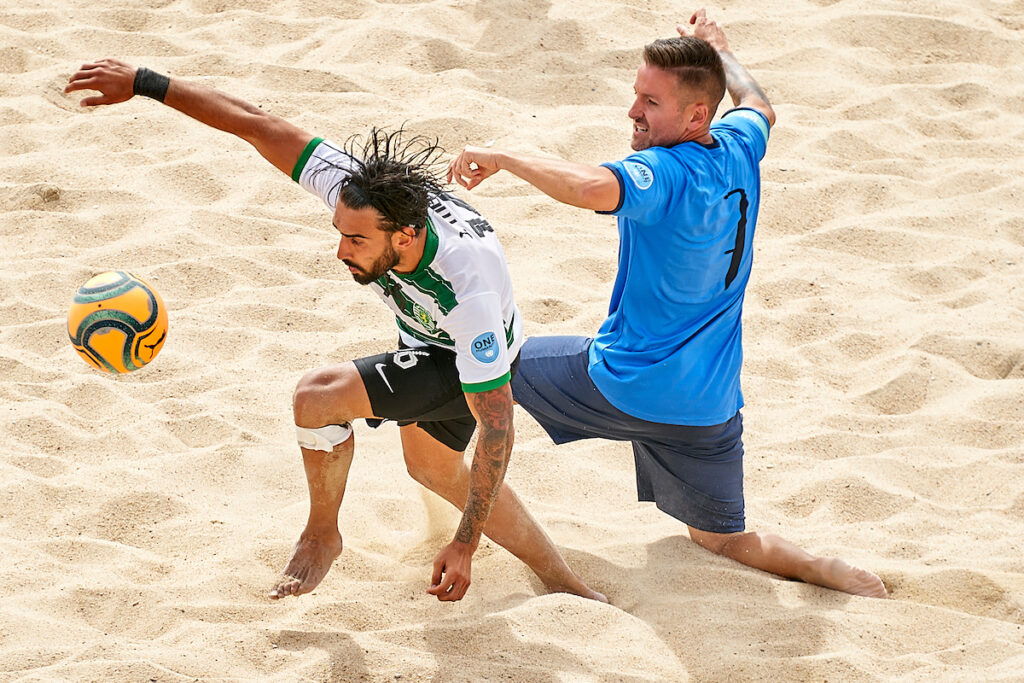 West Deva kept hopes of a place in the next round of the Euro Winners Cup with a victory over BS Slavia Praha in the last group game. Brazilians Netinho and Toni took a brace each, as did Czech international Trampota for Slavia, and the final score read 6-3, a comfortable victory for the Romanian team, who will face Alanya tomorrow.
Casa Benfica De Loures and Spartak Varna had a golden opportunity to clinch the final automatic spot in the Round of 16 with a win, as group leader Huelva, only had four points ahead of their match on Wednesday. A victory in normal or extra time would win the group for either, and that is exactly what the Portuguese club claimed. Four goals from Duarte Algarvio saw Casa Benfica cruise to a 10-2 victory and seal topspot, and a R16 match against Pisa Beach Soccer on Thursday.
Pisa BS 2014 had already won the group with a game in hand, but Rostocker Robben were in desperate need of points if they were to try and clinch one of the best second-place finishes and reach the knockout stage. The match was tight, and the final period alone finished 5-4, taking the final score 8-7, with Brazilian Jordan starring for Pisa, netting four.
BSC Nistru fell behind to a Casano double in the first period, and Recreativo De Huelva from Spain pushed the lead to 4-1 in the second. Goals from Moldovan internationals Istrati and Ignat in the final third weren't enough to rescue points for Nistru, who finish Group C in fourth place. The Euro Winners journey ends for both clubs, but they will continue the fight in the playoff matches.
Nõmmiko and Alaväli put SK Augur Enemat ahead in their final match in Group H against Atlas A.O. from Greece. Altas were never far behind them, but the Estonians managed to hang on to their slim advantage to see the game out with three points, and leapfrog their opponents in the group.
Chances of a place in the next round for Naxos Beach Soccer and Bavaria Beach Bazis were dashed in Group G, but third place was available on Wednesday. Goller drew first blood and then Eckers doubled the advantage in the second period. An incredible goal from Rovito pulled one back but Bavaria clinch the points and the third place.
Watch all of the action live on Recast.
RESULTS
Group C
BSC Nistru (MDA) 3-4 Recreativo De Huelva (ESP)
Casa Benfica De Loures (POR) 10-2 Spartak Varna (BUL)
Group D
Bemannia FC (SWE) 4-8 BSC Husty (SVK)
Melistar (ESP) 3-8 Sporting CP (POR)
Group E
Beach Royals Dusseldorf (GER) 2-9 Falfala KQ BSC (ISR)
West Deva (ROU) 6-3 BS Slavia Praha (CZE)
Group F
Boca Gdansk (POL) 1-4 Grande Motte (FRA
Portsmouth (ENG)) 3-0 Dembava (LTU)
Group G
Cityline Alanya (TUR) 8-5 Newteam Brussels (BEL)
Naxos Beach Soccer (ITA) 1-4 Bavaria Beach Bazis (GER)
Group H
Pisa BS 2014 (ITA) 8-7 Rostocker Robben (GER)
Atlas A.O. (GRE) 4-5 SK Augur Enemat (EST)
For full details on the Euro Winners Cup, including groups, fixtures, results and standings, head to beachsoccer.com.