Five teams have secured a place in the next round after today's results
---
AD Pastéis, Terrassa Bonaire, Marseille BT and CFP Cáceres qualify to the quarter-finals
Fabiana Vecchione continues her prolific goalscoring form
Higicontrol assure first place of Group A
Five teams go into the last matchday of the Women's Euro Winners Cup's group stage already qualified
One-goal margin
Higicontrol stepped on the sand motivated by their robust 15-4 win on Matchday 1, but their match against Rappiranhas was far more balanced. It was Maria Soto who broke the deadlock on the kick-off of the second period after a goalless first 12 minutes. Cavelti equalised for the Swiss but Nati made it 2-1 to earn the three points and assure the lead of the group with one game to go for the Spanish.
ACD O Sótão and CSO Amnéville BS had both lost their first games, and it was a tight bout when the two met on Wednesday. The hosts went ahead through Inês Cruz in the first period. This was all that separated the sides until the last period when Corplet and Goumeziane looked to have snatched the victory. However, it was Inês Cruz once more who equalised to force extra time and then penalties, where the local club held their nerve to seal the point in Group A.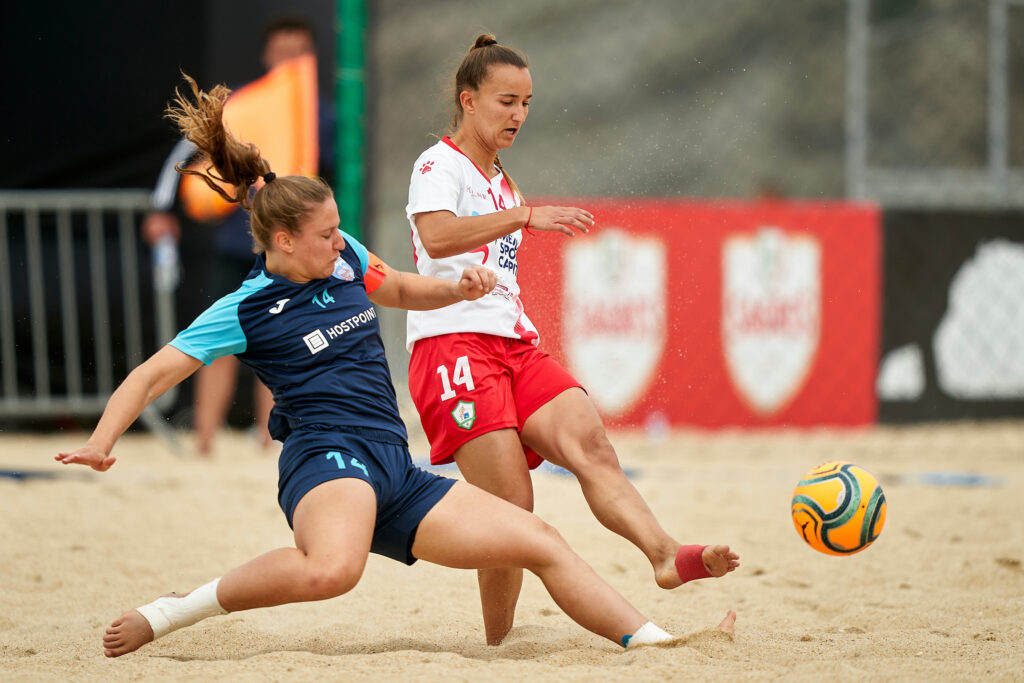 Terrassa and Pastéis through
The all-spanish contest between Terrassa and Recreativo Huelva was tight as ever. After a goalless first period, Terrassa made it 2-0 but the Andalucians reacted and reduced 12 seconds before the last break. The final result was open until the last minute of the match when Cris and Serrat made it 4-1.
That result sees Terrassa go through and they will discuss the first place of the group with AD Pastéis who also qualified after beating Gibraltar 6-1. Fabiana Vecchione, who had netted a hat-trick the day before, scored a brace to continue her goalscoring form.
All yet to be decided in Group C
AISP San Javier faced local team AD Nazaré 2022, who proved to be a tough opponent in the first period with the scoreboard showing 1-0 courtesy from Carol. But the Spanish showed all their lethality in the second period scoring 8 goals and finishing the game with a 13-0 win with a hat-trick from Wiard.
Polish side FC10 Ladies packed their second win imposing a 6-0 defeat to Bavaria Beach Bazis. Davydenko scored twice and Kempson led her team, also scoring herself a goal.
Marseille and Cáceres to discuss first place
A brace from Yoly was vital for Cáceres to earn the 3 points in their tight contest against Finnish side KylPä. Jaatinen and Mäenpää still gave their team hope when they shortened the gap to 4-3 but Yoly's second goal put the Spanish back in control of a match. Tyynismaa scored the 5-4 goal 40 seconds before the end but it was not enough to take qualification away from Cáceres.
The team from Extremadura will play against Marseille BT to define the group leaders. The French did their job in the first two periods against BS Zeeland to win 4-1 and clinch a place in the next round.
Watch all of the action live on Recast.
RESULTS
Group A
Higicontrol Melilla (ESP) 2–1 SC Rapiranhas (SUI)
ACD O Sótão (POR) 2(7)-(6)2 CSO Amnéville BS (FRA)
Group B
Terrassa Bonaire (ESP) 4–1 Recreativo de Huelva (ESP)
AD Pastéis (POR) 6–1 Gibraltar Wave (GIB)
Group C
Bavaria Beach Bazis (GER) 0-6 FC10 LADIES (POL)
AISP San Javier (ESP) 13-0 AD Nazaré 2022 (POR)
Group D
Marseille BT (FRA) 4-1 BS Zeeland (NED)
CFP Cáceres (ESP) 5-4 Kylävainion Päällikot (FIN)
For full details on the Women's Euro Winners Cup, including groups, fixtures, results and standings, head to beachsoccer.com.