The 12 Division B teams have landed in Chisinau ready for kick-off tomorrow
---
A total of 12 national teams from across the continent will compete in the Moldovan capital for the four promotion places to the European elite.
The Euro Beach Soccer League Moldova 2022 will be held in Chisinau between 27 and 31 July and the 12 competing teams will battle in the world-class stadium in La Izvor Park.
Besides the Moldovan hosts, Turkey, Greece, Romania, Lithuania, Kazakhstan, England, Denmark, Norway, Malta, Latvia and Georgia are ready to provide a magnificent beach soccer show in one of the most impressive stadiums in Europe.
Remember to watch all of the matches on Recast!
The Competition
The twelve participating teams were drawn into three groups of four teams, and the group stage will take place from 27 to 29 July, followed by the semi-finals and final.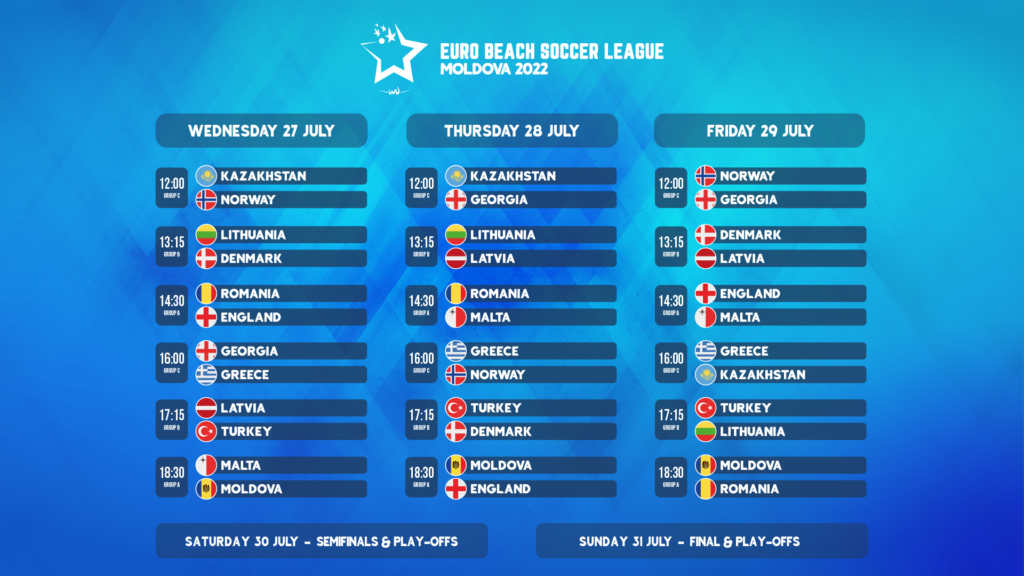 The three group winners and the best second-placed team will qualify for the semi-finals and automatically seal spots in Division A for next season.
The EBSL 2022 serves as the qualifiers for the 3rd European Games Kraków – Malopolska 2023, and the winner of the Euro Beach Soccer League – Division B will qualify for the event.
The Teams
Moldova dominated the last EBSL event they hosted, the Division B Regular Stage last year, and their stadium is guaranteed to be full with passionate fans to boost the performance of the players. Unlucky not to reach the Promotion Final last year, they will be many people's favourites for one of the four promotion favourites. They will face their Romanian neighbours, as well as England and debutants Malta in Group A.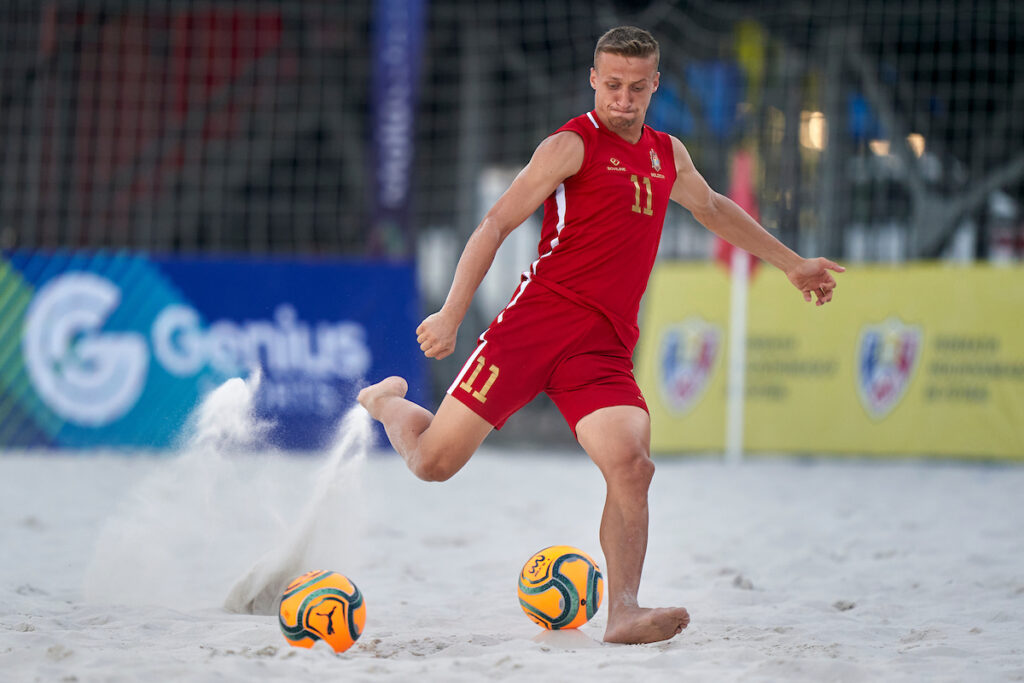 Turkey suffered a Promotion Final defeat at the hands of Estonia in the 2021 EBSL, and will be desperate to regain their place amongst the European elite as quickly as possible. But they will have to compete against the ever-improving Denmark, who will also have their eyes on the prize in Moldova, after their players from BSC Copenhagen impressed so much in the 2022 Euro Winners Cup. Also in Group B are two more nations that will prove difficult to defeat, Lithuania and Latvia.
In Group C, Norway and Kazakhstan will get the ball rolling in Chisinau at 12pm local time, and Georgia and Greece will play later on. The Kazakhs, after having reached a Promotion Final in recent years, will be another favourite to contend a promotion place, but their three opponents are well-established beach soccer nations with dangerous players.
In short, anything can happen in this incredible event, held in such an impressive stadium, so don't miss it! Who do you think will win promotion to Division A?
For full details on the EBSL Moldova, including fixtures, results and standings, head to beachsoccer.com.