The tournament was officially launched in a press conference with the presence of players and representatives from the local government at the Hard Rock Café in Gran Canaria
---
The ball is ready to roll on the sands of the Playa del Inglés, near the iconic Maspalomas dunes in Gran Canaria, Spain.
From 21 to 23 July, the Mundialito returns to action after an interruption of almost three years due to the Covid-19 pandemic.
Members of the local government approached the organisation of the event on the Canary Islands and Francisco Castellano, counsellor of sports of the Gran Canaria council is "proud to support this event, that gathers the stars of beach soccer on this island in the middle of the Atlantic Ocean and it's a great opportunity for Gran Canaria to have these men's and women's teams on this amazing beach".
Josep Ponset, Director of Events of Beach Soccer Worldwide, stated that "BSWW is happy to return to Gran Canaria after so many years, especially with an event with so much history and that has been around since the beginning of the sport".
Portugal are the defending champions and will try to conquer their third straight trophy, what would be the eighth in their history. The Mundialito has been played on Portuguese sands since 1997 but this year is the first time that the Mundialito is played in Spain and for the Spanish national team captain Dona it represents "a great joy. The rumour that this tournament could be played in Spain had been around for a while and for us to play in front of our fans is exciting and we will try to be up to the challenge".
The tournament will have some of the biggest names of beach soccer, such as Ozu who will lead Japan as the Samurai Blue will aim to "continue the good work that has been done and that saw the team reach the final of the last world cup. There are many young players with potential to help Japan win their first Mundialito title".
As for Nick Perera, he was only 12 years old when the United States of America won the Mundialito in Portugal in 1998. The American saw the videos of that conquest but he was already one of the main protagonists of the sport the last time the USA played "in such a great tournament" in 2016. "Our aim is to do as best as we can and try to win games against such high-quality teams".
This year sees the first edition of the Women's Mundialito which for Spain's captain Andrea Miron "confirms the growth of women's beach soccer". La Roja will face Ukraine, England and the Czech Republic and will try "to compete as best as we can, aiming as high as possible to confirm what is good year for Spanish women's beach soccer so far".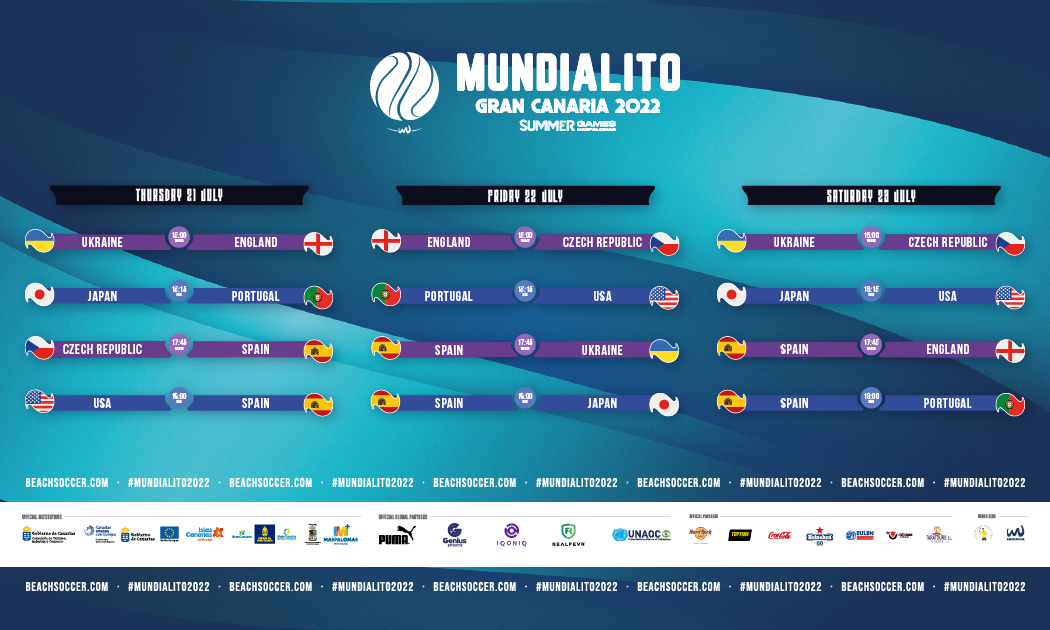 Remember you can watch all the matches live on Recast .