The brand-new beach soccer festival took place in Bournemouth, England in late August
---
A brand-new beach soccer festival was organised in England last week.
The inaugural Beach Fest, brainchild of England international Joe Maxwell, was held in Bournemouth on Friday 20 to Sunday 22 August with beach soccer as the main attraction.
Isle of Wight, featuring the Three Lions' Tommy Jackson and Scott Lawson, lifted the first-ever trophy in the men's tournament, while two-time Euro Winners Cup runners-up, Portsmouth, claimed the women's, bolstered by the England's including Sarah Kempson (former World's Best Player) and Wendy Martin.
Many other England internationals also competed at the event, including Cameron O'Rourke (who won the MVP trophy), Taylor Humm (Best Goalkeeper), Tom O'Neill and Jake Younie from the men's squad, and Katie James (Women's MVP), Hannah Haughton (Women's Best Goalkeeper) and Molly Clark from the women's.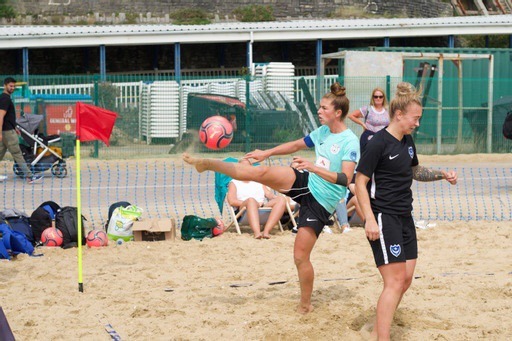 Over seventy teams from ten different age groups of women's and mens, girls and boys tested their skills at one of the world's fastest growing sport.
Co-organiser Joe Maxwell said, "We are really pleased to have hosted the first official Beach Fest and with the FIFA World Cup taking place this week in Moscow at the same time, this would have hopefully really inspired the next generation coming through and help the sport in England grow."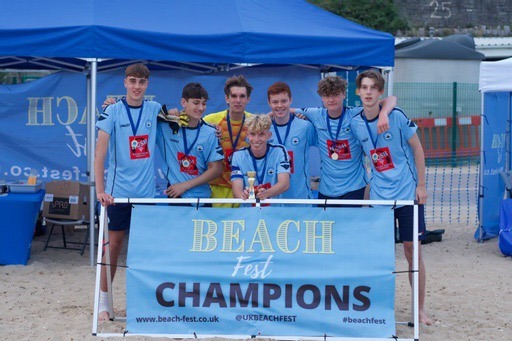 Competitions began from 9am and concluded at 9pm each day. Marquees, food and drink stalls and inflatables were also a big part of the unique event.
Maxwell's connections with the venue go back to his introduction to beach soccer, he was part of the Eastleigh Spitfires team who won the 2015 Bournemouth championship, he also competed at the national championships in 2015 held close by in Poole and in 2016 at the indoor Sand venue, the Leaf Academy.
Joe jointly manages Eastleigh Spitfires with Paul Darke who is the other Co-organiser of Beach Fest, he has two decades of involvement in small sided football having recently managed the England football six aside team.
Paul is a current Director of England Beach Soccer and was a youth coach at AFC Bournemouth, he said "We have been planning and working for a long time to make Beach Fest happen and now it has successfully be achieved we are really pleased with the outcome."
Photos: Beach Fest