In their fifth national league final the Düsseldorf club prevailed in Warnemünde
---
Beach Royals Düsseldorf have won the German Beach Soccer Championship for the first time in their history.
It was the fifth final that the club had reached (2013, 2016, 2019, 2020 and 2021) but this time the result went in their favour at long last.
The last stage took place in Warnemünde, and the Rhinelanders came out narrowly on top 4-3 (2:1, 0:0, 2:2) against the four-time title winners Rostocker Robben.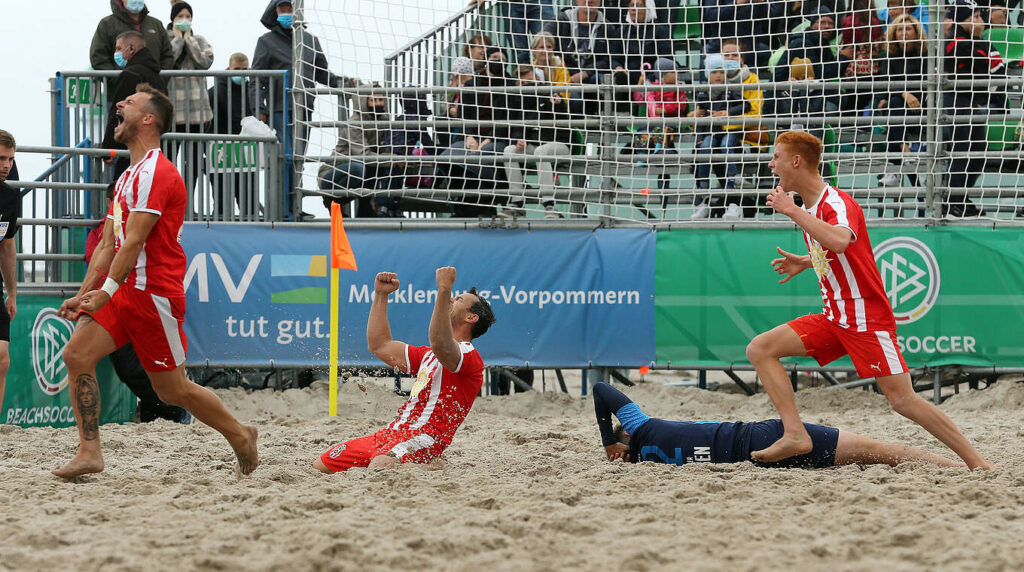 In a fast-paced finale, the match burst straight into vibrant life after just 50 seconds, when the Beach Royals went ahead through German international Niklas Sand from a corner. But the Seals were undeterred as Alexander Basiel headed over keeper Marius Ebener to make it 1-1.
Düsseldorf's player/coach Oliver Romrig hit a shot off the post, before he took the lead again in the eighth minute. Denmark's star striker Axel Damm also scored for Rostocker but the match remained in favour of Düsseldorf.
In the 30th minute, another Danish international Casper Dorph found the net from a freekick from distance to make it 2-2. Basiel nudged the Seals ahead a little later from close range, but it was Romrig once more who made the difference, equalising to make it 3-3. In a crazy final phase, Peer Petry found the winner to gift his team an historic title.
Romrig ended the competition as the Top Scorer with 23 goals.
Beach Bazis take third place
In the playoff for third place, Bavaria Beach Bazis secured bronze with a 3: 1 (1: 0, 0: 0, 2: 1) win over Real Münster. An incredible lob by Patrick Eckers rounded off the tight victory in the 34th minute to wrap up the win.
Final Standings
Champions – Beach Royals Düsseldorf
Runners-up – Rostocker Robben
3rd – Bavaria Beach Bazis
4th – Real Münster
Photo: dfb.de