Hosts UAE fell to Portugal on Day 2 as European champions bag first win
---
Hat-tricks from Russia's Zemskov and Senegal's Samb saw the sides seal second wins at the Tecnotree Intercontinental Beach Soccer Cup in Dubai.
However, Russia dropped a point against Japan on Day 1 meaning that Iran, who won three points again today, top Group B. Today's results mean that Iran and Russia reach the Intercontinental Cup semi-finals with a game to spare.
After losing their opening match, Portugal kept pace with hosts UAE in Group A, which means that they go into tomorrow's final group matches with everything to play for.
Unfortunately for Japan and Paraguay, after suffering second defeats, they will be unable to earn a place in the 2021 Intercontinental Cup semi-finals.
Iran 6-1 Japan (Group B)
The defending champions had been run close by Paraguay the previous day, and it took Hashempour's men until the beginning of the second period to break down the Japanese defence, manned by 2021 Best Player nominee Ozu.
Mokhtari, scoring for consecutive games, stretched to deliver the opener and Shir did well to double the advantage before the second whistle sounded.
A speculative long-shot by Kiani, wrong-footing Japanese keeper Kawai deep into the final period, made it 3-0 to Iran and try as Japan did, they couldn't find a way past the stubborn reigning champions' backline.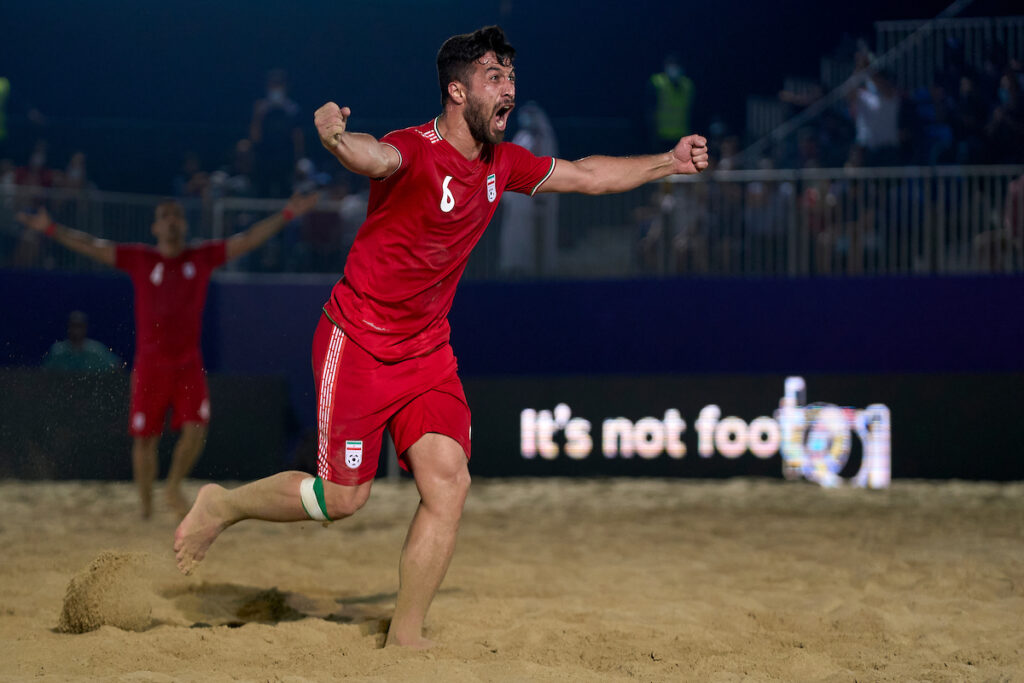 The breakthrough eventually came from Okuyama, but the Iranians pushed the final score to 6-1 thanks to late strikes from Mirshekari and Abdollahi.
The defending champions go top of the group with six point, while the Intercontinental dream ends for Japan, as they are now unable to qualify for the knockout stage.
Goals: 1-0: Mokhtari, min. 10 (2); 2-0: M. Shir, min. 1 (2); 3-0: Kiani, min. 9 (3); 4-0: Mohaved, min. 4 (3); 4-1: Okuyama, min. 3 (3); 5-1: Mirshekari, min. 1 (3); 6-1: Abdollahi, min. 1 (3);
Paraguay 7-8 Russia (Group B)
The world champions were straight off the mark against a soon-bewildered Paraguay, as Zemskov, Krash and keeper Parkhomenko struck in the opening three minutes on Day 2 of the Tecnotree Intercontinental Cup.
Kotenev, the hero of yesterday's match against Japan, fired in an overhead, but the South Americans managed to pull two back before the end of the first period.
No less than seven goals went in before the first whistle as the Russians controlled the match. La Albirroja forced their way back into the match in the second period, as the ever-dangerous Ojeda and V. Benitez scored brilliant goals, but Russia still lead by seven to four.
Gradually the Paraguayan pressure paid off as the slashed the difference to just one goal with two minutes of the final period left.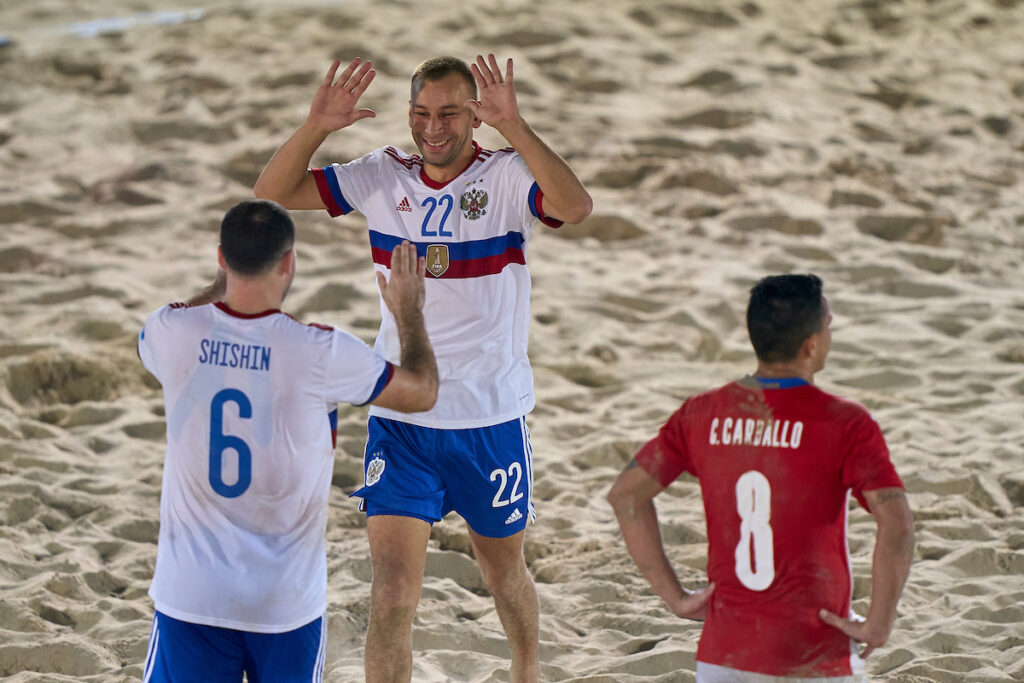 Zemskov's hat-trick completing goal was enough for Mikhail Likhachev's, nominated this year as one of the Best Coaches in the world, hung on defiantly to the slender lead to see the game out, bagging a second win in as many days.
Paraguay narrowly miss out once more but yet again show that they will run even the world's top team right to the wire.
Goals: 0-1: Zemskov, min. 11 (1); 0-2: Krash, min. 10 (1); 0-3: Parkhomenko, min. 9 (1); 0-4: Kotenev, min. 9 (1); 1-4: Escobar, min. 5 (1); 1-5: Paporotyni, min. 3 (1); 2-5: Ojeda, min. 2 (1); 2-6: Zemskov, min. 11 (2); 3-7: V. Benitez, min. 7 (2); 4-7: Escobar, min. 6 (2); 4-7: Nokonorov, min. 4 (2); 4-8: Zemskov, min. 11 (3); 5-8: Cantero, min. 10 (3); 6-8: M. Medina, min. 6 (3); 7-8: Ojeda, min. 2 (3);
Spain 6-7 Senegal (Group A)
Spain needed a win after they had lost to the Emirati hosts in the opening match, but Diatta, who made such an impact during Senegal's World Cup campaign, hit the first goal, as the number two fired in an early freekick to put the Senegalese in control.
Chiky was given too much space and time in the middle of the pitch to level for Spain, but a second Diatta strike – which will no doubt be amongst the tournament's best goals – had the Lions of Teranga ahead.
Jose Arias fired in an overhead in the second period, pulling level with the African champions, who beat 2019 world champions Portugal yesterday, and when Cintas scored a ridiculous volley from his own penalty area in the third period, Spain were ahead for the first time in the match.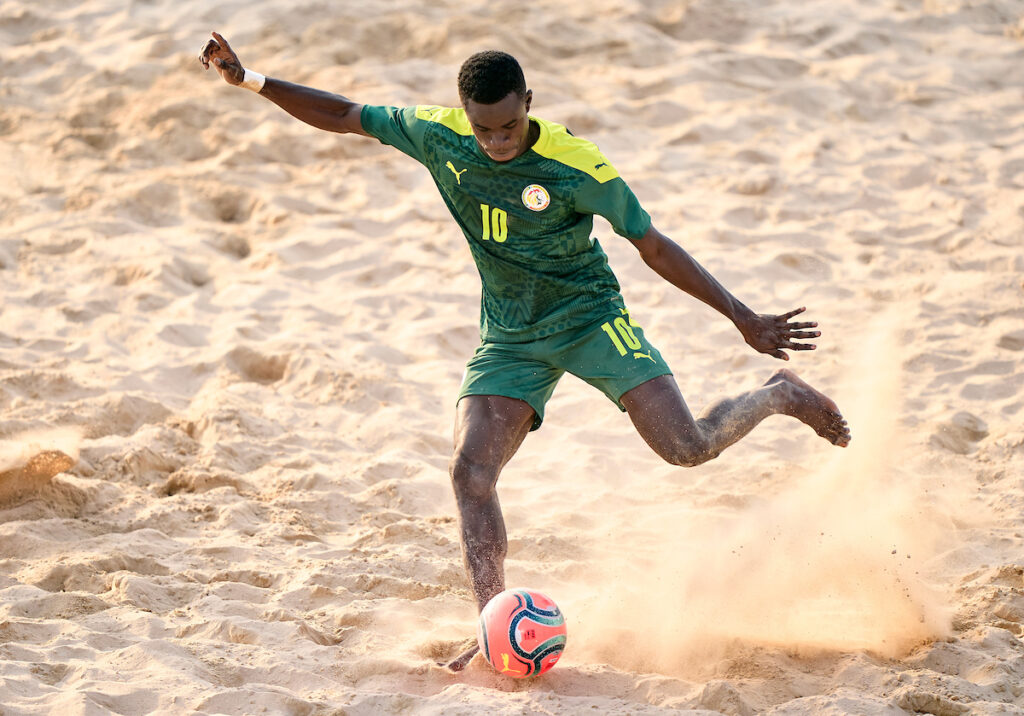 Samb slotted in from a corner to complete his hat-trick to level for Oumar Sylla's men. Diagne made it 5-6 but Chiky was on hand to cancel it out moments later.
It wasn't until just seven second before the whistle that Boye chose the perfect moment to open his Intercontinental Cup account, volleying home a corner to win the match with the score at a tight 6-7!
Six points for Senegal sees them top Group A for now, and are all but through to the semi-finals in the debut Intercontinental appearance.
Goals: 0-1: Diatta, min. 10 (1); 1-1: Chiky, min. 8 (1); 1-2: Diatta, min. 4 (1); 1-3: Samb, min. 1 (1); 2-3: Fran Cassano, min. 0 (1); 3-3: Chiky, min. 0 (1); 3-4: Samb, min. 0 (1); 4-4: Jose Arias, min. 10 (2); 5-4: Cintas, min. 10 (3); 5-5: Samb, min. 7 (3); 5-6: Diagne, min. 5 (3); 6-6: Chiky, min. 4 (3); 6-7: Boye, min. 0 (3);
UAE 3-5 Portugal (Group A)
After Senegal's win earlier in the day, Portugal's task was simple – win, or be knocked out of the Intercontinental Cup.
Be Martins managed to turn in the first goal after just two minutes to give Narciso's men a delicate lead, but this was all they had on their hosts going into the second period.
Ruben Brilhante put away number two to double the advantage but UAE captain Walid scrambled the ball over the line to pull one back for the hosts.
Andre Lourenço thundered in a screamer and Abbas was left totally unmarked to head home a corner in the second period, as the one-goal gap remained intact until Leo Martins, nominated in the top three Best Players of 2021, found himself alone on the goalline to slam in a fourth for Portugal.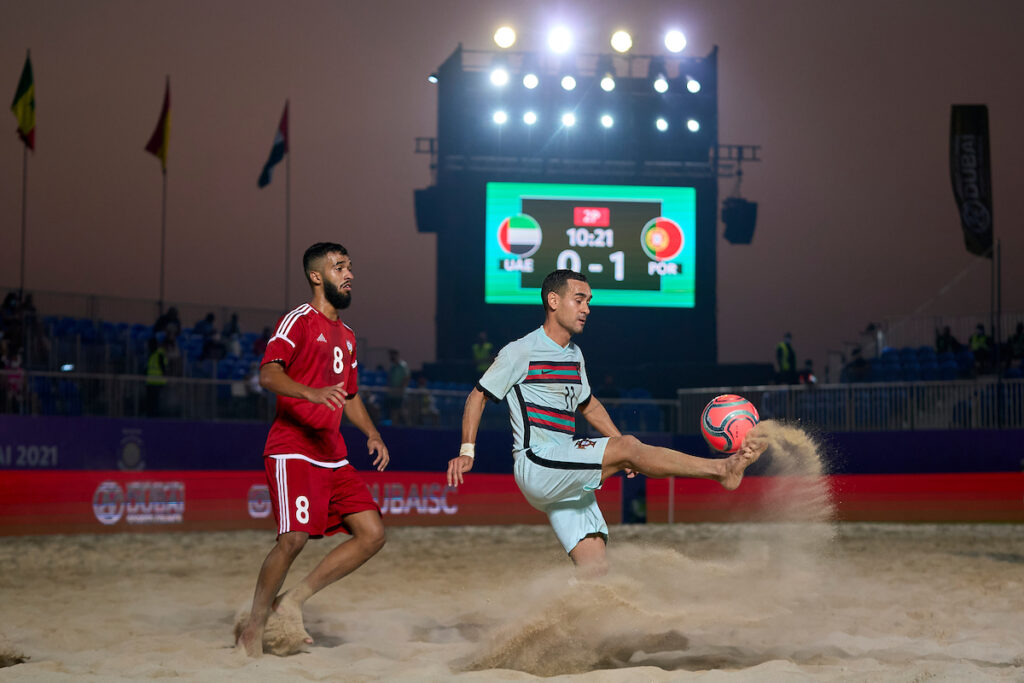 A sumptuous volley from Be Martins, assisted by his twin brother Leo, sealed the three essential points for Portugal, who go level with their hosts in Group A, meaning that tomorrow there is everything still to play for.
Goals: 0-1: Be Martins, min. 9 (1); 0-2: Brilhante, min. 8 (2); 1-2: Walid, min. 8 (2); 1-3: Andre Lourenço, min. 8 (2); 2-3: Abbas, min. 7 (2); 2-4: Leo Martins, min. 2 (2); 3-4: Abbas, min. 1 (2); 3-5: Be Martins, min. 2 (3);
For full details on the Tecnotree Intercontinental Cup, head to beachsoccer.com.