The Emirati hosts defeated the African group-toppers but failed to make the knockouts
---
The final four in the 2021 Tecnotree Intercontinental Beach Soccer Cup were decided on Day 3 in Dubai as Senegal and Portugal joined Russia and Iran in the semi-finals.
Senegal lost their match against UAE but still topped the group, while Portugal's win in the Iberian derby saw them make the knockout stages too.
As a result, UAE and Spain join Japan and Paraguay in exiting the running for the title in the tenth edition of the competition.
Senegal 3(4)-(5)3 UAE (Group A)
Senegal went into their final group match as leaders, and swiftly built a 2-0 lead after just 45 seconds of play, courtesy of Samb and a Seydina penalty.
UAE did well to hold off the dangerous African champions, and eventually pulled one back through Waleed Beshr in the final minute of the opening period.
In the second, they managed to pull level through an incredible bicycle kick from the other Beshr brother, Ahmed. He then scored again to see the hosts go into the final period with a slim lead.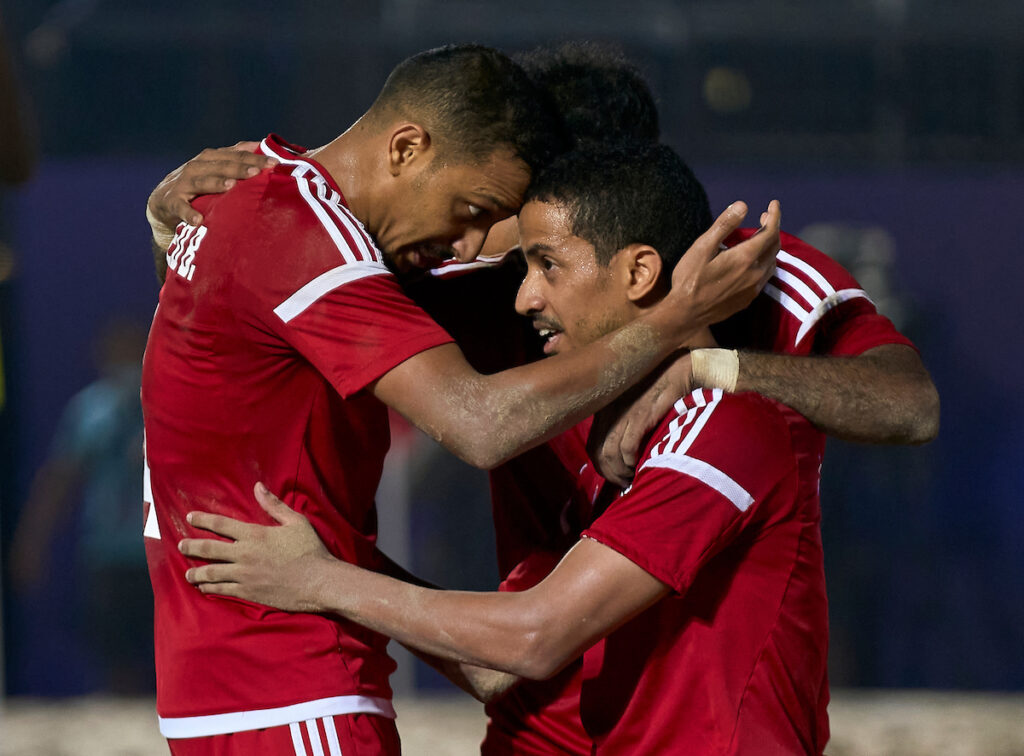 UAE still needed another goal to seal their place in the semi-finals and they pushed hard, but in the process, gave away a freekick, which the prolific Diatta smashed home.
The final passage of normal time was a frantic rush by the hosts, but the minutes ticked away and the powerful defenders of Senegal held firm, seeing the game safely into extra time, where UAE held no chance of making the final four.
After their clear disappointment, the Emiratis saw out the added three minutes and scored all five penalties to take a defiant point from group toppers. As a result, Senegal and Portugal make the final four of the 2021 Intercontinental Cup.
Goals: 1-0: Samb, min. 11 (1); 2-0: Seydina, min. 11 (1); 2-1: Waleed B., min. 1 (1); 2-2: Ahmed B., min. 7 (2); 2-3: Ahmed B., min. 4 (2); 3-3: Diatta, min. 2 (2);
PSO: 1-0: Samb, scored; 1-1: Abbas, scored; 1-1: Diagne, missed; 1-2: Hasan, scored; 2-2: Seydna, scored; 2-3: Kamal, scored; 3-3: Madione, scored; 3-4: Malahi, scored; 4-4: Diatta, scored; 4-5: Waleed B., scored;
Portugal 7-4 Spain (Group A)
These two Iberian beach soccer nations know each other well, having met in many crucial games in recent years, including the battle for last place at the FIFA Beach Soccer World Cup in and for the European Games gold medal in 2019.
This match, was to keep hopes alive of a place in the semi-finals of the 2021 Intercontinental Cup. It was an unusually one-sided affair though, as Portugal surged into a three-goal lead in the opening period, with goals from Von, a spectacular effort by Be Martins and Ruben Brilhante.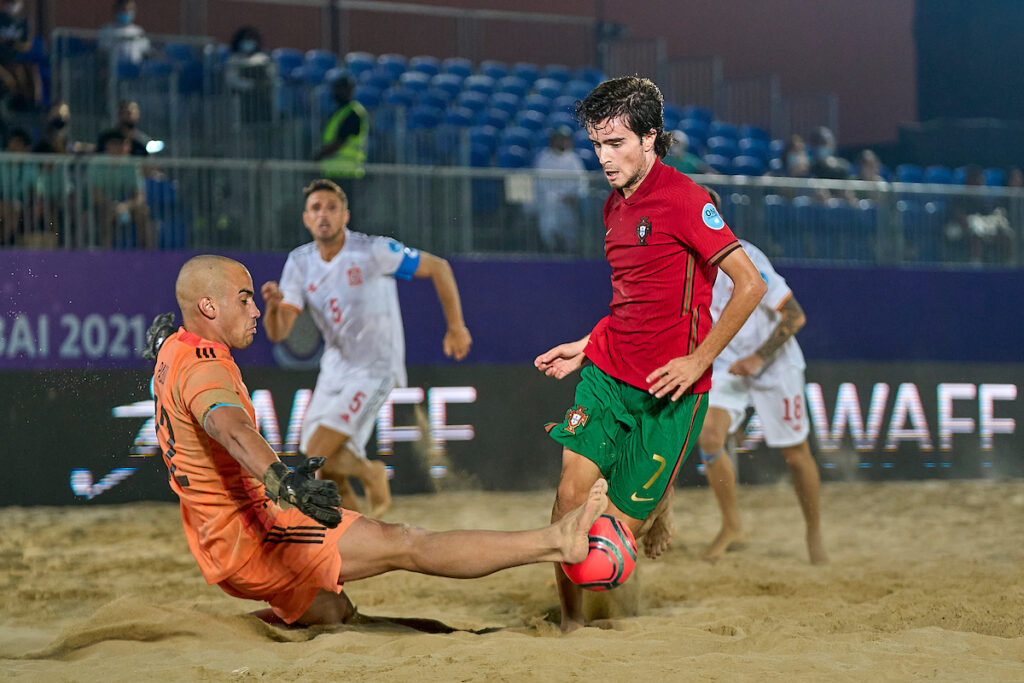 Pintado and Leo Martins took advantage of defensive errors in the Spanish backline to push the lead to five, but captain Cintas pulled a penalty back before the second whistle.
Spanish number 11 Chiky starred in the final period, smashing in three goals – one of which a beautiful bicycle kick – to slahs the difference but it was too little too late, and goals from Lourenço and Pinhal helped wrap up the essential three points for Portugal.
Goals: 1-0: Von, min. 6 (1); 2-0: Be Martins, min. 2 (1); 3-0: Brilhante, min. 0 (1); 4-0: Pintado, min. 3 (2); 5-0: Leo Martins, min. 3 (2); 5-1: Cintas, min. 3 (2); 6-1: Lourenço, min. 8 (3); 6-2: Chiky, min. 7 (3); 7-2: Pinhal, min. 7 (3); 7-3: Chiky, min. 2 (3); 7-4: Chiky, min. 2 (3);
Russia 4-3 Iran (Group B)
These two sides a both came to Dubai in search of a record-breaking fourth Intercontinental Cup title, and despite the fact that each had already reached the semi-finals, there was no love lost in this fierce contest.
Top scorer of the previous edition, Amir Akbari, scored first, sending an overhead through the legs of Kosharnyi, this year voted in the top three goalkeepers in the world.
The Russia shot-stopper soon took his revenge though, firing in an equaliser before the end of the first period. In the second, the world champions overran their Iranian opponents, as captain Shkarin, Kotenev and Krash pushed the score to 4-1.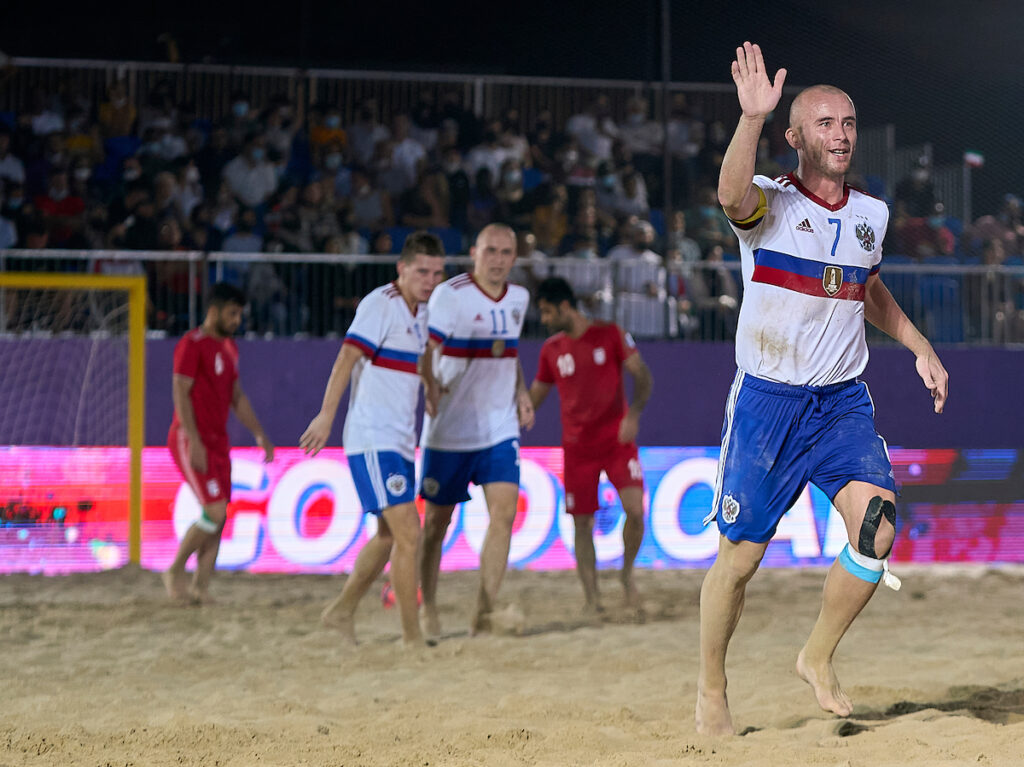 With their famously passionate fans behind their every move, and it seemed to pay off as Moradi, winner of the 2018 Rising Star award, netted Iran's second.
Captain Ahmadzadeh then powered in a third in the final minute but Hashempour's men ran out of time, as the Russians hung on to claim the Group B top spot.
Both, however, will play in tomorrow's semi-finals.
Goals: 0-1: Akbari, min. 9 (1); 1-1: Kosharnyi, min. 1 (1); 2-1: Shkarin, min. 10 (2); 3-1: Kotenev, min. 0 (2); 4-1: Krash, min. 0 (2); 4-2: Moradi, min. 4 (3); 4-3: Ahmadzadeh, min. 1 (3);
Japan 4-6 Paraguay *AET (Group B)
Both sides had painfully exited the competition after suffering second defeats yesterday, but they could still finish the group in third with a win today.
Akaguma, winner of the Bronze Scorer at the FIFA Beach Soccer World Cup, drew first blood from close range after three minutes, but a stubborn stalemate ensued as one team went ahead, only to be pulled back.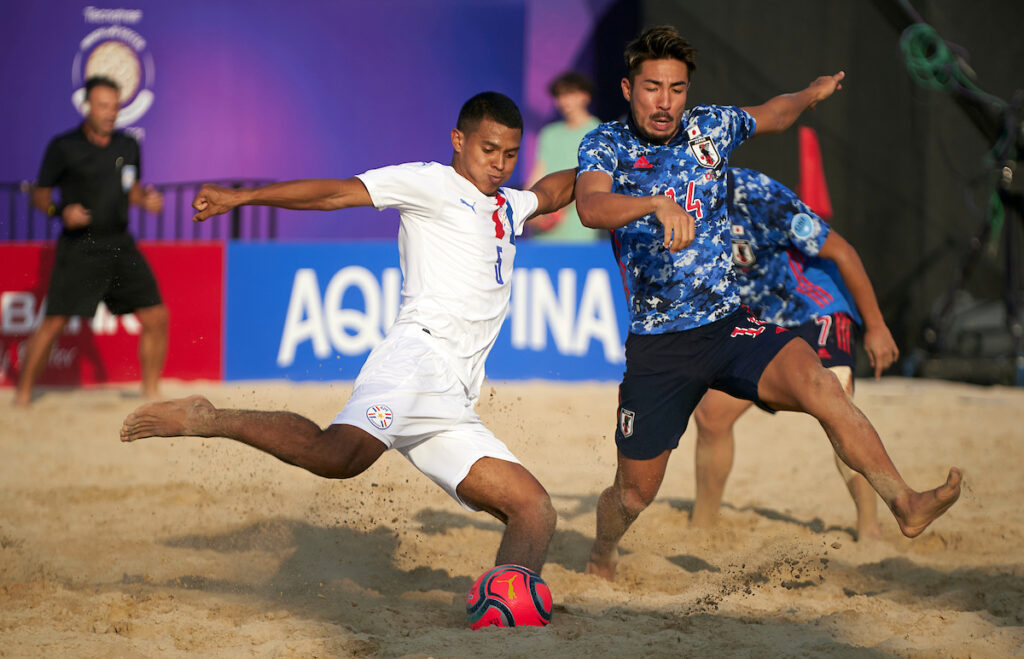 The first period ended at a dramatic 3-3. Early in the second, Nestor Medina fired in a screamer of a freekick from his own penalty area, and this slim advantage was defended diligently for the remainder of the period and deep into the final one.
As the Japanese frustration grew, they gave away more freekicks, but Paraguay failed to convert again. In the dying minutes, Oba swung to meet a volley and equalise, forcing extra time.
But the Paraguayan rallied in the added three minutes to net twice, pouncing on defensive errors, to clinch the two points and third place in Group B.
Goals: 1-0: Akaguma, min. 9 (1); 1-1: V. Benitez, min. 8 (1); 2-1: Ozu, min. 6 (1); 2-2: Rolon, min. 5 (1); 2-3: N. Medina, min. 0 (1); 3-3: Yamauchi, min. 0 (1); 3-4: N. Medina, min. 11 (2); 4-4: Oba, min. 3 (3); 4-5: Escobar, min. 2 (ET); 4-6: M. Medina, min. 1 (ET);
For full details on the Tecnotree Intercontinental Cup, head to beachsoccer.com.