The International Federation (IF) Technical Delegate (TD) meeting for the ANOC World Beach Games Bali 2023 took place this weekend with TDs describing Bali as a dream location following visits to potential venue clusters and a presentation on the Bali 2023 Games plan.
The Bali 2023 Organising Committee presented their Games concept to the TDs, which will see venues split across clusters to ensure athletes and officials are within walking distance of competitions and within close proximity to places of interest. Bali 2023 also outlined its commitment to being an environmentally friendly Games, with no new permanent venues, minimisation of carbon-based transport, greater use of recycled materials and a reduction of single-use plastics.
TDs from all IFs participating in Bali 2023 were in attendance for the meeting and spoke highly of their experience in Indonesia. The TDs had one-on-one meetings with ANOC and NOC Indonesia and provided their expert input across venues, schedule, Games services, equipment, suppliers and broadcasting.
ANOC's delegation was represented by ANOC Events Commission Chair Timothy Fok, ANOC Secretary General Gunilla Lindberg and ANOC Technical Director Haider Farman. The Indonesian delegation was led by NOC President Raja Sapta Oktohari and Games Operation Coordinator Richard Sam Bera, OLY with support from I Gede Indra Dewa Putra, Assistant for Government and People´s Welfare for Regional Secretariat of Bali Province.
ANOC Secretary General Gunilla Lindberg said: "On behalf of ANOC, we would like to thank the IFs for their support and contribution to the ANOC World Beach Games here in Bali. This has been a very productive visit and working closely with the Organising Committee and Technical Delegates we have made good progress in identifying the best locations for our 14 exciting and dynamic Games disciplines. The TDs have spoken very positively about their experience here in Bali and have provided important feedback to ensure we can deliver their support to the very highest standards. We have no doubt the Games will be a great success and we are grateful to NOC Indonesia and the Bali government for their excellent work."
A hybrid press conference held in-person and via videoconference was held following the conclusion of the TD meeting. The TDs for Beach Soccer Worldwide and AirBadminton represented the TDs at the press conference.
Beach Soccer Worldwide TD Josep Ponset said: "Beach Soccer would like to thank ANOC and the NOC of Indonesia and the Government of Bali for the amazing welcome we received as the Technical Delegates. I think I can speak on behalf of all TDs when I say to be here is a dream. This first meeting has been really great. We are working hard for every sport to achieve what we are looking for to make the Games a success."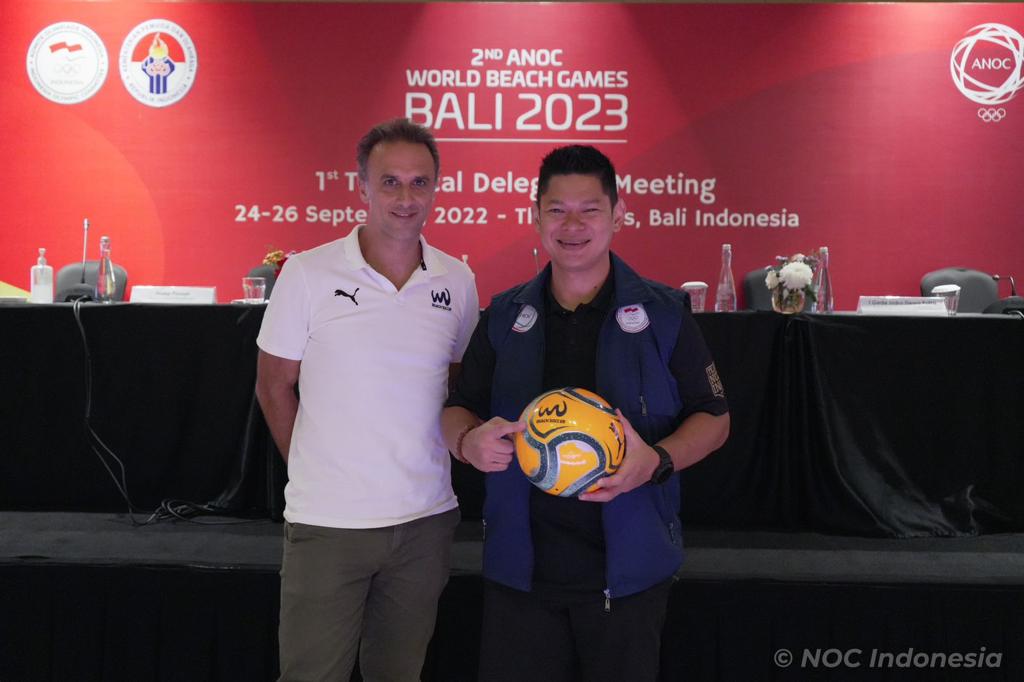 Bali 2023 will take place on 5-12 August and is expected to involve more than 1500 athletes from over 100 NOCs competing in 14 disciplines, including beach soccer.