Venue
We'll meet you at the CSKA Arena, Moscow (Russia)
Tickets
No information available yet
Hospitality Packages
No information available yet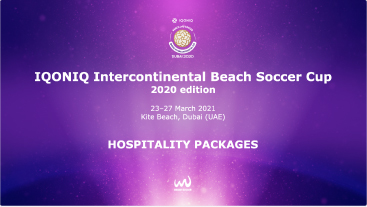 ORDER NOW
Getting there
By car
Drive through A10 and take exit 10. Follow the signs towards Kite Beach South.
By public transport
You can take the metro and exit at the CSKA station with lines 8A and 11.
By plane
Recommended international airports are Domodedovo and Xeremetievo.
Parking
You can find plenty of parking options around the Megasport Arena
How to follow
All matches can be followed live on beachsoccer.com
Full list of regional takers to be published in due course
Event Summary
The new universe of Beach Soccer is here. The biggest clubs on the grass are ready to jump onto the sand and take the sport to a new level with the Mundialito de Clubes, taking place in Moscow in October 2021 in the Megasport Arena.