Braga, Pisa and Levante become first teams to reach the Round of 16
---
– Braga, Pisa and Levante reach the next round
– Stankovic and Edu closes gap in top scorer race
– Group A and B standings confirmed
SC Braga, Pisa and Levante win their groups to become the first teams to reach the next stage. The rest of the group games will finish on Wednesday.
Tomorrow will see the rest of the clubs in the knockout stage confirmed. The winners of each group will make it to the knockout stage, as well as the best six second-place finishers. A draw for the final 16 will take place on Wednesday after the final matches.
First teams reach Round of 16
Copenhagen started brightly against the 2021 finalists SC Braga, as Schaffer beat the defenders to put the Danes ahead. Datinha pulled levelled before the first whistle, but Copenhagen showed they posed a real attacking threat, as blocks and near misses denied the dangerous duo of Damm and Dorph.
Be Martins burst into life in the second period to take the lead for Braga, and then completed a hat-trick in the final third. Copenhagen put up more of a fight against many people's tournament favourites, as Frandsen pulled one back to take the final score to 6-2. The victory confirms Braga as the winners of Group B, and their place in the next round.
Levante or ACD O Sótão could win a place in the Round of 16 with a victory in normal time today, but for the hosts, only all three points would seal the spot, while Levante simply needed a win. Keeper Andrei Paul fired in the opener and the Spaniards led at the first break.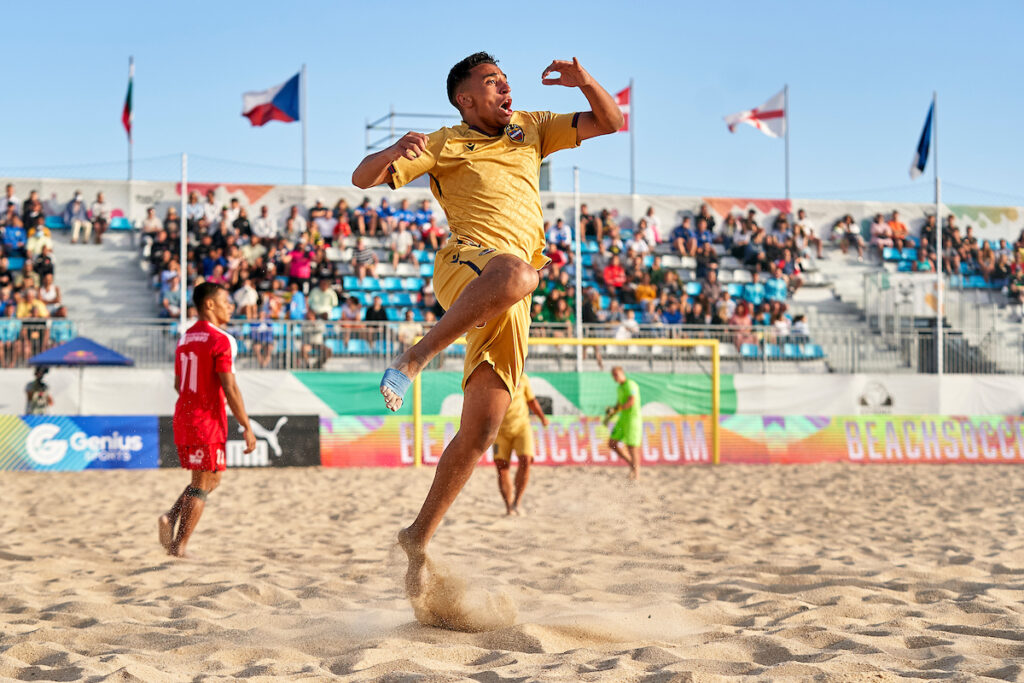 The Nazaré side came back in the second period to a 2-2, and a spicy final 12 minutes saw Levante just snatch victory straight from kick-off with a Pedro wonder goal, clinching the Spanish giants place in the next round.
Pisa surged into life immediately against Greek club Atlas in Group H, with Josep Jr opening the scoring and Brazilian signing Jordan sealing a hat-trick. Atlas didn't manage to break through the Pisa defence once, and the Italian club hit seven to wrap up a second victory in as many days, whih confirmed their title as winner of Group H, sealing a place in the Round of 16.
Stankovic closes gap on Filipov's top scorer status
Cityline Alanya BS administered a second heavy defeat to Naxos Beach Soccer from Italy in their second match in Nazaré. Stankovic's double in the first period helped the Turkish club build an 8-0 lead, and the match was well won by then, ending 9-1 with a consolation goal for Naxos, courtesy of Rovito.
Brazilian star Mauricinho put Falfala KQ BSC ahead after just seconds of their match against BS Slavia Praha, and the Czechs didn't manage to get back into the match, as Golden Ball at the FIFA Beach Soccer World Cup 2021, Noel Ott, ended the tie with a hat-trick. The Israeli club eased to a final score of 8-2, to remain perfect in Group E.
The hero of yesterday's match, Mozambique star Nelson, netted twice for Marseille BT on Day 3 of the Euro Winners Cup, as they downed Vamos Manage from Belgium comfortably. Gosselin, Gharbi, Bru and Quaziz pushed the final score to 6-1.
Boca Gdansk, bolstered by many of the Polish national team, swept aside Portsmouth in the first match of Day 3. Pietrasiak opened the scoring then had a brace by the final whistle, and he was joined by Swiss national team captain Spacca as the Polish club cruised to six points in Group F. They are one win away from a place in the next round.
Keeper Groust Alves starred for Newteam Brussels in their second match at the Euro Winners Cup, scoring twice and making essential saves to see the Belgian club reach six points out of six against Bavaria Beach Bazis (GER) in Group G. They will play Alanya tomorrow for the group topspot and a confirmed place in the next round.
SK Augur Enemat (EST) built on their victory yesterday by leading Rostocker Robben for much of their match on Day 2 in Nazaré. It was tight enough, however, for the Germans to turn the game around in the final period with goals from Thürk and Körner, and then dramatic winners from Thürk and Kautermann snatched two points in extra time to complete the comeback.
Beach Royals Dusseldorf managed to pin West Deva back when they took the lead through a Valle golazo in the first period when Kinscher equalise, but from the second period they allowed the Romanian club to break them down, as a second from keeper Valle and a Netinho double sealed a calm win for West Deva.
Watch all of the action live on Recast.
RESULTS
Group A
Marseille BT (FRA) 6-1 Vamos Manage (BEL)
ACD O Sótão (POR) 4-5 Levante UD (ESP)
Group B
FC Baggio (FIN) 3-0 Arman Pablodar (KAZ)
SC Braga (POR) 6-2 Copenhagen BSC (DEN)
Group E
Falfala KQ BSC (ISR) 8-2 BS Slavia Praha (CZE)
Beach Royals Dusseldorf (GER) 1-5 West Deva (ROM)
Group F
Boca Gdansk (POL) 7-2 Portsmouth (ENG)
Grande Motte (FRA) 3-0 Dembava (LTU)
Group G
Newteam Brussels (BEL) 4-3 Bavaria Beach Bazis (GER)
Cityline Alanya (TUR) 9-1 Naxos Beach Soccer (ITA)
Group H
Pisa BS 2014 (ITA) 7-0 Atlas A.O. (GRE)
Rostocker Robben (GER) 5-3 SK Augur Enemat (EST) *AET
For full details on the Euro Winners Challenge, including groups, fixtures, results and standings, head to beachsoccer.com.