The groups for this year's tournament have been officially announced in Nazaré
---
The fate of all 72 participating clubs involved in this year's edition of the Euro Winners Cup was decided on the 18th May 2023, as the group stage draw is now complete, with the President of Nazaré, Walter Chicharro conducting the draw.
In the eighth edition of the women's Euro Winners Cup, 20 teams were divided into five groups, and the top seeds consisted of host city club, ACD "O Sótão" who will play in Group A, defending champions of this tournament, Terrassa – Bonaire BSC in Group B, and highly ranked sides, Playas de San Javier (Group C) , Marseille BT (Group D) , and FC 10 Ladies (Group E) who took top spot in the three other remaining groups.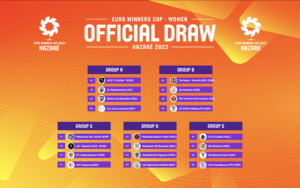 In the 11th Men's Euro Winners Cup, 36 teams were divided into nine groups and the slots in the competition were granted based on each country's EWC league ranking. The top seeds were ACD "O Sótão" placed in Group A, the best placed side in the EWC 2022, SC Braga in Group B, Varzim SC (Group C), Beach Royals Düsseldorf (Group D), Pisa Beach Soccer 2014, Levante UD, SAD (Group E), Grande Motte Pyramide BS (Group F), Falfala Kfar Qassem BSC, and Atlas (Group G) placed in the remaining groups.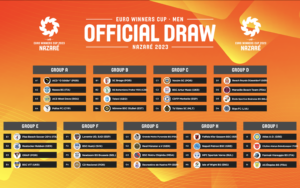 In the Euro Winners Challenge, 16 clubs divided into four groups and will compete for an all important place in the Euro Winners Cup quarter-finals in Nazaré this summer. Clubs were divided into four pots based on their BSWW ranking.
Group A of the competition will consist of two Portuguese sides, AD Buarcos 2017 and Vila Flor SC, as well as, Miehet and A. O. Kefallinia from Greece. Group B includes local side, AD "Nazaré 2022", Portsmouth BS from England, GD Sesimbra, and SA MVR. Group C contains São Domingos FC, FC Genappe, Casa Benfica Viseu and Saint Médard en Jalles. To close out the groups for the Euro Winners Challenge, ACD "O Sótão" B will compete against Minots de Marseille, RFC Perwez BS and finally, FC Ghidighici.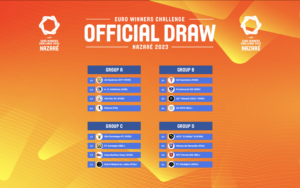 This year's tournament is set to be a classic and we'll find out who will capture continental glory! Proceedings get started on the 9th June and conclude on the 18th June. To find out more about this year's event, make sure to visit beachsoccer.com
See you in Nazaré!