Braga kick off campaign in style while Slovakian newcomers down Sporting
---
– Braga hit 19 in first match
– Husty shock Sporting in Group D
– Filipov scores two more to stay top of scoring charts
SC Braga administered a heavy defeat to the FC Baggio in their first game at the 2022 Euro Winners Cup. By the end of the first period, they led the club from Finland by five goals. In the second, the Brazilian and Portuguese internationals pulled the Baggio defence apart to score 11 goals, but the Finnish side did net a penalty, which was celebrated enthusiastically by the crowd.
By the end of the match, Filipe had four, Thanger, Ruben Brilhante and Andre Lourenço had a hat-trick each, and Pedro Mano and Leo Martins netted twice, to push the final score to a decisive 19-1.
Sporting shocked by debutant Slovaks
Sporting cruised to victory in their first match, but first-timers Husty from Slovakia, who blew Melistar away yesterday with 12 goals, fought furiously against the 2020 Portuguese champions, taking the lead early on, and hanging on until the final whistle for the three points. Goalkeeper Kučera was the main man as he denied Sporting time and time again, while Filipov takes his tournament tally to eight with two more goals.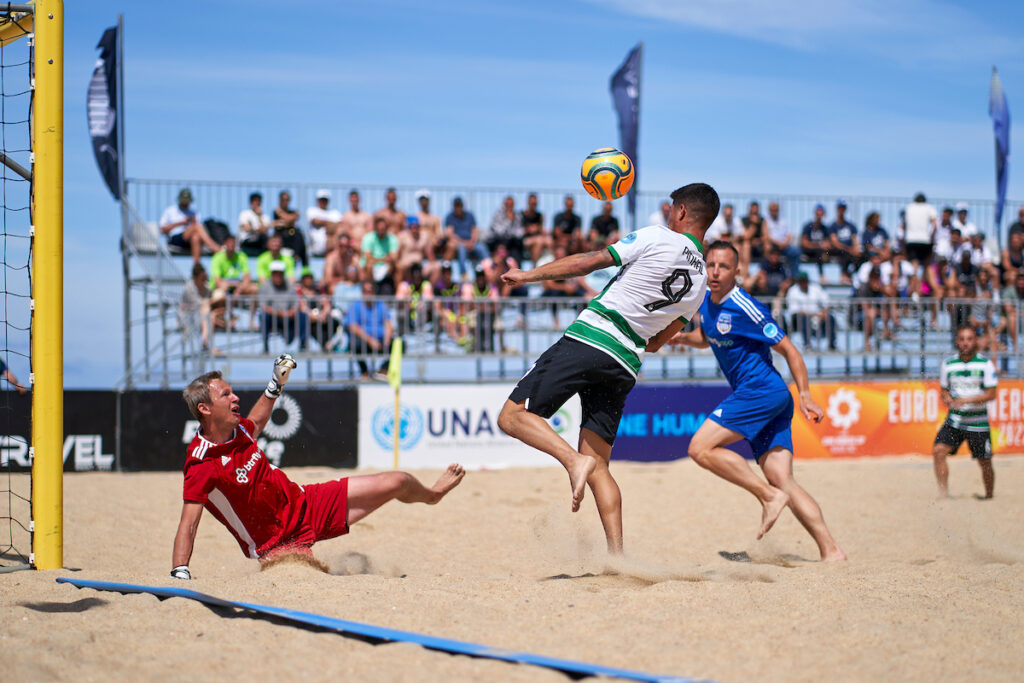 Levante were in inspired form in their second game of the Euro Winners Cup, netting no less than four goals to help the Spanish giants downed first-timers Vamos Manage. Romanian international keeper also scored, as well as Ukrainian international Ihor Borsuk. A double from Huby wasn't enough to deny Levante taking the point tally to six.
Nelson hat-trick downs hosts in Extra Time
After beating Vamos Manage in their first match, ACD Sótão fell behind to Marseille Beach Team in the first period, but turned the match around with goals from Pedro and Duarte to lead 2-1 going into the final 12 minutes. Mozambique international Nelson fired in a late penalty to force extra time, and then found the winner to complete his hat-trick in the added three minute to win a dramatic two points for the French club.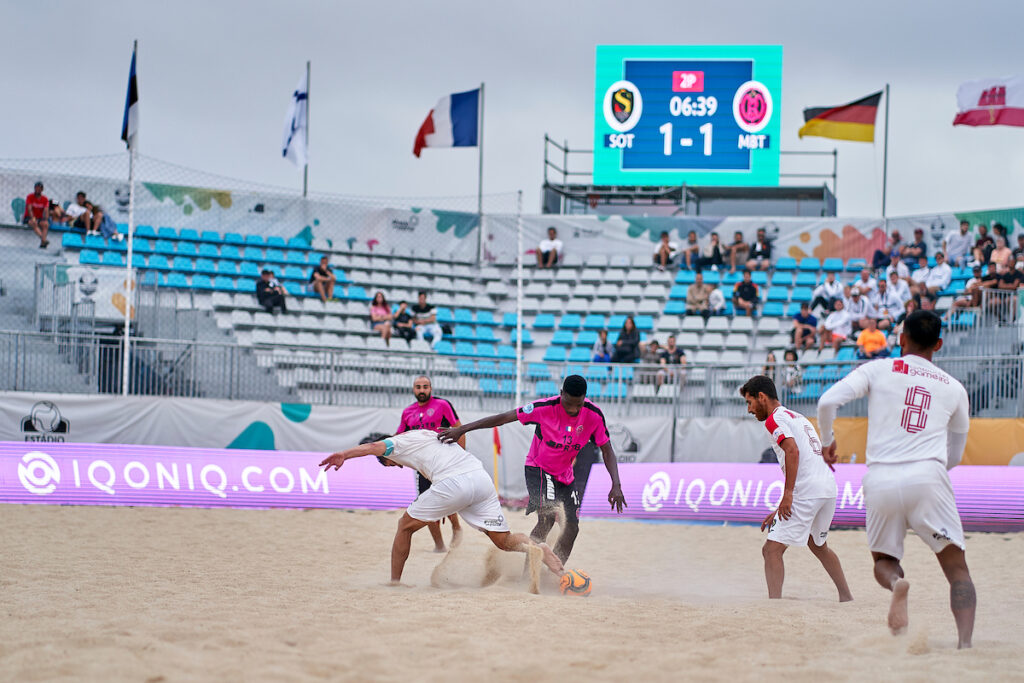 The second day of the Euro Winners Cup kicked off with SK Augur Enemat, featuring many of the recently promoted Estonia national team, taking on Pisa who come directly from the final of the Supercoppa in Italy. The first period ended 4-2 to the Italians, and in the second, goals from Azzurri internationals Josep Jr and Marinai helped put the lead to 4-7, sealing the first points for Pisa.
Cityline Alanya BS from Turkey kicked off their 2022 Euro Winners Cup against German side Bavaria Beach Bazis, and a tight match gradually became more one-sided as Swiss international Stankovic scored four and Tutoita put away a hat-trick, taking the final score to 9-4 to the Turkish club.
German Euro Winners regulars Rostocker Robben and Atlas AO joined the fray on Monday in their first match in Group H, which ended in a 14-goal thriller in favour of the Greek club. A dramatic turnaround from a 4-1 losing position, helped by doubles from Spaniard Cristian Torres and Tsitsaris, won Atlas their first points at the Euro Winners Cup.
Casa Benfica De Loures were downed by Moldovan club BSC Nistru on their second day of the Euro Winners Cup in a close tie which saw Dumitru put away two goals to mark the difference. Casa Benfica, who sit in second in the Portuguese league, will face Spartak Varna after their rest day tomorrow, while Nistru take on Recreativo Huelva from Spain.
Gustafsson began and started his game against Melistar from Spain with hat-trick completing goals in what turned out to be a high-scoring but comfortable victory, in their second match in Nazaré. Hjerpebo and Lavah scored braces to take the Swedes tally to nine, grabbing much needed points in Group D after their loss to Sporting yesterday.
NewTeam Brussels cruised past first-timers Naxos BS from Italy, as Spanish recruit Fran Mejias and Clement netted braces to help take the Belgians to a grand total of eight goals. Chirillo pulled one back in the final period but the points were well-won by the final whistle.
Bulgarian champions Spartak Varna struggled to break down the defence of Spaniards Recreativo De Huelva. Dzhambazov had to wait until the second period to find the net, and suddenly, in the final period, Jose and Casano pulled the match back to 2-2 to force extra time and then penalties. Holding their nerve, the Spanish turned the game around to snatch a point at the death.
Watch all of the action live on Recast.
RESULTS (Day 1)
Group A
Levante UD (ESP) 9-3 Vamos Manage (BEL)
ACD O Sótão (POR) 3-4 Marseille BT (FRA) *AET
Group B
SC Braga (POR) 19-1 FC Baggio (FIN)
Arman Pablodar (KAZ) 0-3 Copenhagen BSC (DEN)
Group C
Spartak Varna (BUL) 2(2)-(3)2 Recreativo De Huelva (ESP)
Casa Benfica De Loures (POR) 3-4 BSC Nistru (MDA)
Group D
Sporting CP (POR) 3-5 BSC Husty (SVK)
Melistar (ESP) 4-9 Bemannia FC (SWE)
Group G
NewTeam Brussels (BEL) 8-1 Naxos BS (ITA)
Bavaria Beach Bazis (GER) 4-9 Cityline Alanya (TUR)
Group H
SK Augur Enemat (EST) 4-7 Pisa BS 2014 (ITA)
Rostocker Robben (GER) 6-8 Atlas A.O. (GRE)
For full details on the Euro Winners Challenge, including groups, fixtures, results and standings, head to beachsoccer.com.