A last-second winner seals Real Münster's place in the next stage while Jamotte nets six for Etoile Brainoise
---
– Four teams make the next round of the Euro Winners Challenge
– Metzler wins last-second qualification for Real Münster
– Jamotte nets six for Etoile Brainoise to lead scoring charts
Rosh Haayin, Varzim, Napoli Patron and Real Münster made it to the next round of the Euro Winners Challenge 2022, with second wins in Nazaré.
An incredible individual display saw Jamotte help Etoile Brainoise mount an impressive comeback and more golazos from Brazilian signings helped Rosh Haayin seal a place in the next round.
Last-second winner se Münster make next round
Fast becoming notorious for scoring essential last-second goals, Joscha Metzler won qualification to the next round for Real Münster, downing Buarcos (POR) with winner that literally couldn't have come later.
The 2021 semi-finalists struggled against their Portuguese rivals, but managed to break the deadlock through Bequiri in the second period. A stunning stop from keeper Jose Carlos kept the Germans in the match, leaving the opportunity for Die Mannshaft number 10 to bury the winner.
It was all about the Brazilian signings in Rosh Haayin's second match of the Euro Winners Challenge, as Edson Hulk, who led the scoring for much of the competition last year, netted a hat-trick. Ze Lucas and Catarino also scored twice each as the Israelis cruised to a 9-3 victory to sit top of Group B. This victory saw Rosh Haayin also make the next stage.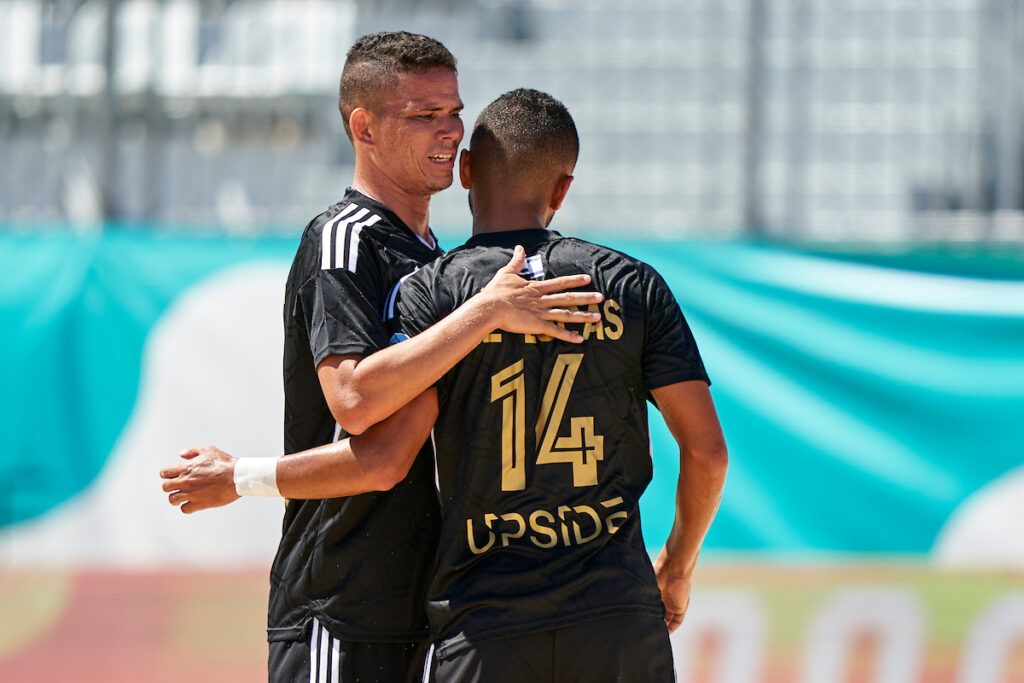 Crazy comebacks
A high-tempo, 18-goal bout between Etoile Brainoise (BEL) and GD Chaves (POR) saw the Belgian side mount an impressive comeback after trailing for most of the match, to clinch their first three points, becoming the first club to put away 11 goals in a single game in the Euro Winners Challenge. Jamotte also shot to the top of the scoring charts after hitting six in today's match.
In Group D, NewTeam Legends, who lost 6-0 yesterday, suffered more heartbreak on Day 2 in Nazaré when, after leading for most of the match, Vila Flor (POR) mounted a crazy final-period comeback to turn a 4-0 score round, and win the match 4-5, clinching their first win.
More clubs reach the next round
Napoli Patron APS built an early 3-0 lead against GD Alfarim on Day 2, and controlled the game from there on, with the Japanese and Emirati stars netting four between them to take a second victory in two days. The win for the Greek side takes them to the top of Group A, and through to the next round.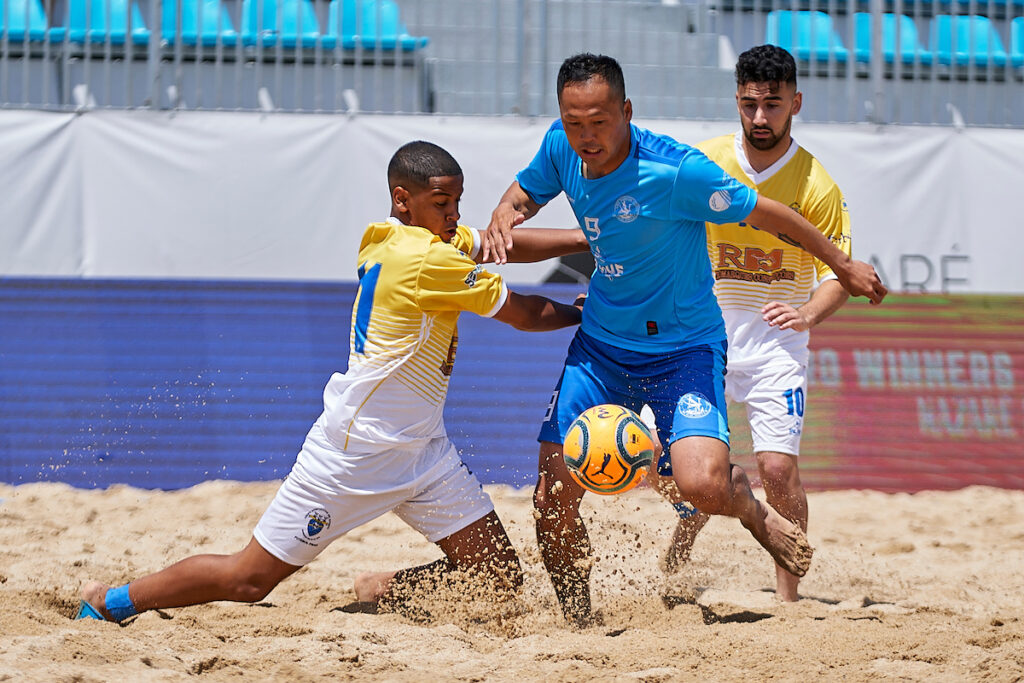 FC Genappe ASBL (BEL) faced their second Portuguese side in as many days, and it was Varzim who took the lead. Just before the break, 18-year old Bernardo Saravia equalised, taking his tournament tally to three. But Varzim were too strong, and cruise to top of Group F and through to the next round.
Doubles from Duarte and Mota had the match close during the first two periods, GRAP vs GD OS Nazarenos, and the stalemate remained in place right up until the end of normal time, when the scoreline read 5-5. No less than six goals in extra time, as Lúcio and Mota sealed hat-tricks, won the two points available for Os Nazarenos.
Right to the wire
Toulon Beach Soccer from France suffered a 5-0 defeat on Day 1 but netted their first two goals against CCD Portomendo (POR). However, the Portuguese side equalised to force extra time and then nicked two points thanks to a late strike from Évora to open up Group F.
In a close showdown between two Portuguese club, Machuqueiro's goal marked all the difference between the two, as São Domingos downed Casa Do Benfica Viseu by three goals to two, making it six points out of six for the side from the Portuguese Elite League.
Hat-trick heroes
FC Vion (SVK) suffered the force of CF Os Belenenses's international signing as Argentinian Ponzetti netted a hat-trick, as did Paraguay's magician, Miciades Medina. They were joined in the hat-trick club by local boy Iga. All three scored yesterday, and so sit on four goals each, and Belenenses bag their first points in Nazaré.
Nazaré side O Sotao "B" took an early lead in the first period of their match against Kefallinia (GRE), following their narrow and dramatic win on penalties the previous day. They were drawing 3-3 at the end of the second period, but a brace by Duarte Florência in the final period saw the hosts bag a second win, and reach four points in Group G.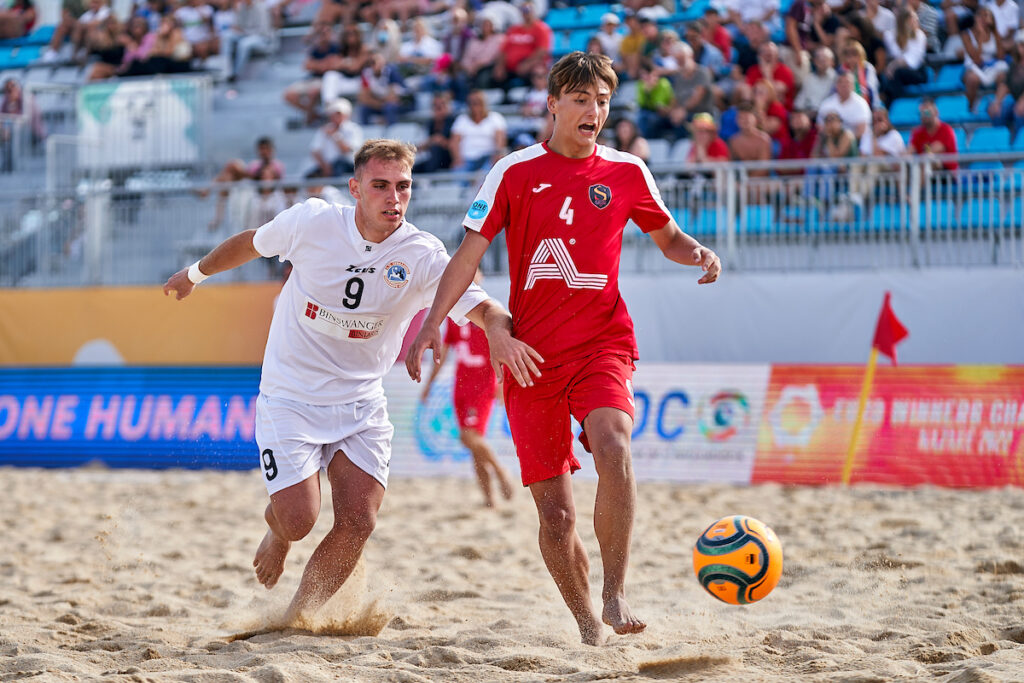 Watch all of the action live on Recast.
RESULTS (Day 2)
Group A
Napoli Patron APS (GRE) 7-4 GD Alfarim (POR)
FC Vion (SVK) 4-11 CF Os Belenenses (POR)
Group B
LSA Perwez (BEL) 0-3 Casa Benfica Loures "B" (POR)
Rosh Haayin BSC (ISR) 9-3 CB Caldas Da Rainha (POR)
Group C
GRAP (POR) 7-9 GD OS Nazarenos (POR) *AET
Minots De Marseille (FRA) 4-5 AD "Nazaré 2022" (POR)
Group D
Newteam Legends (BEL) 4-5 Vila Flor SC (POR)
Real Munster E.V (GER) 3-2 AD Buarcos 2017 (POR)
Group E
Etoile Brainoise (BEL) 11-7 GD Chaves (POR)
CS Djoker (MDA) 0 vs 3 GD Sesimbra (POR)
Group F
Toulon Beach Soccer (FRA) 2-3 CCD Portomendo (POR) *AET
FC Genappe ASBL (BEL) 2-6 Varzim (POR)
Group G
Casa Do Benfica Viseu (POR) 2-3 São Domingos (POR)
A.O. Kefallinia (GRE) 3-6 O Sotao "B" (POR)
For full details on the Euro Winners Challenge, including groups, fixtures, results and standings, head to beachsoccer.com.