The Italians ran riot to score 17 on Day 1 of the ANOC World Beach Games European Qualifier in Catania
---
– Italian hosts win big on Day 1
– Portugal come from behind to down Moldova
– Gori leads the scoring charts with six
The opening matchday of the ANOC World Beach Games European Qualifier in Catania saw the merciless hosts storm to their first win, as Portugal, Switzerland, Spain and Turkey also claimed three points.
Del Duca's Italians swept aside their Norwegian rivals with 17 goals, six of which were claimed by the leading scorer, Gabriele Gori.
Remember you can watch the full matches, as well as the highlights, on Recast!
Goals galore in Gori masterclass
No less than 17 goals were scored by Italy in their first match on the island of Sicily, six of which went to leading scorer Gabriele Gori, as they leap to the top of Group A.
The dangerous duo Gori and Zurlo took just minutes to each get on the scoresheet, punishing sloppy defending to seize an early lead. Gori had a brace before the break with his second bicycle kick of the match, but Norway pulled one back through Salveson.
The second period began at 3-1, but Gori and Fazzini, one of the next generation of Azzurri beach soccer stars, volleyed in numbers four and five. Jacobsen cut the difference with a cool finish, but there was no stemming the goals from the men in blue.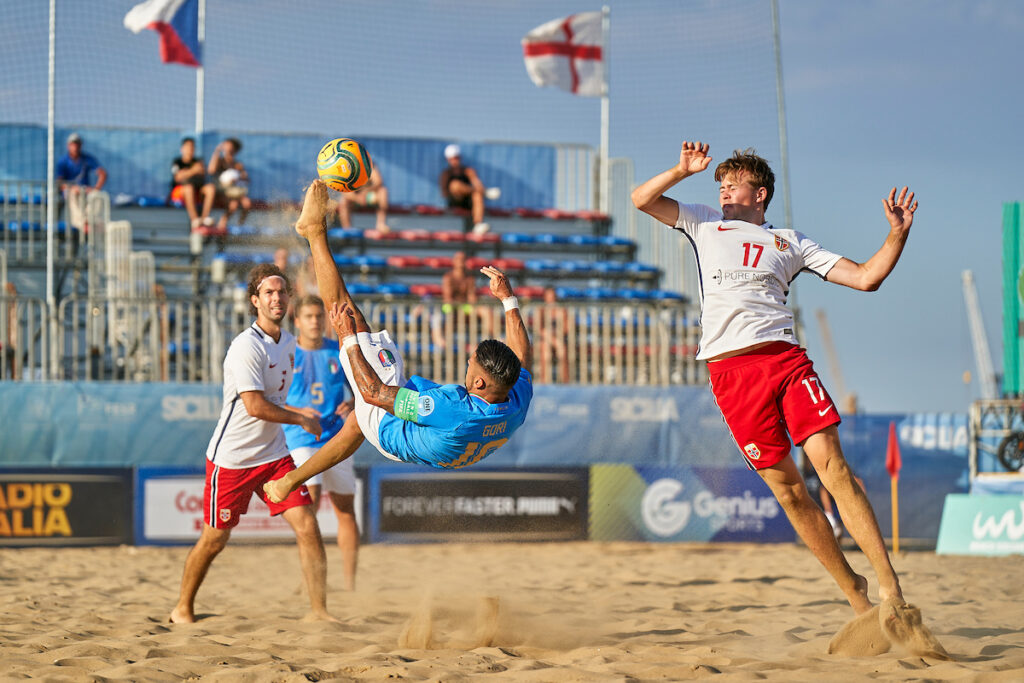 From that point on it was one-way traffic, as the locals were full of confidence and had their young players performing well. Genovali, Giordani, Miceli, Bertacca, Remedi all got on the scoresheet, while the veterans Gori and Zurlo took their tallies to six and three, pushing the final score to 17-4, after Li and a second from Salveson saw Norway take four consolation goals.
A simple win on Day 1 for the hosts, and they will face France on Wednesday.
Doubles from Leo Martins and Belchior bag win on Day 1 for Portugal
After falling behind initially, Portugal turned their match around to down a spirited Moldova in their first taste of elite European beach soccer.
Moldova shocked their new Division A rivals with the opening goal, as Ignat rose to nod in from close range, but Miguel Pintado muscled aside a defender to blast in an equaliser before the first whistle sounded.
Portugal moved up a gear in the second period, as Andre Lourenço, Leo Martins and captain Belchior fired home for Mario Narciso's men, seizing control of the tie.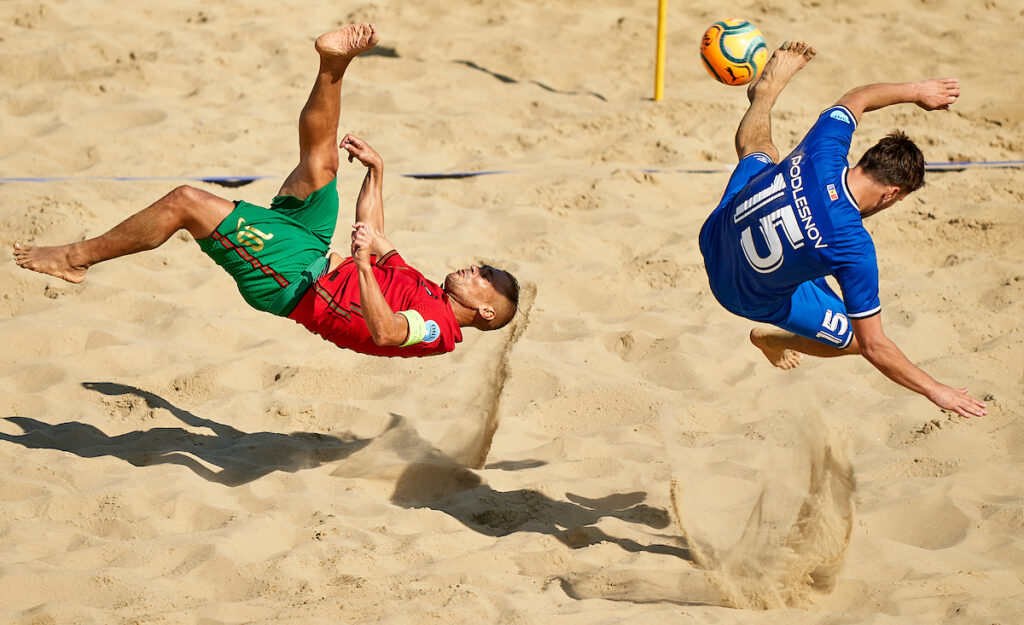 Belchior struck straight after the second restart too, but soon after Podlesnov powered in a second for Moldova, and when captain Cojocari made it 5-3, Ruslan Pernai's men had a glimmer of hope against the European champions.
However, Portugal held on, and with just seconds on the clock Leo Martins hit his second of the match to take the final score to 6-3, winning a precious three points for the Seleção das Quinas.
Hodel hat-trick downs Azerbaijan
A hat-trick from the FIFA Beach Soccer World Cup top scorer Glenn Hodel represented the difference on Day 1 for Schirinzi's side, as they held off the men from the Land of Fire for an opening three points.
Switzerland took the early lead against Azerbaijan with a goal from Hodel that would set the difference between the two teams in the first twelve minutes.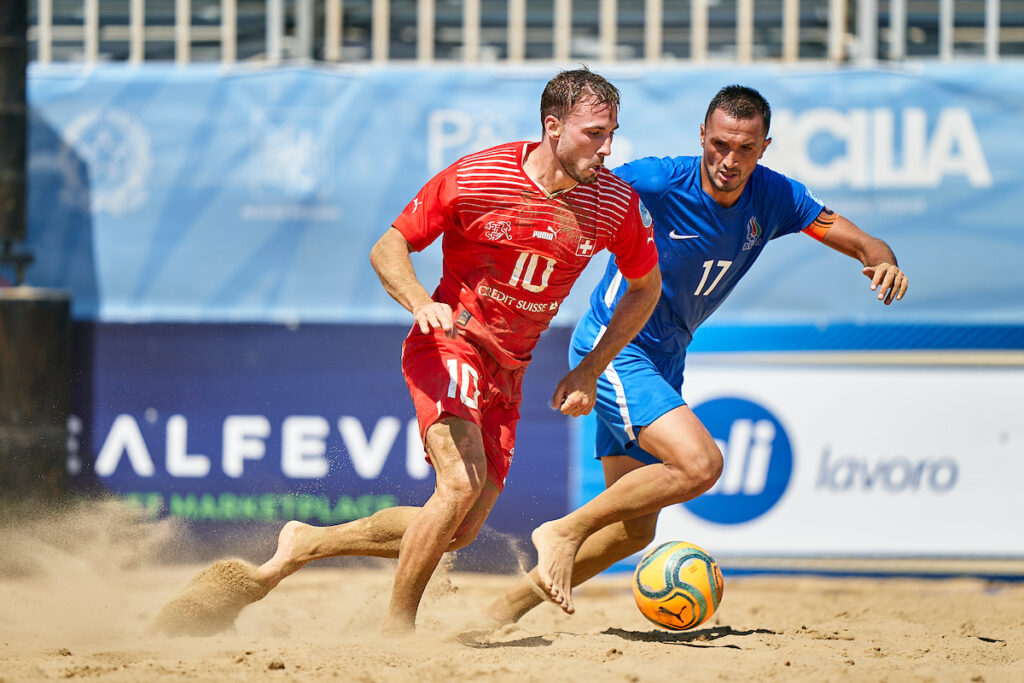 The second period was full of action, with the Nati controlling the match as Noel Ott scored two goals from set pieces and Stankovic made it 4-0. But Azerbaijan reacted with three goals in just one minute, scored by Mammadov (two) and Nazarov to put the match back into discussion before Hodel scored a bicycle kick sending Switzerland ahead with a two-goal margin into the final period.
A third from Hodel would mark the difference as the sides battled out a tight final third, and although Nazarov hit his second of the match, a rocket from the world's Best Goalkeeper, Eliott, helped seal the points for Switzerland in Group C.
Spain overwhelm Swedes on first day in Catania
What started as a tight match saw Spanish supremacy down the valiant Vikings in the final period, as Mendez's men go top in Group D.
Casano took an initial lead for Spain in their first match in the group, but Swedish number ten Johagen struck back with a bicycle kick to give La Roja a scare in the opening period.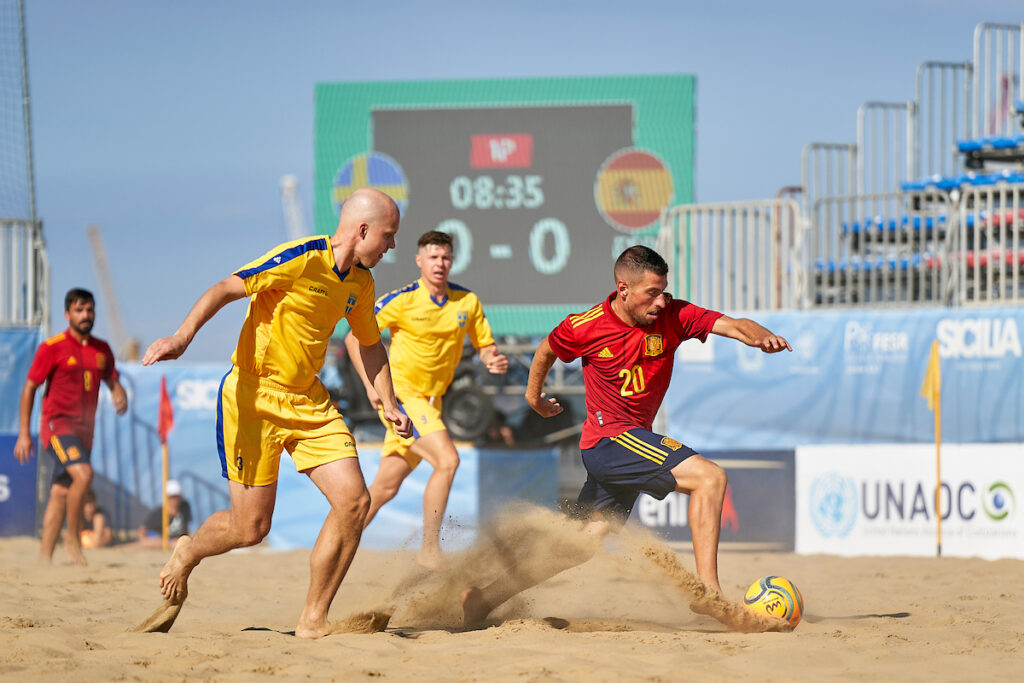 Dona's long-range strike from his own area had Spain leading at the beginning of the second period, but the Swedish striker soon doubled his tally, only to see it cancelled out yet again by a well-taken free kick from Spanish youngster, Alejandro.
Pedro curled in another set piece to make it 4-2, and in the third period Cristian Mendez's men moved their attack up a notch, as Casano and Alejandro each completres a brace and the youngest squad member, Saul Batis, put away a fantastic individual goal.
Three points in the bag for the Mundialito champions, who will face Czech Republic tomorrow.
Turkey come from behind to see off Czechs
Czech Republic took an initial lead, but gradually allowed Turkey back into a tight opening match in Catania, as The Crescent Stars sealed the first win of the Qualifier.
Turkey had recently won back their Division A status in the EBSL, but they fell behind to a side they left in Division B, with a bizarre own goal from Semih, lobbing his own keeper. Yasin stepped up to bury a brilliant freekick pulling the score back to 1-1, but before the first period was over, star striker Hurab put the Czechs ahead with a volley and then netted the match's second own goal to restore the stalemate.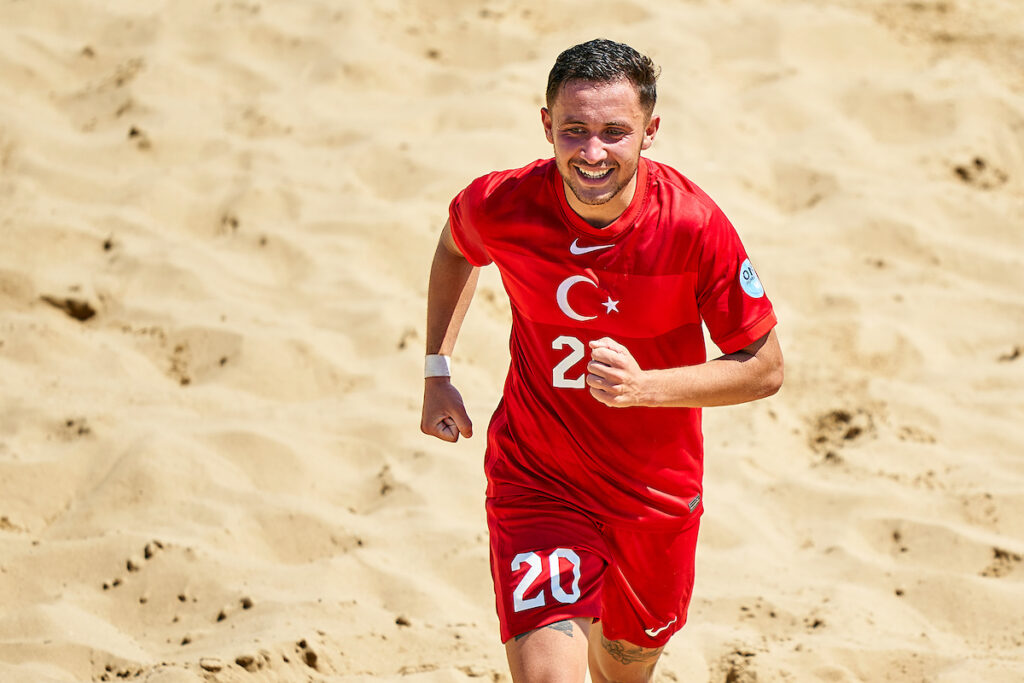 Turkish captain Baris pounced on confusion between goalkeeper and defender to snatch the lead in the second period, and the men in red held onto this lead heading into the last period.
Martin Boček's men fought hard to get back into the match but a final goal from Efe Lorenzo wrapped up the points for The Crescent Stars, who took the first win in Group D.
DAY 1 RESULTS (29/08)
Turkey 4-2 Czech Republic
Switzerland 7-4 Azerbaijan
Portugal 6-3 Moldova
Sweden 3-7 Spain
Italy 17-4 Norway
The matches are scheduled from 29 August to 4 September at See Sicily Arena Beach Stadium, and will decide which five men's and four women's national teams will represent Europe at the 2023 ANOC World Beach Games in Bali.
For full details on the ANOC World Beach Games European Qualifier Catania 2022, head to beachsoccer.com.