An all-Portuguese final will be played in Nazaré on Sunday as Braga reach sixth consecutive
---
– Casa Benfica reach first-ever Euro Winners Cup final
– Braga put seven past Grande Motte in semi-final
– First all-female referee men's beach soccer match
An all-Portuguese final will be played at the Euro Winners Cup for the first time, as Casa Benfica and SC Braga claim victory in semi-finals.
Casa Benfica reach first Euro Winners Cup final
Casa Benfica beat Falfala on the penultimate day in Nazaré to make their first-ever Euro Winners Cup final. History had already been made when these two clubs reached the semi-finals, and Falfala took the lead through Moreb halfway through the first period. La Roja striker Chiky equalised just moments later, and a flurry of goals in the final minute of the period saw the local side leading by three goals to two.
Moreb completed his hat-trick in the second period, but Seixas was on hand once more to pin Falfala back. A well-worked goal saw Luis Henrique volley in a fifth for Casa Benfica to clinch the win with a two-goal cushion.
The side who sit second in the Portuguese league, will face the national league leaders, Braga, in an all-Portuguese final tomorrow.
Braga breeze into sixth consecutive final
It was another day at the office to the brilliant Braga who put seven goals past Grande Motte from France, to make their sixth final. Datinha rifled the Portuguese club ahead after two minutes, and Filipe and Be Martins made it three before the first whistle.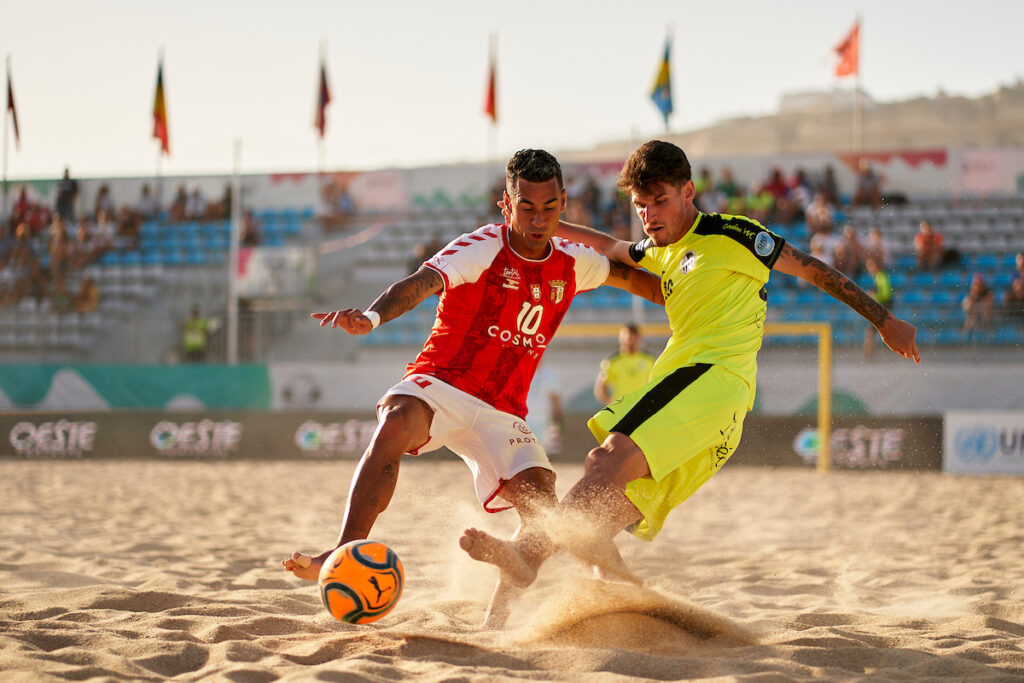 Kuman broke through the Braga defence in the second period, but Filipe and Andre Lourenço, as well as an unfortunate own goal, pushed the lead to 6-1. Tiffano netted a second for the French, but Leo Martins joined his twin brother on the scoresheet to seal a simple win, and a place in the final.
Playoffs
Fighting for finishing positions, Copenhagen and Rosh Haayin won their playoff matches on Saturday to seal a showdown for fifth place in the Euro Winners Cup.
In the match between Copenhagen and Alanya, history was made as the first-ever game of men's beach soccer to be refereed by a team of four female officials took place on the penultimate day of the Euro Winners Cup. The Danes won the tie by a comfortable six goals to one, and beach soccer history was made once more.
In a fiery encounter between Pisa and Sporting, a tight tussle went all the way to penalties where the Italian club kept hopes of a ninth-place finish alive.
Watch all of the action live on Recast.
RESULTS
Semi-finals
Casa Benfica De Loures (POR) 5-3 Falfala KQ BSC (ISR)
Grande Motte (FRA) 2-7 SC Braga (POR)
Playoffs
Bemannia FC (SWE) 4-5 Portsmouth (ENG)
Marseille BT (FRA) 6-3 West Deva (ROU)
Beach Royals Dusseldorf (GER) 1-2 BSC Nistru (MDA)
Levante UD (ESP) 4-8 Rosh Haayin (ISR)
Recreativo De Huelva (ESP) 6-1 Bavaria Beach Bazis (GER)
Copenhagen BSC (DEN) 6-1 Cityline Alanya (TUR)
Atlas A.O. (GRE) 3-5 Spartak Varna (BUL)
Newteam Brussels (BEL) 4-3 Napoli Patron (GRE)
Pisa BS 2014 (ITA) 1(5)-(4)1 Sporting CP (POR)
ACD O Sótão (POR) 2-1 SK Augur Enemat (EST)
For full details on the Euro Winners Cup, including groups, fixtures, results and standings, head to beachsoccer.com.