The new French cosmetics brand lead by Joël Cantona will be an official partner for the 2021 season
---
Just in time for the 2021 beach soccer season kicking off, we have some more good news! Beach Soccer Worldwide will be partnering with the cosmetics brand nostra, which become the official partner for the Cosmetics category.
They're not just any old brand though… nostra's products are all cruelty free, meaning that nothing they produce is tested on animals.
On top of that, their products are between 96% and 100% natural.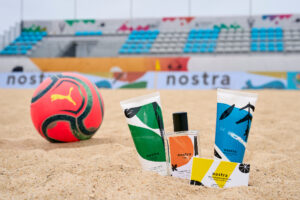 Everything nostra makes is created in the south of France, which may give you a clue as to who is behind the project and exactly why it is also linked with beach soccer.
Apart from the fact that the time of year when we need to take extra care of our skin is approaching (at least in the northern hemisphere), nostra is the project of none other than beach soccer and footballing legend, Eric Cantona and his brother Joel, also a former beach soccer player.
As an active advocate for animal rights, it is fitting that he should found a brand with such strong ethical values.
For now, nostra is active is Portugal, Italy, Spain and Dubai, but they're growing fast.
So, make sure you're kind to your skin this summer, with nostra.
More on nostra: https://www.instagram.com/nostra.cosmetics/