Reigning champions Portugal won comfortably while there were more tight victories for Italy and Ukraine
---
Beach soccer is back in Nazaré, and what a day of action we had to kick the EBSL off…
In arguably the most impressive turnaround in beach soccer history, Switzerland came back from 7-1 to beat Poland, with Glenn Hodel netting the winner with 10 seconds to go.
Elsewhere, defending champions Portugal cruised past Azerbaijan while Russia and Spain also took comfortable wins.
Ukraine and Italy had it harder in earning their points but managed to overcome spirted performances from France and Germany.
But the match of the day award goes to…
POL 9-10 SUI (Group 2)
Poland had had a long break from international beach soccer due to the Covid-19 pandemic, but the side who reached their first ever World Cup in 2017 showed they had not lost their touch in what was – by far – the game of the day…
Pietrasiak netted within the first minute when the ball fell kindly to him after rebounding off Swiss keeper Eliott's post. Then Brochocki added another, then another from Pietrasiak, then Becker and Switzerland were being totally overrun as the second period began.
Bistula put away number five before a response finally came from Schirinzi's men when Eliott, after having been beaten five time already, fired in what was arguably the goal of the game. It looked as if the comeback kings were turning the tables on their Polish rivals but Pietrasiak took his tally to three and Gac also got on the scoresheet.
It looked as if Switzerland were sorely missing their two main goal scorers, Noel Ott (injured) and Dejan Stankovic (suspended) and at 7-1, all hope seemed lost…
Poland kept scoring, but out of nowhere, the Swiss kicked into a different gear, and a hero appeared in the form of Philipp Borer.
Borer began scoring goals seemingly at will, netting five before the game was up, the last coming in the last minute to make the score and incredible 9-9! It looked as if the incredible comeback had forced extra time, but Glenn Hodel didn't even need an extra three minute to seal the win, netting with just ten seconds on the clock!
Famous for conceding many goals, Switzerland are equally famous for scoring and they won a game 9-10.
Goals: 1-0: Pietrasiak, min. 11 (1); 2-0: Brochocki, min. 8 (1); 3-0: Pietrasiak, min. 7 (1); 4-0: Becker, min. 0 (1); 5-0: Bistula, min. 10 (2); 5-1: Eliott, min. 8 (2); 6-1: Gac, min. 7 (2); 7-1: Pietrasiak, min. 1 (2); 7-2: Borer, min. 1 (2); 7-3: Eliott, min. 0 (2); 7-4: Borer, min. 0 (2); 8-4: Brochocki, min. 10 (3); 8-5: Schirinzi, min. 8 (3); 9-5: Pietrasiak, min. 3 (3); 9-6: Borer, min. 3 (3); 9-8: Borer, min. 2 (3); 9-8: Hodel, min. 2 (3); 9-9: Borer, min. 0 (3); 9-10: Hodel, min. 0 (3);
AZE 2-7 POR (Group 1)
The defending champions of the Euro Beach Soccer League and hosts Portugal kicked off their title-defending plan against Azerbaijan, who were almost relegated in 2019 after a disappointing EBSL campaign.
The visitors kept out Narciso's men until the seventh minute when Leo Martins slotted home at the near post to put Portugal ahead. His twin brother Be Martins then tucked away a freekick from close range to make it two and Azerbaijan went into the second period on the backfoot.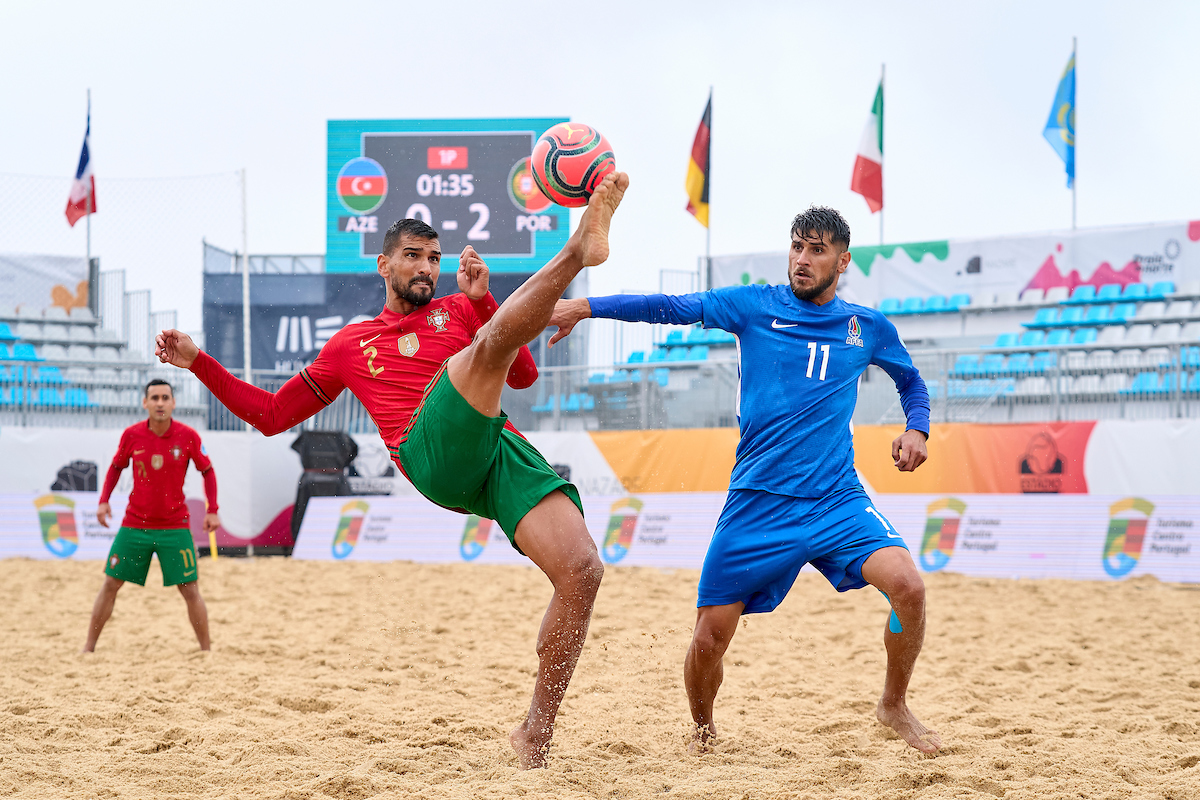 But they showed why they deserve to be in Division A of the European league, as they created chances and built pressure until Amid Nazarov took a superb touch to set himself up for a textbook bicycle kick to make it 2-1.
Then Sabir swooped in at the back post to level up and, out of nowhere, Portugal's lead was cancelled out and they found themselves defending furiously. Rui Coimbra had the chance to retake the lead with a penalty but he blasted it high and wide to cheers from the Azerbaijan bench.
But then something clicked for the defending EBSL champions, as they totally overran their rivals, racking up a total of seven goals thanks to Bruno Torres, Belchior, Coimbra and a hat-trick completing strike from Leo Martins.
After a brief wobble, the hosts showed why they have dominated beach soccer in recent years with a comfortable three points on home sand, and a message sent to the rest of Europe's elite sides…
Goals: 0-1: Leo Martins, min. 7 (1); 0-2: Be Martins, min. 1 (1); 1-2: Amid, min. 8 (2); 2-2: Sabir, min. 8 (2); 2-3: Leo Martins, min. 3 (2); 2-4: Bruno Torres, min. 4 (3); 2-5: Belchior, min. 4 (3); 2-6: Leo Martins, min. 2 (3); 2-7: Coimbra, min. 2 (3);
TUR 1-5 RUS (Group 3)
The former world and European champions took the first step to regaining their former glory today, with a tidy win against a Turkey side full of beach soccer talent.
It took Raskin a matter of seconds to get the Russians off the mark, and a bobbling strike from Krash wrong-footed the keeper to make it two before the first break. It looked as if Russia were close to adding to their tally but the next goal went to the Turkish talisman, Cem Keskin.
The striker found space to turn two Russian defenders and slot a spinning shot home to cut the deficit. But before the second period was over Nikonorov, who has 18 goals in just 11 games in the Russian league so far, added number three for Likhachev's men.
In the final period, the ever-prolific Zemskov scored his first of the campaign and Krash wrapped up the points for the hosts of this year's FIFA Beach Soccer World Cup with a last minute goal, seeing Russia cruise to an opening three points in Group 3.
Goals: 0-1: Raskin, min. 11 (1); 0-2: Krash, min. 7 (1); 1-2: Cem Keskin, min. 10 (2); 1-3: Nikonorov, min. 5 (2); 1-4: Zemskov, min. 4 (3); 1-5: Krash, min. 0 (3);
ITA 5-4 FRA (Group 2)
This classic beach soccer match kicked off with Italy as firm favourites considering their form in recent years, reaching the final of the last FIFA Beach Soccer World Cup and ranked third in the world, but it was France who drew first blood.
A long-range strike from Seb Huck caught Del Mestre out with a bobble in the sand after just two minutes, and France led for the whole of the first period. Huck struck again in the second period to extend the advantage, but the ever-dangerous Gabriele Gori hit back straight from kick-off.
But Huck the hat-trick hero netted another deflected shot to make it three to France going into the final period. It was short-lived as Zurlo and Josep Jr, Rising Star of 2019, hit the Azzurri's second and third to tie the match once more.
Tremoulet nodded home a corner to retake the lead for Les Bleus but that was the end of France's scoring for the day, as Italy just managed to edge ahead with brace-securing goals from Josep Jr and Gori, cruelly snatching victory from the French in the dying minutes.
Claude Barabe's men, however, will no doubt walk away feeling confident going into their match against Switzerland tomorrow, after leading the World Cup finalists for most of the match. Italy will face Poland in their second Group 2 game.
Goals: 0-1: Huck, min. 10 (1); 0-2: Huck, min. 4 (2); 1-2: Gori, min. 4 (2); 1-3: Huck, min. 0 (2); 2-3: Zurlo, min. 0 (2); 3-3: Josep Jr, min. 10 (3); 3-4: Tremoulet, min. 7 (3); 4-4: Josep Jr, min. 7 (3); 5-4: Gori, min. 5 (3);
ESP 6-3 BLR (Group 3)
Christian Méndez can boast an effective performance and comfortable victory in his first game as the head the Spanish national beach soccer team.
A 6-3 victory is not a bad way to get your Euro Beach Soccer League campaign underway, and the result put La Roja momentarily at the head of Group C, ahead of the clash between Russia and Turkey, as well as taking them a step closer to qualifying for the EBSL Superfinal.
The first period was very evenly matched, with both teams keeping their distance, and the nets of each remaining undisturbed. Belarus gave the Spaniards a scare at the start of the second period through captain Ivan Kanstantinau, but Méndez's men turned the result around with two goals from Javi Torres before the first break and didn't let go of the game until the end.
After Riduan made it 3-1, the Belarusians cut the distance, making it clear that they would not give up on the points. But the third period slipped further from them as goals from Llorenç, Pablo and the third of Javi Torres would secure three key points in the regular phase of the Euro Beach Soccer League.
Belarus, who qualified for their first ever FIFA Beach Soccer World Cup under the management of head coach Nico Alvarado in 2019, will face Russia in their match tomorrow, while Spain meet Turkey.
Goals: 1-0: Kanstantinau, min. 10 (2); 1-1: Javi Torres, min. 7 (2); 1-2: Javi Torres, min. 7 (2); 1-3: Riduan, min. 2 (2); 2-3: Piatrousky, min. 1 (2); 2-4: Llorenç, min. 8 (3); 2-5: Pablo, min. 8 (2); 3-5: Novikau, min. 4 (3); 3-6: Javi Torres, min. 1 (3)
UKR 3-2 GER *AET (Group 1)
The first match of the 2021 Euro Beach Soccer League took place between two of the few teams who managed to overcome the Covid restrictions in 2020 to compete in last year's edition.
In their last meeting in September, the match ended 3-3 after normal time, and then Ukraine wrestled a point from the penalty spot, and today's match was equally as tight.
It was Kostenko's men who were quicker off the mark, as Zborovskyi was left totally unmarked for a corner and nodded in the opener. The sides went in to the first break with a goal between them, but it didn't take long for Korner to put away an equaliser which Romrig's men then ferociously defended.
The ball bounced threateningly off the frame of the goal but the stalemate remained intact until Korner doubled his tally for the day with a tight-angled finish, only for Pashko to follow up the strike from kick-off with a rocket into the top corner.
Just as it had been in the match nine month ago, neither team was able to find the winning goal in normal time and claim all three points, however the decider did come, and it was the towering figure of Pashko once again who buried a freekick from distance to grab a precious two points.
A great start for Ukraine, who meet the world champions Portugal tomorrow, and a positive performance from Germany who will meet Azerbaijan.
Goals: 1-0: Zborovskyi, min. 10 (1); 1-1: Korner, min. 10 (2); 1-2: Korner, min. 2 (3); 2-2: Pashko, min. 2 (3); 3-2: Pashko, min. 0 (ET);
Head to beachsoccer.com for full details on the Men's Euro Beach Soccer League.