Italy and Ukraine also remain undefeated but drop points in extra time and penalties
---
The finest of margins saw Switzerland mount another Euro Beach Soccer League comeback to seal a second three-point matchday, while an imperious Portugal put 10 past Germany and Russia held strong to hand Belarus their second defeat.
The three group leaders have secured their places in the Superfinal in Figueira da Foz, while Germany, Azerbaijan, Belarus, Turkey, France and Poland will all play each other tomorrow in a final scramble for points.
RUS 5-3 BLR (Group 3)
The last time Russia won the European crown was in 2017 and they made their intentions clear against Turkey yesterday with a 5-1 win.
It took much longer the break through the Belarussian line on Day 2 though, but Makarov eventually smashed in the opener straight from kick-off of the second period. Zemskov then acrobatically added a second, but Kanstantsinau wasn't far behind in cutting the difference down once more.
Makarov repeated his trick to make it 3-1 and the game, after a slow start, burst into life. Kosharnyi the Russian keeper saw his opposite number spill his shot to make it 4-1 to Russia, but Ryabko struck late in the second period to keep the game alive.
Midway through the final period, Zemskov tucked away his second of the game but Bokach was on hand to convert a freekick which only just rolled over the line.
Russia held on the their two-goal lead and cinched the top spot in Group 3 to secure a spot in the Superfinal, which to be held in Portugal in September. They will play Belarus will scrap against Turkey for the remaining points tomorrow.
Goals: 1-0: Makarov, min. 11 (2); 2-0: Zemskov, min. 10 (2); 2-1: Kanstantsinau, min. 8 (2); 3-1: Makarov, min. 8 (2); 4-1: Kosharnyi, min. 8 (2); 4-2: Ryabko, min. 0 (2); 5-2: Zemskov, min. 5 (3); 5-3: Bokach, min. 1 (3);
SUI 3-2 FRA (Group 2)
Following the unbelievable scenes witnessed in Nazaré on Thursday, when Switzerland came back from losing 7-1 to win 9-10, their performance against France was relatively tame.
It was, however, another effective comeback by Schirinzi's men after they fell behind to a brilliant individual goal from French beach soccer veteran Jeremy Basquaise. Borer put away his sixth of the campaign to level up, but Gosselin pounded in Les Bleus' second just before the first whistle.
Barabe's side led for the whole of the second period where Switzerland repeatedly rattled the frame of the goal – Glenn Hodel, who had supplied the all-important goal number 10 against Poland, tried three bicycle kicks and hit the woodwork on all three occasions!
The difference in the end proved to be the returning Dejan Stankovic who converted a penalty to tie the match, and then an unfortunate own goal by Gosselin handed Switzerland the victory, much to the disappear of a French side who will be pained to have led another of Europe's elite teams for two period, only to lose the match.
Switzerland will now meet Italy in the last game to see who will top Group 2.
Goals: 1-0: Basquaise, min. 7 (1); 1-1: Borer, min. 7 (1); 1-2: Gosselin, min. 1 (1); 2-2: Stankovic, min. 7 (3); 3-2: Gosselin (OG), min. 6 (3);
POR 10-1 GER (Group 1)
Portugal had been pinned back by Azerbaijan yesterday before they put their foot on the gas to win comfortably, but they gave Germany little chance to do so on Friday.
Belchior converted a penalty after two minutes to take the lead then Be Martins doubled the advantage. There was time before the first break for Ruben Brilhante to power in a third and Die Mannschaft were slipping out of sight.
It was back to business for Be Martins after the break, and was assisted twice by his twin brother Leo to complete a hat-trick, the first a low drilled shot into the bottom corner and the second a cheeky chip.
Germany never gave up and tempers flared as the match continued, but they couldn't stop the flow of goals from the defending continental kings, as Torres, keeper Pedro Mano, Coimbra and Lourenço got their names of the scoresheet too.
In the last second, German keeper Ebener, despite conceding what would be 10 goals, broke the Portugal defence with a long shot. But it was too little too late and Germany will look to their last Group 1 game against Turkey for their last chance at points in Nazaré.
Goals: 1-0: Belchior, min. 10 (1); 2-0: Be Martins, min. 9 (1); 3-0: Brilhante, min. 5 (1); 4-0: Be Martins, min. 7 (2); 5-0: Be Martins, min. 6 (2); 6-0: Bruno Torres, min. 7 (3); 7-0: Pedro Mano, min. 6 (3); 8-0: Belchior, min. 5 (3); 9-0: Rui Coimbra, min. 4 (3); 9-1: Ebener, min. 0 (3); 10-1: Lourenço, min. 0 (3);
ITA 2(5)-(3)2 POL (Group 2)
In a game that began and started with penalties, two of European's top side went right to the wire after three periods of thrilling stalemate.
The match started with a Marinai penalty which he calmly despatched to nudge the Azzurri ahead. They worked hard to keep out the prolific strikers, who had put nine past Switzerland on Thursday.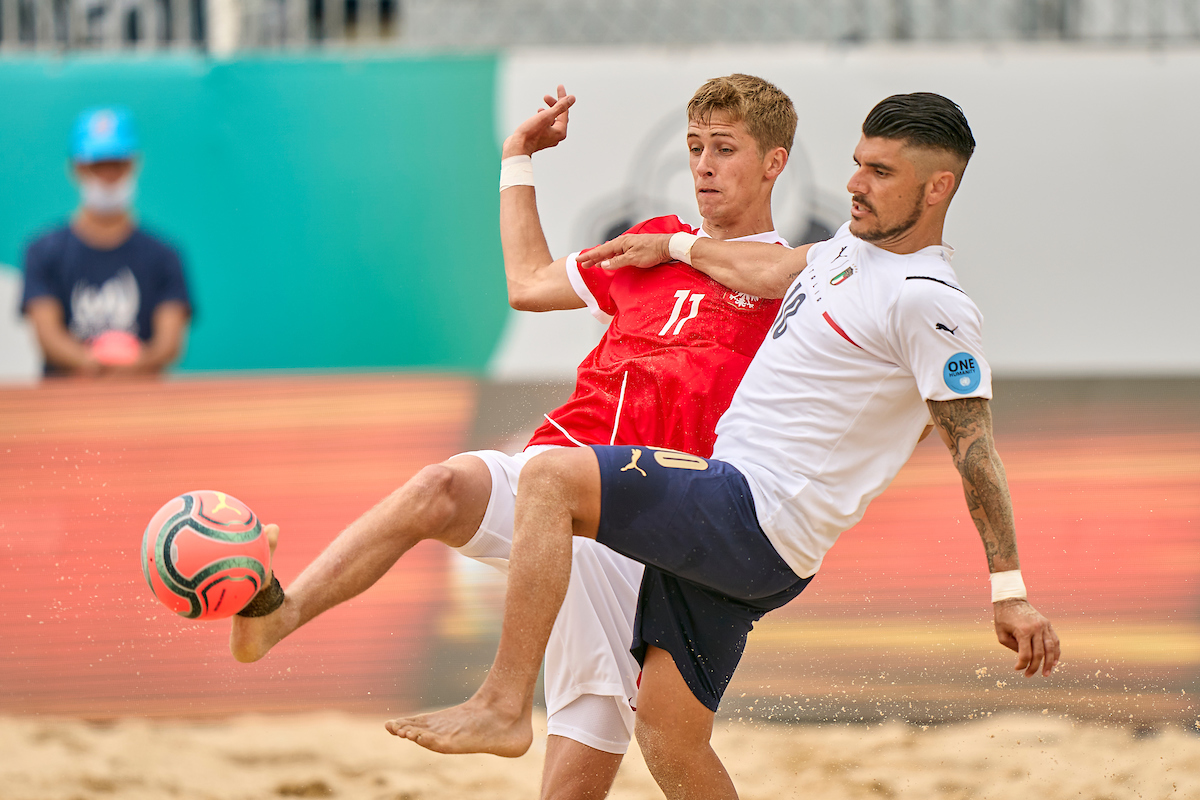 Gori doubled the advantage in the opening part of the second period, but Pietrasiak took his tournament tally to five in just two games to pull one back moments later. In the final period, Becker drew Poland level and then it was a desperate scramble to find a winner.
But the decider never came, nor in the added three minutes, so for the second time in Nazaré on Matchday 2, a match went to penalties. It was the Polish veteran Gac who saw his shot saved by Del Mestre and after Italy proved more clinical from the spot, Del Duca's men walked away with a hard-won point.
Poland's misfortune continues after letting a 7-1 lead slip against Switzerland yesterday, while Italy's luck seems to be holding.
Goals: 1-0: Marinai, min. 9 (1); 2-0: Gori, min. 4 (2); 2-1: Pietrasiak, min. 3 (2); 2-2: Becker, min. 7 (3);
PSO: 1-0: Zurlo, scored; 1-0: Gac, saved; 2-0: Gori, scored; 2-1: Brochocki, scored; 3-1: Sciacca, scored; 3-2: Papiernik, scored; 4-2: Marinai, scored; 4-3: Pietrasiak, scored; 5-3: Palmacci, scored;
ESP 5-3 TUR (Group 3)
Turkey suffered a defeat to the ruthless Russians in their match on Day 1, while Spain cruised past Belarus thanks to a Javi Torres hat-trick.
Llorenç put the 2018 EBSL finalists ahead with a sublime bicycle kick midway through the first period, and this was all that separated the sides until Yasin equalised for Turkey in the second period, after Emreh Aykurt's men had done well to shut out the Spanish strikers.
Baris then put them ahead with just seconds of the period left, and after regrounping for the last pause in play, Spain returned to the sand with a clear plan and an urgency to their game.
Whatever Cristian Mendez said to his players at the second break clearly did the job, as goals from Javi Torres, Domi, a second from Lloenç and finally Chiky blew Turkey away to retake the lead, and ultimately seal another win.
There was time for Baris to blast in a loose ball with seconds of the match left but it was too late to affect the outcome of the match, as Spain take their tournament tally to six, and Turkey are yet to register points.
La Roja are set to meet Russia tomorrow for what could be the decider for the Group 3 first-place finish.
Goals: 1-0: Llorenç, min. 6 (1); 1-1: Yasin, min. 5 (2); 1-2: Baris, min. 0 (2); 1-2: Yasin, min. 5 (2); 2-2: Javi Torres, min. 5 (3); 3-2: Domi, min. 3 (3); 4-2: Llorenç, min. 2 (3); 5-2: Chiky, min. 0 (3); 5-3: Baris, min. 0 (3);
UKR 3(5)-(4)3 AZE (Group 1)
Azerbaijan needed points after being swept aside by the world champions Portugal yesterday, but Ukraine had taken two points in extra time against Germany and were quick off the mark in their second match.
Zborovskyi added to his tournament tally by opening the scoring with a volleyed overhead at the back post. But they were unable to covert more chances and before the first period was over, Azerbaijan were level thanks to a low freekick from Orkhan.
In the next period Sabir bagged two goals, one a brilliantly worked header and the other a scramble to beat the keeper as the ball bobbled on the goal line. It looked as if Azerbaijan were in control heading into the last leg of the match, but Voitenko set himself up for a volley to cut the deficit to one.
Voitenko then pounded home a freekick to tie the game and took Ukraine to a second period of extra time in as many days.
When the added three minutes wasn't enough, it was penalties and the first of the 10 spotkicks proved to be the decider as it was missed by Azerbaijan's Renat, giving Ukraine three points in two games, while Zeynal Zeynalov's men's hunt for a win continues.
Goals: 1-0: Zborovskyi, min. 7 (1); 1-1: Orkhan, min. 1 (1); 1-2: Sabir, min. 11 (2); 1-3: Sabir, min. 6 (2); 2-3: Voitenko, min. 7 (3); 3-3: Voitenko, min. 2 (3);
PSO: 0-0: Renat, missed; 1-0: Medved, scored; 1-1: Elshad, scored; 2-1: Voitok, scored; 2-2: Amid, scored; 3-2: Glutskyi, scored; 3-3: Sabir, scored; 4-3: Pashko, scored; 4-4: Jomard, scored; 5-4: Shcherytsia, scored;
Head to beachsoccer.com for full details on the Men's Euro Beach Soccer League.