– The hosts defeated Japan and lifted the trophy at Russia 2021
– Switzerland finished third after beating Senegal
– Highest-scoring Beach Soccer World Cup in history
A superb performance from RFU saw them defeat Japan 5-2 to win the FIFA Beach Soccer World Cup Russia 2021™ on Sunday. In doing so, they lifted the coveted trophy for the third time in their history, following on from their previous triumphs in 2011 and 2013.
The hosts led the showpiece match from start to finish, once again using their physical prowess and collective experience to great effect. From an individual point of view, Yury Krasheninnikov, who notched a brace, Artur Paporotnyi, the adidas Silver Ball recipient, and the two goalkeepers, Maksim Chuzhkov and Stanislav Kosharnyi, who made some key saves, were all outstanding in the final.
In the earlier encounter, Switzerland overcame the challenge of Senegal in a highly entertaining contest (9-7), securing third place in the tournament in the process. This is the second time that the Swiss have obtained a top-three finish, after reaching the final in 2009.
The Swiss team featured Glenn Hodel, who scored a hat-trick and collected the adidas Golden Scorer award, and keeper Eliott Mounoud, who not only scored twice but was later awarded the adidas Golden Glove.
RESULTS
Play-off for third place
Switzerland 9-7 Senegal
Final
RFU 5-2 Japan
AWARDS
adidas Golden Ball: Noel Ott (Switzerland)
adidas Silver Ball: Artur Paporotnyi (RFU)
adidas Bronze Ball: Raoul Mendy (Senegal)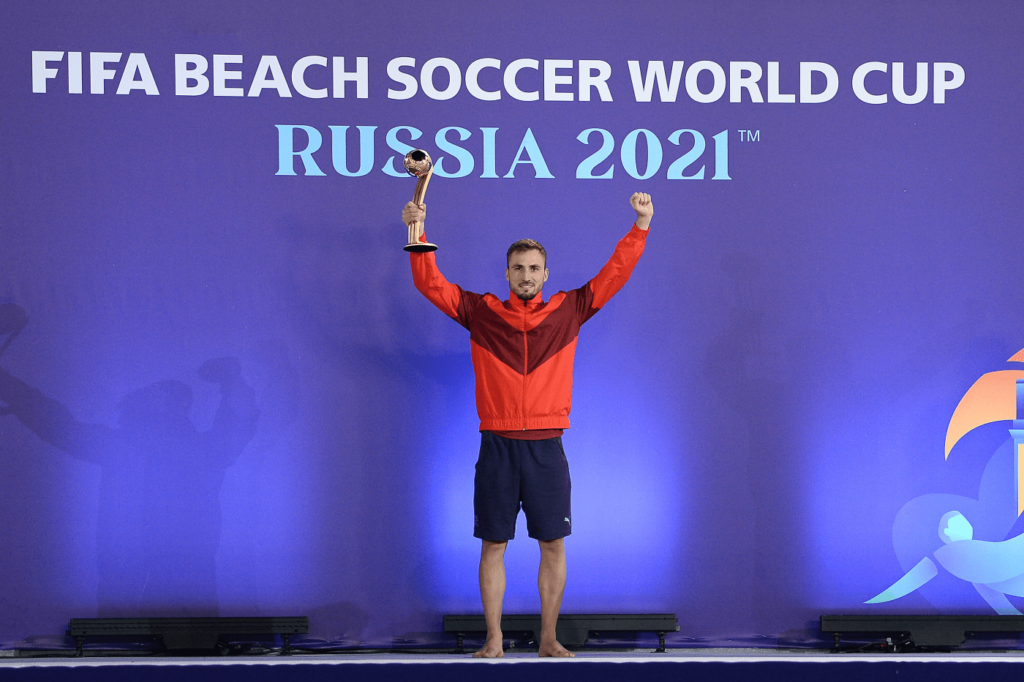 adidas Golden Scorer: Glenn Hodel, 12 goals (Switzerland)
adidas Silver Scorer: Dejan Stankovic, 10 goals (Switzerland)
adidas Bronze Scorer: Takuya Akaguma, 10 goals (Japan)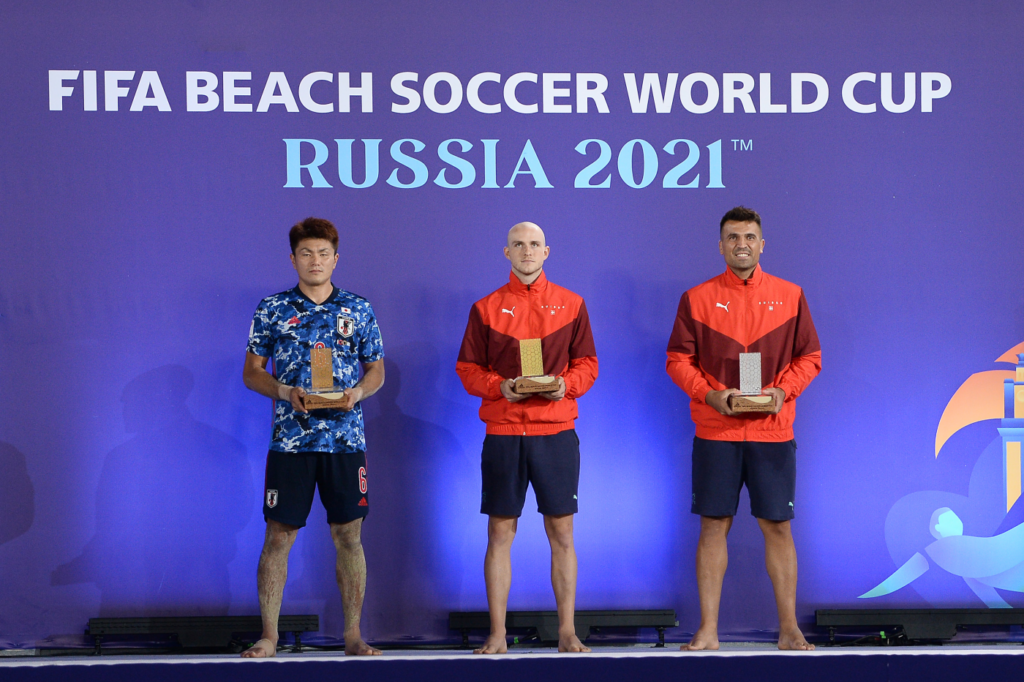 adidas Golden Glove: Eliott Mounoud (Switzerland)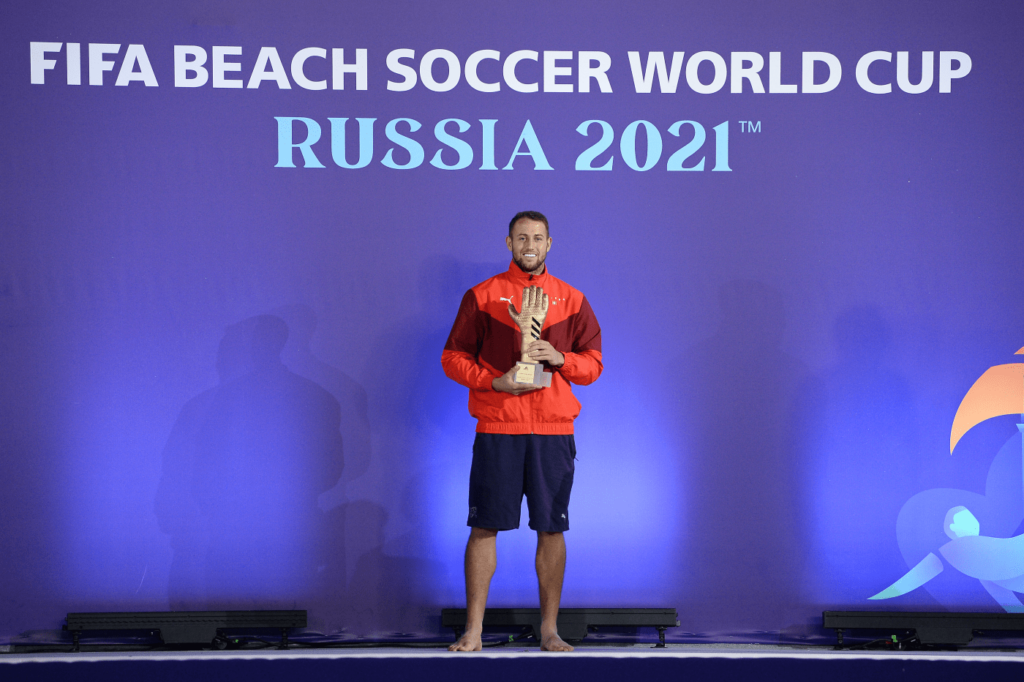 FIFA Fair Play Trophy: Brazil
MEMORABLE MOMENTS
Winning record
Remarkably, RFU have won all three of the finals they have played in: they defeated Brazil in 2011, Spain in 2013 and now Japan in 2021. In addition, they now lie second in the all-time winners' table, two behind the Brazilians and one ahead of Portugal. They also joined those two nations in becoming the third team to lift the trophy on home sand.
History for Japan
Japan became the first Asian nation to achieve a top-three finish at a FIFA Beach Soccer World Cup, only two years after ending the tournament in fourth place. As if that were not enough to celebrate, their clinical forward, Takuya Akaguma, became just the second player from an AFC country to earn a goalscoring award. The previous man to achieve such a feat was IR Iran's Mohammad Ahmadzadeh, who, like Akaguma, picked up the adidas Bronze Scorer award in 2017.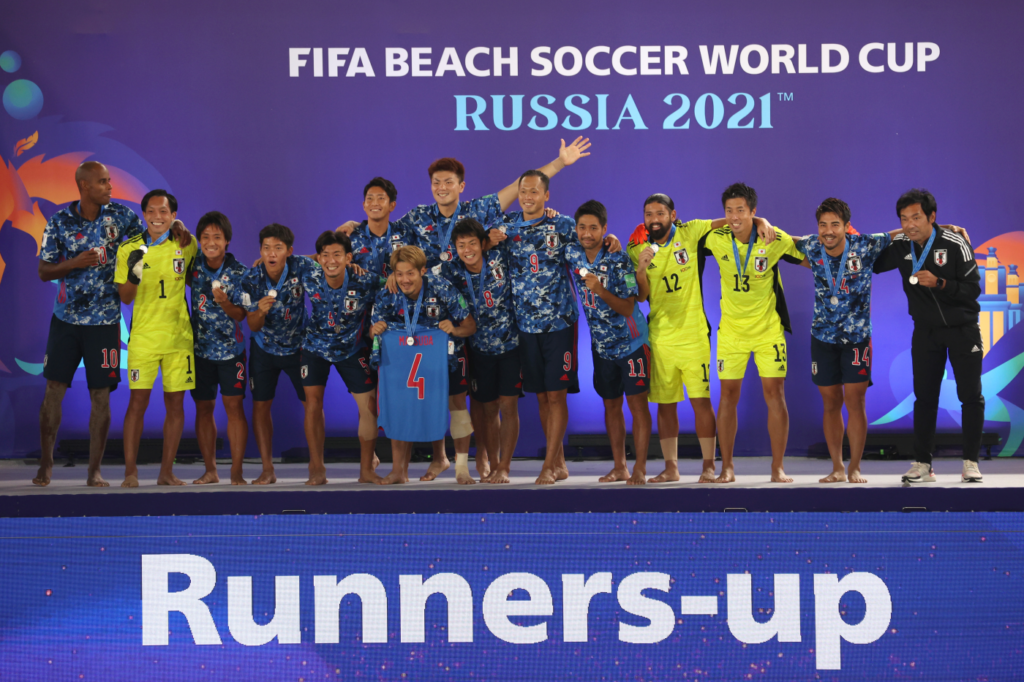 Goals galore
With a total of 302 goals, Russia 2021 is now the highest-scoring FIFA Beach Soccer World Cup ever, surpassing the 286 recorded in Brazil in 2006 and at Paraguay 2019. On average, an impressive 9.43 goals were scored per match. The previous record was broken when Papa N'Dour put Senegal 5-3 up in the play-off for third place.
The Quotes
"If someone had told me before the World Cup that we'd finish third, I would have signed on the dotted line immediately. Of course, the defeat by Russia still hurts, but that's just part of sport. We had the match under control, and that says a lot about us. We deserved this win today. The spirit and mentality of this team were amazing. I'm so proud."
Switzerland pivot Dejan Stankovic
"Our goal was to reach the semi-finals, and we achieved that, but we could have got to the final – we've got the quality for that. No excuses, though; we should have played better yesterday and today. But we've managed to bring Senegal up to the level of the very best teams in the world. If we work hard, we'll come back and go even further."
Senegal goalkeeper Al Seyni Ndiaye
Text and Photos: FIFA