Official trainings also take place on the eve of final stage of the European championships
---
The EBSL Superfinal, the Women's EBSL Superfinal and the EBSL Promotion Final are all set to begin tomorrow, and Wednesday was a busy day in the Portuguese coastal town of Figueira da Foz…
The arriving beach soccer national teams took to the sand for their official training sessions, and the main figures behind the event gathered for a press conference.
In front of the cameras were Portuguese beach soccer legend Madjer, representing the Portuguese Football Federation, Carlos Monteiro, Mayor of Figueira da Foz, Mafalda Azenha, Figueira da Foz Councillor of Sports, and BSWW President Joan Cusco.
Mr Monteiro spoke first saying that, "It is very significant for us to host this event which confirms Figueira da Foz as a city with privileged natural conditions to practice of beach sports. I would also like to express my gratitude for the creation of the João Ataíde award."
Next was Mr Cusco, who commented that it was "a privilege to return to Figueira da Foz", highlighting the support given by the City Hall and referring to the city as "Beach Sports Capital", something also reiterated by the Councillor of Sports, Mafalda Azenha, who emphasised the growth of sports practice on the beach, with more and more local clubs practicing the sport already.
Madjer, as the national coordinator of beach soccer at the Portuguese Football Federation, was excited by the return of this event to Figueira da Foz: "The city has been present in historical moments of beach soccer. It started with the World Cup and now two national teams are present – one male and one female – in a European Superfinal."
At the stadium, teams came and went all day, completing their final preparations ahead of tomorrow's kick-off, including the first official training for the women of Portugal, who will be returning to the sand after a five-year absence, and their new head coach Alan.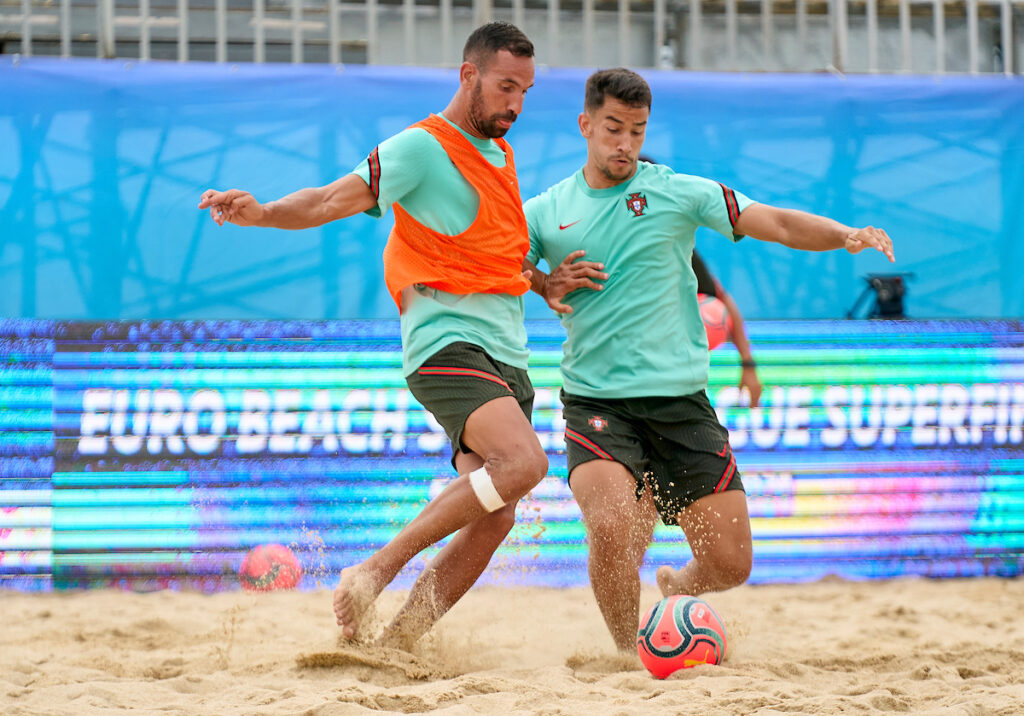 The EBSL Superfinal, the Women's EBSL Superfinal and the EBSL Promotion Final will all take place over the next four days in Portugal, where the reigning champions and hosts will do their best to retain the crown for a third year running, fending off the likes of recently-crowned world champions, Russia.
England won the regular stage of the event in Nazaré earlier in the year and will be hopeful about returning to the European throne which they claimed in 2017. But the Russians will be tough to dethrone and their old rivals Spain, who sit atop the world ranking, will do their best to reclaim the title they won in 2016 too.
In the Promotion Final, Turkey are set to scrap to retain their Division A status, but a new-look Moldova, so far unbeaten this year, are looking to join the continent's elite after a thundering performance in the Regular Stage.
All of the matches will be streamed live on beachsoccer.com/watch.