The men of Melistar and Playas de San Javier's women won their final matches on Friday 23 July
---
The last phase of the Spanish national beach soccer league, both men's and women's categories, took place in Estadio Cádiz Arena, Cádiz.
Final day battles saw CDE Melistar and AIS Playas de San Javier crowned champions of Spain on Friday 23 July.
A total of 120 matches were played in the league, all of which were broadcast on www.rfef.es https://www.rfef.es/
MEN
CDE Melistar, based in Melilla, dominated the men's category from start to finish. Out of the 15 games they played, the team who had competed in the 2021 Euro Winners Cup just the week before took wins in no less than 14, losing just once.
With a total of 42 points, Melistar finished four points ahead of their closest rivals, San Francisco BSC, who ended the National Championship with 38 points. Former champions Levante UD took third with 34 points.
Final Standings
CDE Melistar – 42
CD San Francisco BSC – 38
Levante UD – 34
CD FP Huelva – 30
CD FP Marbella – 30
CD Santamaría – 29
CD Mentidero Cádiz – 21
AIS Playa San Javier M – 20
AD Torrejón CF – 19
Platja de Roses D'ESP – 18
Melilla CD – 18
EnPIE Málaga – 14
CF Cádiz FP Victoria – 13
Mazarrón F. Base – 10
Marina Cambrils – 3
CF Málaga City – 1
WOMEN
The path to the top for the 2019 European champions had not been easy, as CF Higicontrol had kept pace until the last day and finished only a point behind the league winners.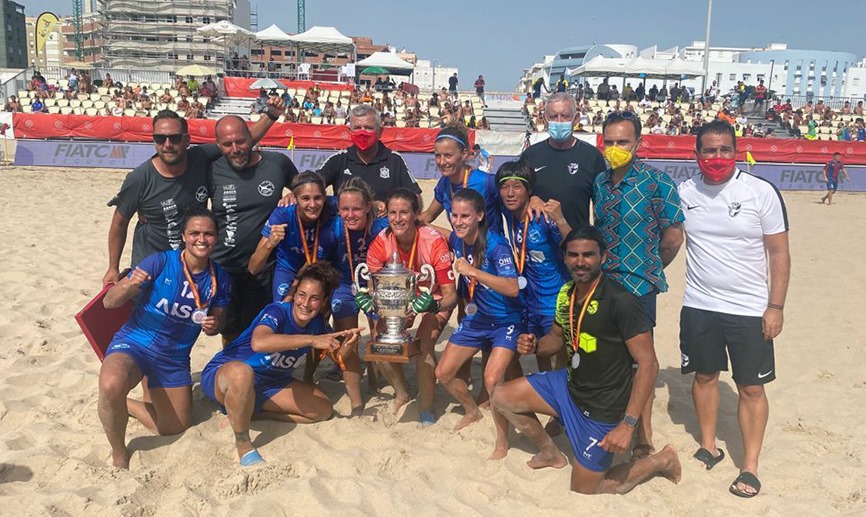 AIS Playas de San Javier managed to claim victory in all but one of their matches in the 2021 Spanish league, racking up a total of 18 points. Their goal-scoring had been impressive too, netting 46 goals and only conceding 12.
The club also enjoyed the biggest win of the tournament, beating Alicante Sun CF 1-12.
Final Standings
AIS Playas de San Javier – 18
CF Higicontrol – 17
Terrassa-Bonaire BSC – 13
Turia Beach Soccer – 12
UD Collerense – 9
CF Playa Cáceres – 8
CF Intercity – 1
Alicante Sun CF – 1
Photo: rfef