Portugal and Spain saw off the USA and England respectively
---
The Mundialito Andalucía 2023 kicked off at the Isla Canela beach in Ayamonte with the hosts Spain coming back against England and neighbours Portugal not giving a chance to the United States of America.
WATCH ALL MATCHES LIVE ON BEACHSOCCERTV.COM – SIGN UP HERE!
Demolishing debut for Portugal
Portugal 6-1 USA
The Mundialito Andalucía opened with a mouth-watering clash between the USA and Portugal.
The first period belonged to the Portuguese who scored twice through Andreia and Daniela with a superbly placed free-kick.
A nice combination by Alan's team finished with Ema Toscano striking it home to make it 3-0 in the second period, and in the last second before the break, Daniela would score her second making the best out of a mistake by the American goalkeeper.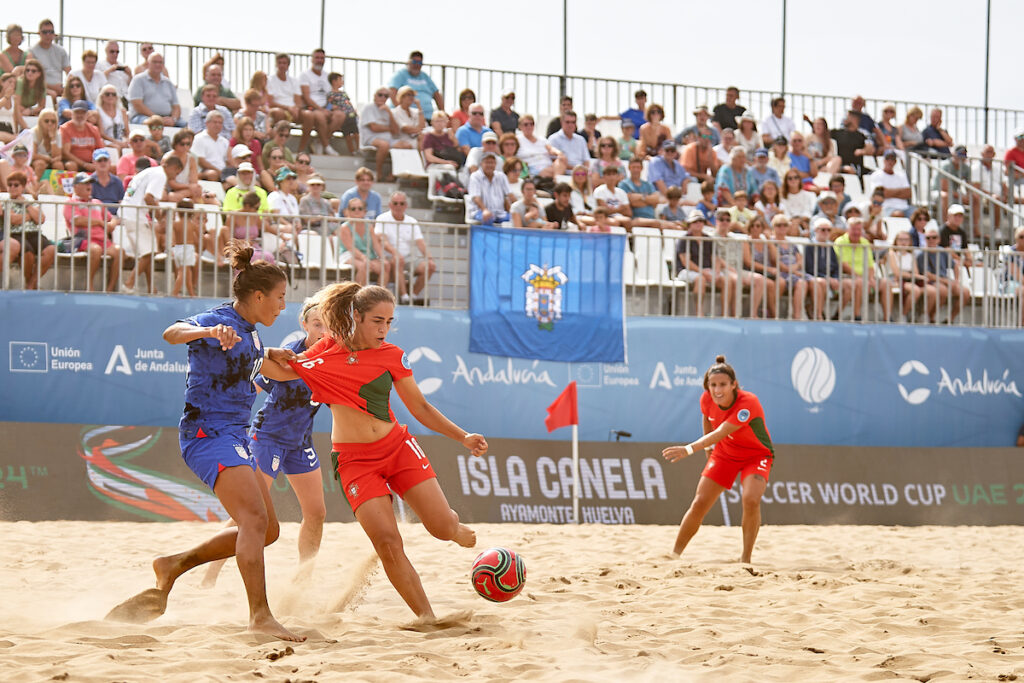 Morgan Church's side reacted through Quigley in the second minute of the third period, but Portugal's response was immediate with Andreia firing it from the halfway line into the top corner of the goal.
The Portuguese kept pushing and Érica won a duel that left her in privileged position to score her team's sixth and final goal, claiming all three points.
Hosts take third period comeback
England 2-4 Spain
With a full stadium cheering for them, hosts Spain stepped on the sand to face England.
The deadlock was broken by Rebecca Barron surgically placing a free-kick into the back of the net, to send the Lionesses leading into the second period.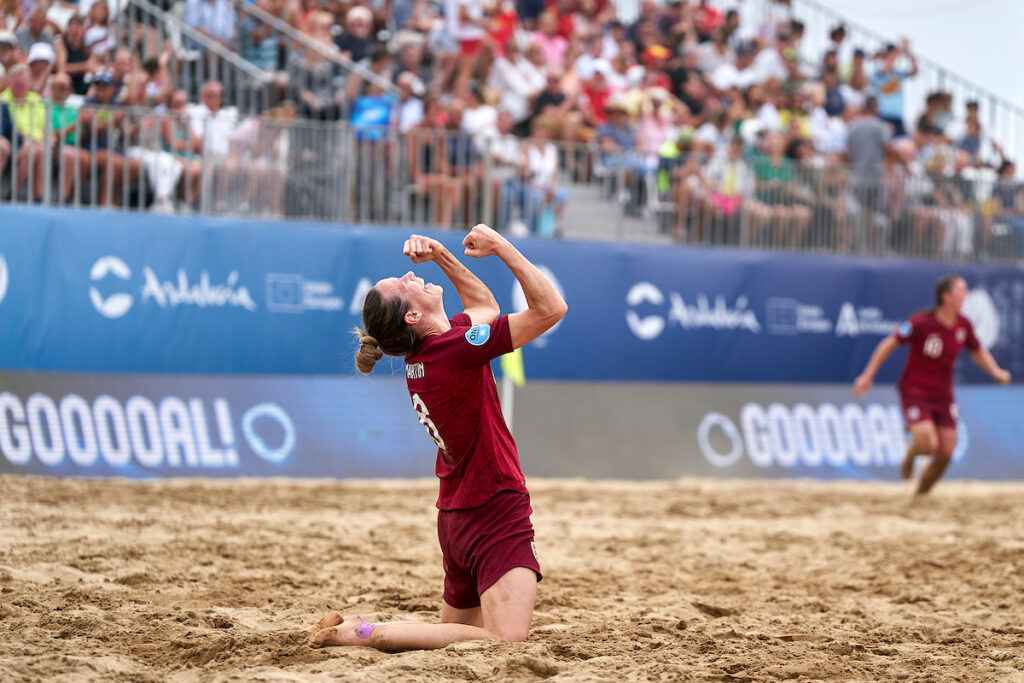 Wendy Martin headed it in to make it 2-0 after only half a minute of the kick-off doubling England's lead, but the Spaniards reacted one minute later with a strike by Adriana Manau.
The equaliser would come two minutes later thorugh Carol Glez. who fired it into the back of the net, meaning the match would go tied into the final period.
Cristian Mendez's team couldn't have asked for a better start as with just 10 seconds on the clock, Manau scored her second goal to turn the match around, and Andrea Alcaide would secure the win, making it 4-2.
WATCH ALL MATCHES LIVE ON BEACHSOCCERTV.COM – SIGN UP HERE!
Results
USA 1-6 Portugal
England 2-4 Spain
Fixtures
Saturday 14 October
Portugal vs England
Spain vs USA
Sunday 15 October
USA vs England
Spain vs Portugal