The groups for the upcoming Euro Beach Soccer League have been decided
---
The fate of European nations were officially decided on Wednesday, as the draw for this year's edition of the Euro Beach Soccer League took place, with continental glory on the line at the Spiaggia del Lido di Alghero.
Reigning EBSL Superfinal champions, Switzerland will be looking to defend their title after their 6-5 victory over Portugal in Cagliari last year, as they will be compete against the best European nations once again, between the 19th and 24th September.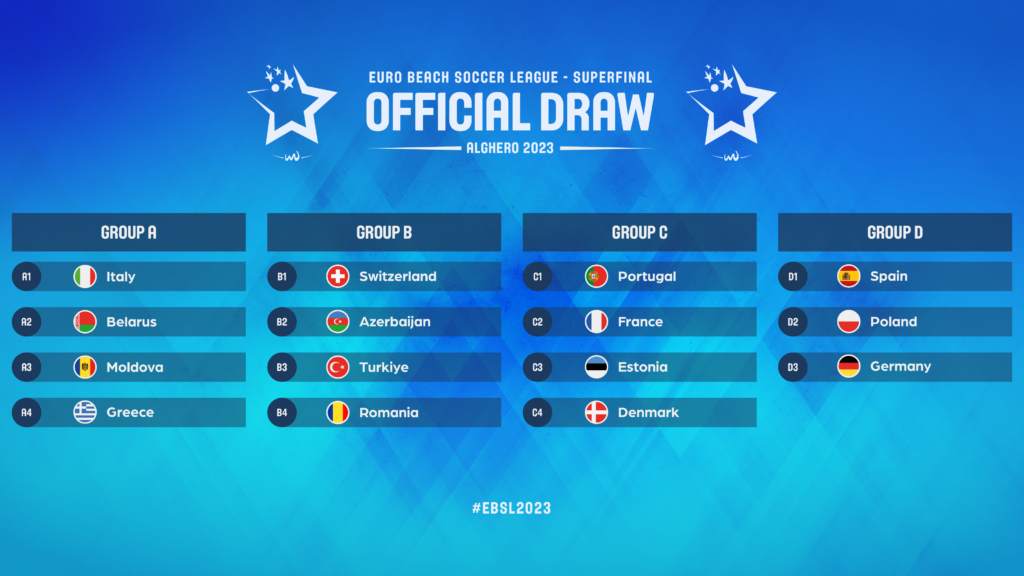 15 national teams were part of the draw, with three groups consisting of four nations and one group consisting of three nations.
Italy were the number one seeds as the host nation in A1, Switzerland were second seeds as defending champions of the competition in B1, Portugal were the number three seeds as last year's EBSL Runners-up in C1 and Spain were the fourth seeds as the next highest ranked European nation in the BSWW Men's National Team Rankings, placing them in the D1 position.
Men's tournament
Division A
Group A
A1 – Italy
A2 – Belarus
A3 – Moldova
A4 – Greece
Group B
B1 – Switzerland
B2 – Azerbaijan
B3 – Türkiye
B4 – Romania
Group C
C1 – Portugal
C2 – France
C3 – Estonia
C4 – Denmark
Group D
D1 – Spain
D2 – Poland
D3 – Germany
All the Euro Beach Soccer League matches will be broadcasted live on beachsoccertv.com – sign up here!
www.beachsoccer.com will bring you all the latest about the Euro Beach Soccer League Superfinal Alghero 2023.