In a nerve-wracking final against the USA, the home team won 5-4
---
The Estádio Nacional Costa del Sol was packed with beach soccer fans who couldn't have asked for more entertainment as El Salvador and the United States of America produced a true beach soccer show that ended with the home team's win. Fatima Pérez was the tournament's best player, while Melissa Lowder took the best goalkeeper award and Irma Cordero topped the goalscoring charts.
Wonder Maravilla
El Salvador's goalkeeper was in particular inspired form as she started to show on the third minute of the game with a goal from coast-to-coast, that brought the stadium to eruption.
With two minutes remaining in the first half, a long-range shot caught Maravilla off guard, and although she managed to deflect the ball, it was headed in by Hannah Adler for the 1-1. Then, 30 seconds before the break, American goalkeeper Melissa Lowder scored, making it 1-2.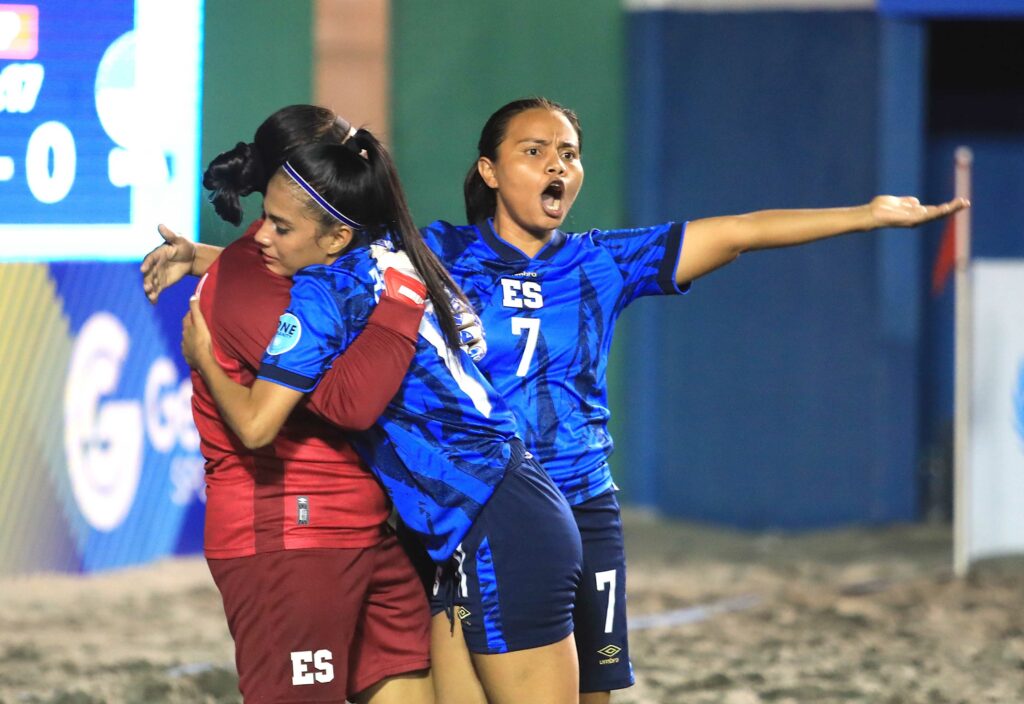 In the second period, both teams left everything on the sand and Cindy Turcios deflected a shot by Maravilla with 41 seconds left to play, making it 2-2. Then, Jeane Sunseri-Warp scored for the Americans with 33 seconds remaining, making it 2-3. But as the match resumed, Marisa Gonzáles fired a perfectly-placed shot to equalize.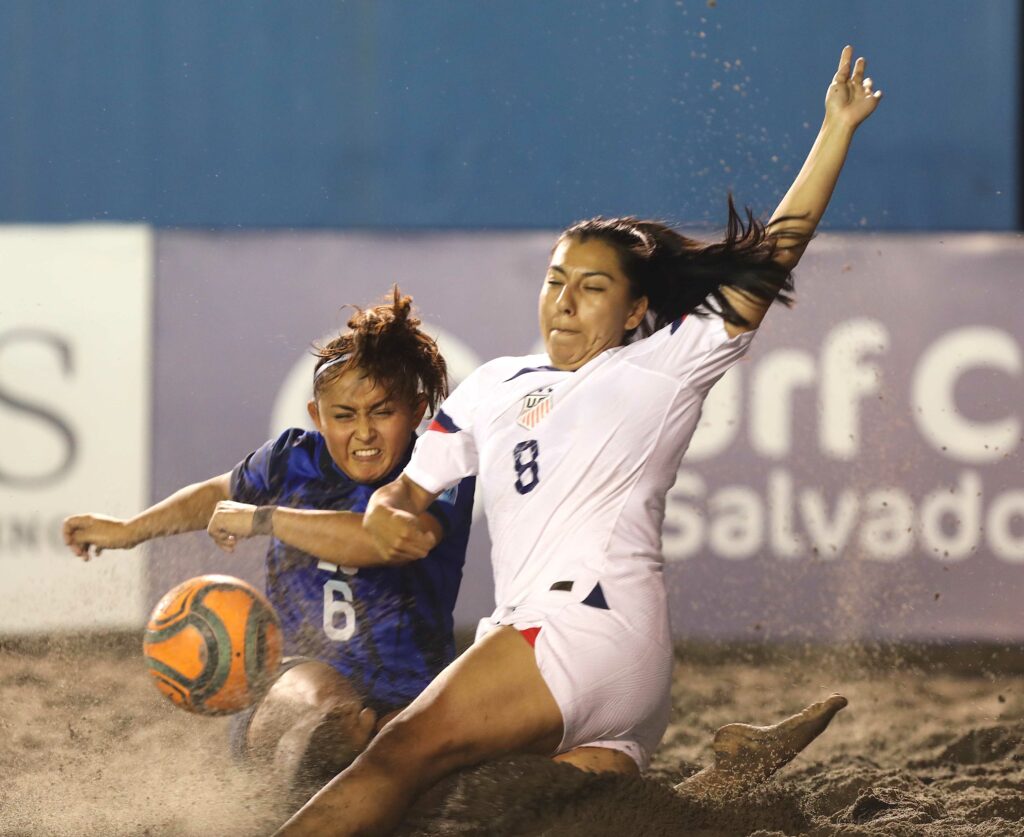 In the final period, Rachel Hunter gave the United States a new advantage, this time at 3-4, but Maravilla evened the score again with a free-kick.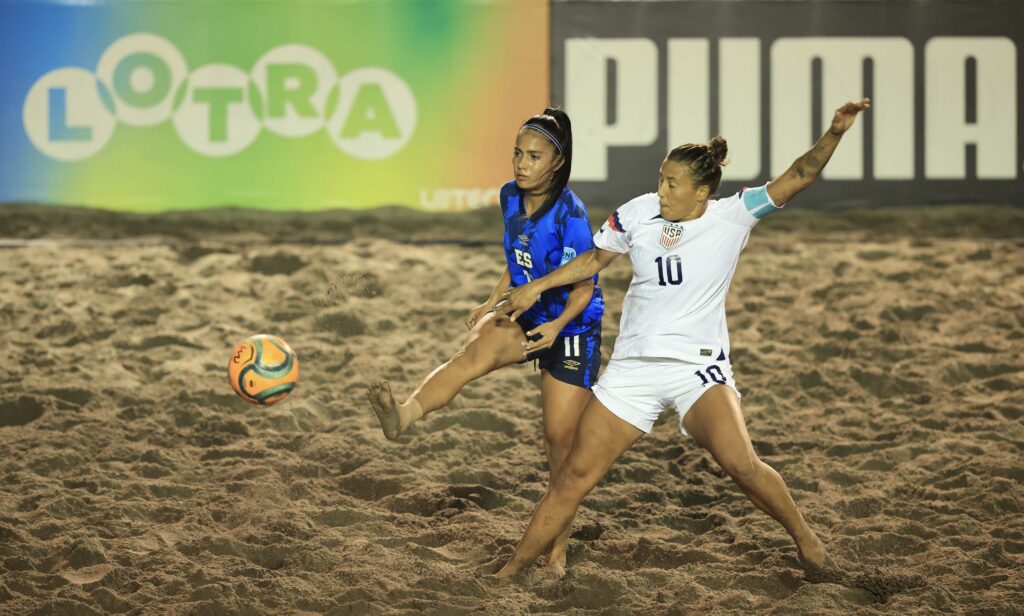 With three minutes left in the game, Daniela Rivera scored the winning goal for El Salvador, making it 5-4.
Trinitarians take bronze medal
Meanwhile, Bahamas and Trinidad and Tobago provided an entertaining spectacle with great determination, resulting in the game being mostly played in the midfield.
In the first half, Taleah Thompson from Bahamas had the opportunity to break the deadlock when she was fouled entering the penalty area, but she sent the penalty over the goal.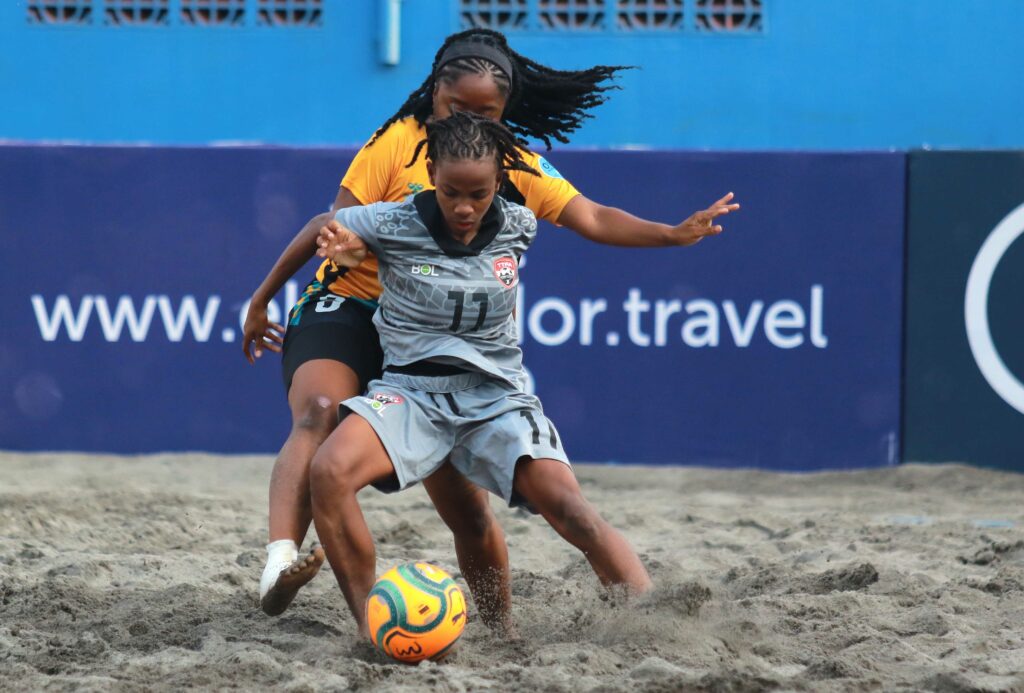 Three minutes into the second half, Janeka Edey scored the opening goal for Bahamas with a free-kick, as they opted for shots from distance. Adanya Phillip levelled the score at 1-1 with 5 minutes and 55 seconds remaining on the clock. With four minutes to go, Ketara Munreo reached the penalty area but missed the target with her shot, and shortly after, Alexcia Ali scored the second goal for Trinidad & Tobago before the break.
In the third period, Daniel Findley and Adanya Phillip scored a goal each, extending the lead to 1-4 and securing the third place in the competition for Chad Apoo's team.
RESULTS
Matchday 1 (6 April):
Bahamas 0-6 United States of America
El Salvador 5-2 Trinidad&Tobago
Matchday 2 (7 April):
United States of America 7-2 Trinidad&Tobago
El Salvador 5-1 Bahamas
Matchday 3 (8 April):
Bahamas 1-4 Trinidad&Tobago
El Salvador 5-4 United States of America
You can check all informations about the ANOC World Beach Games Qualifier El Salvador on beachsoccer.com