Hosts Argentina won, while Colombia upset defending champions Paraguay
---
The Copa América Fútbol Playa 2023 kicked off this Saturday in Rosario, Argentina at the Predio Ferial del Parque Independencia.
Group A
Argentina, the host nation of the tournament, kicked off their campaign in Group A with a thrilling 5-4 victory over Uruguay, in a match that kept fans on the edge of their seats until the final whistle.
Uruguay took the lead in the game with a goal from Ignacio Di Bello, but Lautaro Benaducci equalized for Argentina with a magnificent shot that found the top corner of the net, leaving the first half tied.
In the second period, Argentina took the lead thanks to Naguel Gigena's header, and Emiliano Holmedilla and Luciano Sirico further extended their advantage. Holmedilla then scored again to make it 5-1 in the last period.
However, Uruguay mounted a comeback, scoring three quick goals through Santiago Miranda, Gonzalo Cazet, and Luis Quinta. Despite the late surge from Uruguay, Argentina managed to hold on to their lead and clinch the victory.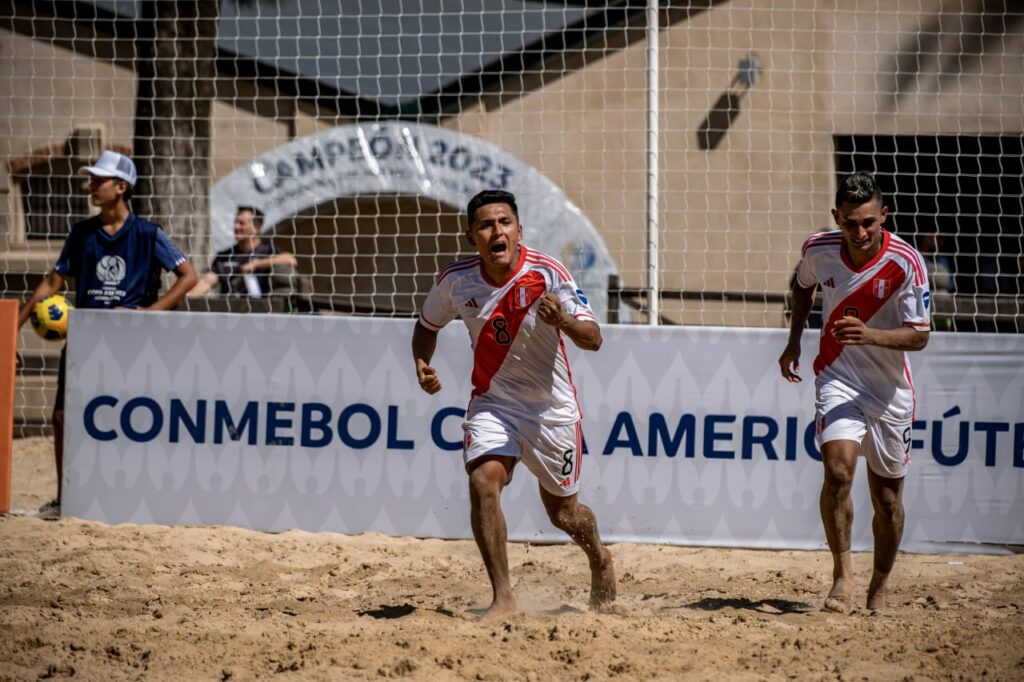 Peru got off to a victorious start with a hard-fought 6-5 win over Ecuador in a closely contested Group A match.
In the first period, Daniel Cedeno scored two penalties to give Ecuador an early lead. Socrates Vidal pulled one back for Peru, but Jose Rosales restored Ecuador's two-goal lead with a fine strike to make it 3-1.
Ecuador extended their lead in the second period with a goal from Carrera, but Peru refused to give up and scored twice through Millares and Velezmoro to close the gap. Ecuador then scored again through Jorge Bailon to make it 5-3.
In the final period, Peru staged a remarkable comeback, with Velezmoro scoring two more goals to complete his hat-trick, and Irwin Acuña added another to give Peru a 6-5 lead. Despite Ecuador's efforts to find an equalizer, Peru held on for a crucial victory.
The win puts Peru in a good position in Group A, with three points and a positive goal difference. Ecuador, on the other hand, is still without a point after two games.
Group B
In a thrilling Group B match, Colombia overcame defending champions Paraguay 5-4 to earn their first points in the Copa América Fútbol Playa 2023.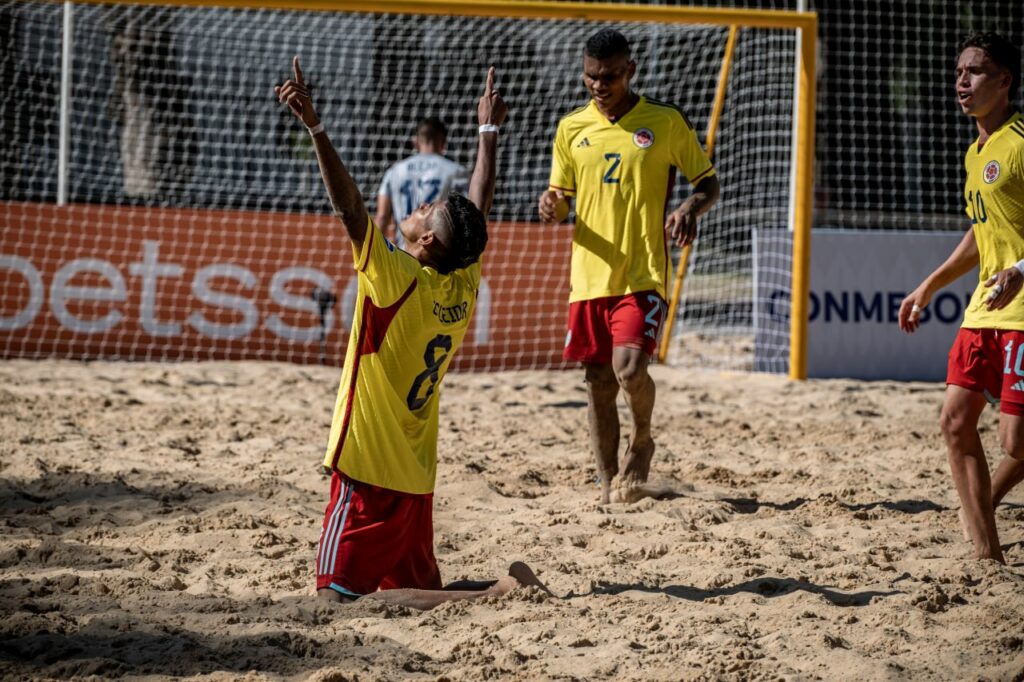 Colombia got off to a flying start, taking a commanding 3-0 lead in the first period with goals from Cordoba, De Avila, and Acosta. The second period ended with Colombia leading 4-1, thanks to a goal from Victor Morales. The lone goal for Paraguay in the period came from Néstor Medina.
Paraguay fought back in the third period with goals from Valentín Benítez and Milcíades Medina to make it a one-goal game. However, Juan Ossa scored his first goal of the tournament to give Colombia a 5-3 lead. Paraguay responded with a goal from Medina, but it was not enough as Colombia held on for the win.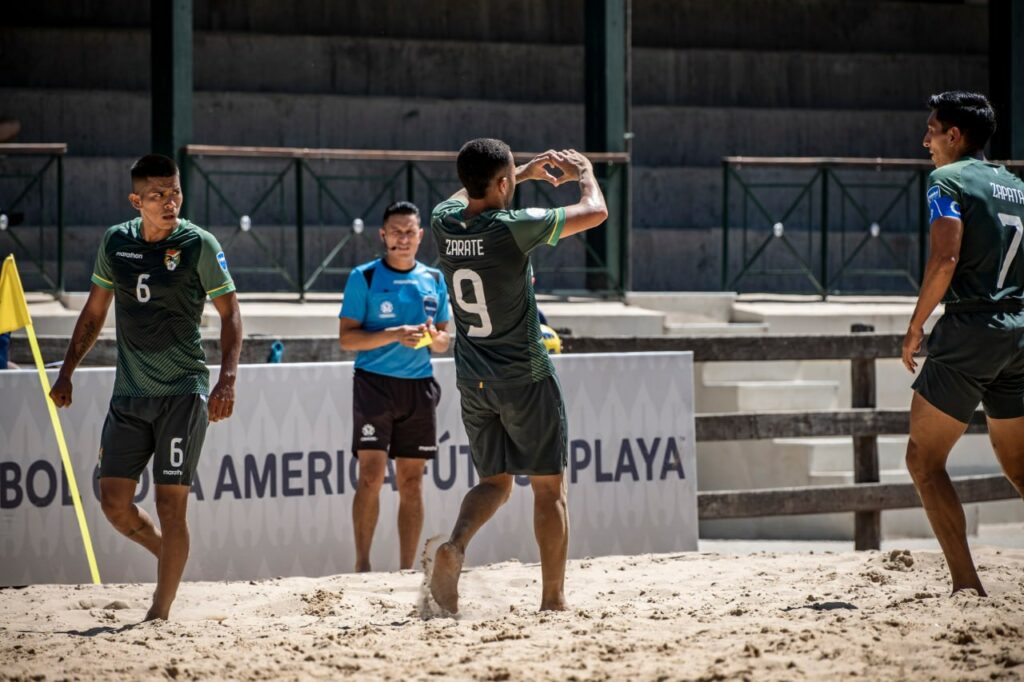 In their Group B debut, Bolivia secured a crucial 4-2 win over Venezuela, earning their first three points of the tournament.
Bolivia wasted no time taking the lead, with Erick López scoring a surprise goal just seconds into the game. The Verde extended their lead in the first period, with Darlon Zárate scoring an impressive overhead kick. Venezuela responded with a goal from their goalkeeper, Hengelbert Prado.
In the second period, Venezuela's Escobar equalized with a stunning overhead kick. However, Bolivia fought back in the final period, with Zapata and Alpiri scoring to seal the 4-2 victory.
RESULTS – Matchday 1
Group A
Argentina 5-4 Uruguay
Ecuador 5-6 Peru
Group B
Paraguay 4-5 Colombia
Bolivia 4-2 Venezuela
FIXTURES – Matchday 2
Group A
Uruguay – Brazil
Argentina – Ecuador
Group B
Colombia – Chile
Bolivia – Paraguay
PHOTOS: CONMEBOL