Brazil debuted with a win while the hosts and Colombia continued their winning streak
---
Action continued in Rosario, Argentina, with the second day of the Copa América Fútbol Playa 2023.
In group A, Ecuador made things hard for the locals who took the win on extra-time, and Brazil kicked off their campaign with a win over Uruguay.
Colombia bagged their second triumph on Chile's debut in group B, while Paraguay saw off Bolivia with ease.
Group A
The Canarinhos started off strong, ending the first period with four goals ahead of their opponents. Benjinha, Mauricinho, Zé Lucas, and Brendo all contributed to the scoreline with impressive goals.
Uruguay managed to pull one back in the second half with a goal from Santiago Miranda, but Brazil quickly regained their momentum with a goal from Edson Hulk. In the final part of the match, Brendo and Miranda further extended Brazil's lead, ensuring their 6-2 victory.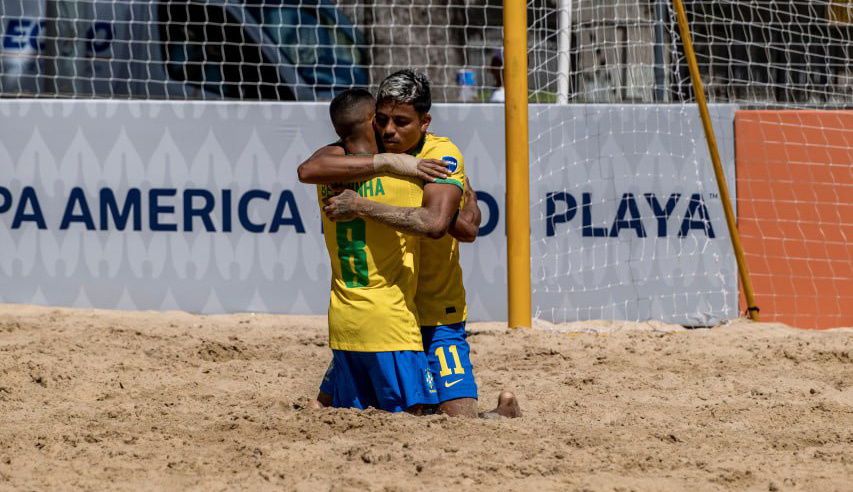 Ecuador took the lead early in the match, with Jorge Bailón scoring the opening goal, but Argentina quickly responded with a goal from Lucas Medero. Ecuador managed to take the lead again with a goal from José Rosales, ending the first period with a 2-1 advantage.
In the second period, Argentina came back stronger, scoring three goals through Medero's penalty kick, a bicycle kick from Lautaro Benaducci, and Emiliano Holmedilla's free-kick. Ecuador fought back in the last period with Bailón's two goals, which forced the game into extra time.
The decisive goal came from Medero, whose shot was deflected into Ecuador's own net by Nevarez, giving Argentina the 5-4 win.
Group B
Colombia secured their second victory in the tournament, defeating Chile 3-2 in a hard-fought battle that saw Chile playing their first match. With six points and two matches played, Colombia now stands at the top of Group B.
The first half ended without any goals, and it was Chile who struck first in the second period, with a jubilant goal from Alberto Echeverria.
However, Colombia refused to be defeated and fought back in the third period, scoring three goals through the efforts of Morales, Ossa, and López. Although Chile managed to pull one back with a goal from Papic, it wasn't enough to stop the Colombian team from claiming their second triumph.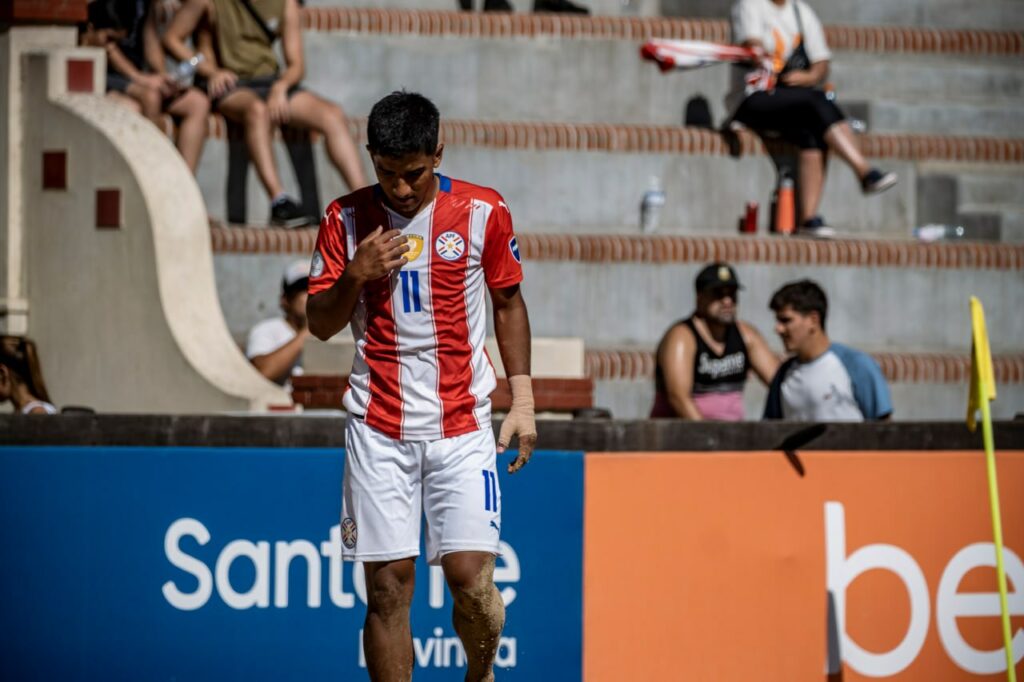 Paraguay earned their first three points in the competition by delivering a stunning 10-1 victory over Bolivia, placing them in second position in Group B.
The Pynandi's dominated the first period and finished with a four-goal lead, thanks to the strikes from Mathías Martínez (x2), Néstor Medina, and Milciades Medina.
The second period saw Paraguay continue their dominance, with their goalkeeper, Carlos Ovelar, getting on the scoresheet alongside another goal from Milciades Medina.
In the final part of the match, the Albirroja added four more goals to their tally, including a brace from Thiago Barrios, another from Ovelar, and a goal from Sixto Cantero to seal the 10-1 victory. Dudy Chávez scored a consolation goal for Bolivia.
RESULTS – Matchday 2
Group A
Uruguay 2-6 Brazil
Argentina *5-4 Ecuador *(after extra time)
Group B
Colombia 3-2 Chile
Bolivia 1-10 Paraguay
FIXTURES – Matchday 3 (13/03)
Group A
Uruguay – Ecuador
Brazil – Peru
Group B
Colombia – Bolivia
Chile – Venezuela
PHOTOS: CONMEBOL