The second edition of the competition has concluded in Estonia
---
The 2023 edition of the Baltic Sea & Scandinavian Beach Soccer League came to its conclusion on 12th August at the Pärnu Beach Arena, Estonia, as BSC Copenhagen came out victorious, defeating BSC Thunder Arvutitark 6-3 in the final to secure the title.
The league featured eight teams from across Estonia, Denmark, Norway, Germany, Sweden and Latvia, and the final day of action consisted of the top four qualified clubs (BSC Thunder Arvutitark, BSC Copenhagen, SK Augur Enemat and Pure Nordic Water) as they competed for glory.
Ahead of the final, and after losing their respective semi-final clashes, Pure Nordic Water faced SK Augut Enemat in the Third place match. SK Augut Enemat won the match 4-2 to secure third place, whilst their opponents finished in fourth place.
After the competition's conclusion, personal awards were given to the league's 'MVP' and 'Best Goalkeeper'. Both awards were given to BSC Copenhagen players, as Lucas Frandsen won 'MVP' and Gustav Madsen won 'Best Goalkeeper'.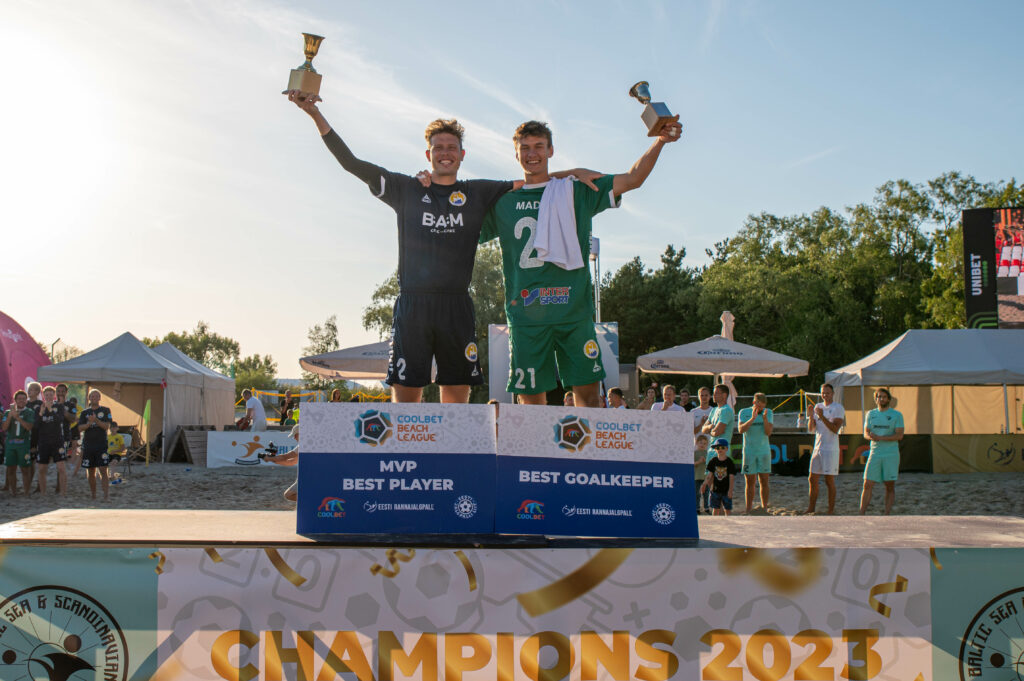 Rostocker Robben player, Sven Körnen came out on top in the scoring charts, finding the back of the net 11 times throughout the two stages of the competition as title winners, Lukas Frandsen and Axel Damm finished level in second place with 10 goals each.
Results
Semi-finals
BSC Thunder Arvutitark 3-2 Pure Nordic Water
BSC Copenhagen 7-5 SK Augur Enemat
Third place match
Pure Nordic Water 2-4 SK Augur Enemat
Final
BSC Thunder Arvutitark 3-6 BSC Copenhagen

Final standings
1. BSC Copenhagen
2. BSC Thunder Arvutitark
3. SK Augut Enemat
4. Pure Nordic Water
5. Nõmme BSC Olybet
6. Roatocker Robben
7. Bemannia FC Stockholm
8. Riga BSC
Top scorers
1. Sven Körnen (Rostocker Robben) – 11 goals
2. Lukas Frandsen (BSC Copenhagen) & Axel Damm (BSC Copenhagen) – 10 goals