Brazil and England promised a show for the final with the match that closed the group stage
---
Molly Clark's brace wasn't enough for England to beat Brazil
Vyspaniak nets a hat-trick as Ukraine put six past the Netherlands
Taiane scored and stays top of the goal scorers list
The group stage of the Women's NEOM Beach Soccer Cup concluded with an exciting clash between Brazil and England that saw the Canarinhas confirm the first place of the group stage, while Ukraine beat the Netherlands.
Brazil smile on extra time
With the 2021 World's Best Player Molly Clark on one side and this year's Best Player Adriele on the other, England and Brazil stepped on the sand to define who would finish the group stage in the first place, as both teams already had qualification for the final assured.
Lorena broke the deadlock in the last minute of the first period, but the Lionesses turned the game around in the second period with goals from Molly Clark and Chloe Marshall.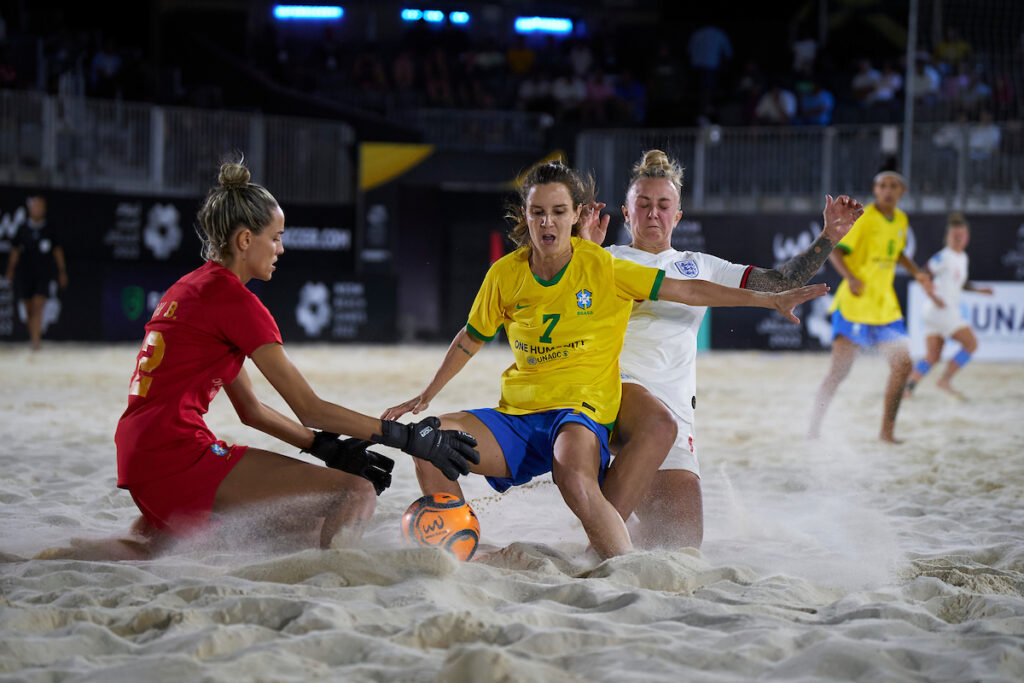 Molly Clark with a stunning volley from her own half made it 3-1 with five minutes to go, but the tournament's top-scorer Taiane kickstarted Brazil's reaction a few seconds later.
Two minutes before the final whistle, Lorena's second goal equalised the fray and the match went into extra time.
It was then when Dani was quicker to react to a rebound on a bicycle kick by herself, to hit the shot that earned Brazil the two points and the top position in the group.
Both teams will play for the trophy tomorrow at 15.45h local time (12.45 UTC).
Vypasniak and Terekh were a nightmare for the Dutch
Both the Netherlands and Ukraine were already out of the race to the final but the team coached by Dekhtiar wanted to finish the group stage on a high and solved the third place question with three goals in less than two minutes midway through the first period.
Vypasniak, goalkeeper Terekh and Kaliahina made it 3-0, and Vypasniak and Terekh would score again in the second period leaving the match practically sentenced in favour of the Ukrainians.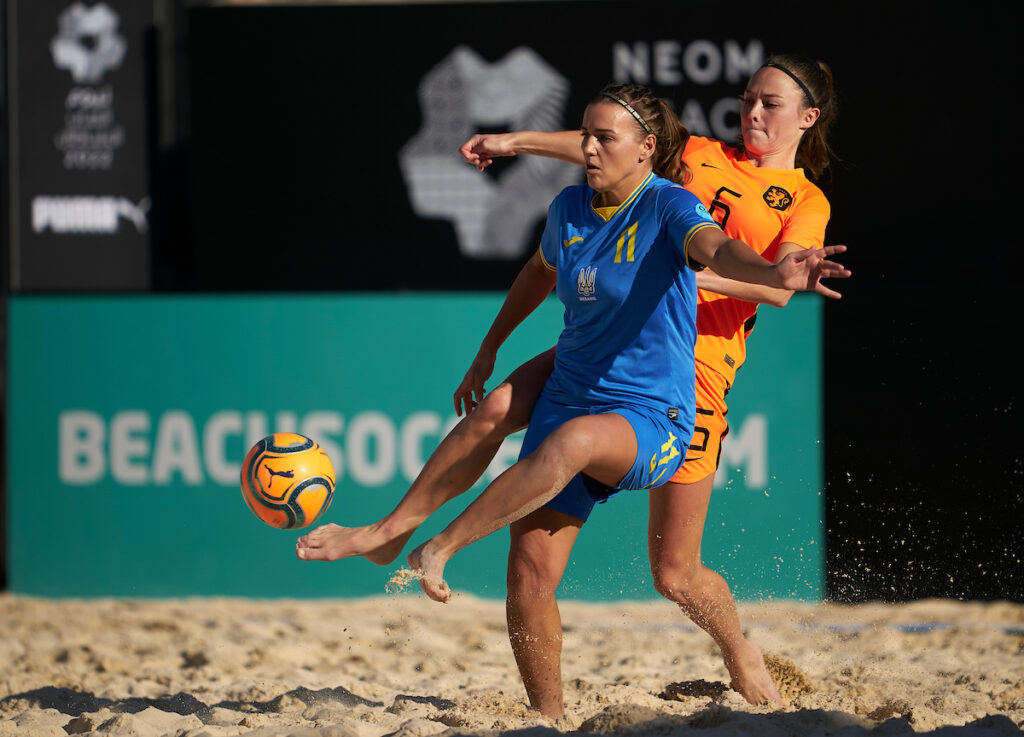 The match wouldn't end without a hat-trick by Vypasniak who closed the 6-0 result.
Press conference before the final
Coaches Fabrício Santos and Steve Black will be in the press conference held tomorrow at 11.30h NEOM time (08.30h UTC) to preview the big match between England and Brazil.
The press conference can be followed live on Beach Soccer Worldwide's YouTube channel.
RESULTS (Matchday 3)
Ukraine 6-0 Netherlands
England 3-4* Brazil *A.E.T
Watch all the matches live on Recast!
For full details on the Women's NEOM Beach Soccer Cup 2022, including fixtures, results and standings, head to beachsoccer.com.