The hosts defeated Uruguay on Sunday while Paraguay beat Colombia to the last ticket to Russia
---
Brazil claim their ninth South American title and the 16 teams contending the 2021 FIFA Beach Soccer World Cup are decided on the last day in Rio de Janeiro.
The top three finishing positions were filled by the same teams as in the last edition of the CONMEBOL Championship, as Brazil defeated Uruguay by three goals to one in the final, and Paraguay snatched the last World Cup place with a 4-2 win over Colombia.
The hosts' victory was a less convincing one than the 10-1 result they achieved in the 2019 edition, but three were enough to down La Celeste on Sunday, thanks to a double from top scorer Edson Hulk.
However, all eyes were on Paraguay's match against Colombia in the playoff for third place, but also the very last place at the 2021 FIFA Beach Soccer World Cup…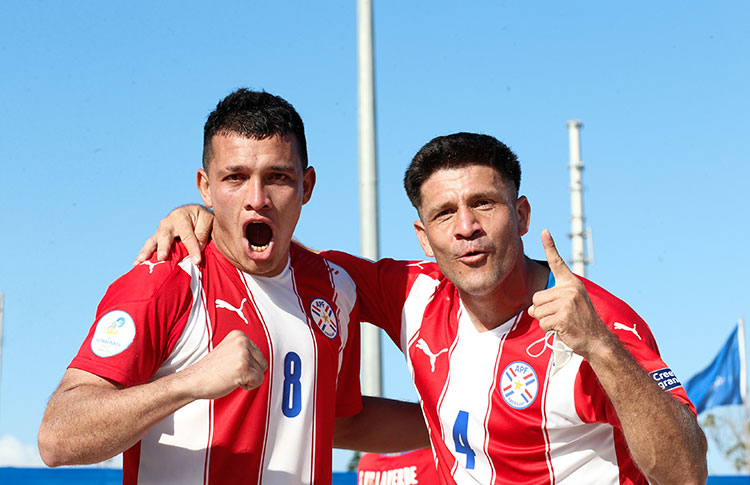 Paraguay played the match for bronze last year, but already had a place at the 2019 edition secured as hosts, but in this edition, there was no guarantee. After building a 4-1 advantage, La Albirroja held off the Colombians with the 16th place at the World Cup in sight, and although they conceded one more goal before the final whistle, they held on for the prize.
Brazil remain on top in South America, and Paraguay reached their fifth consecutive FIFA Beach Soccer World Cup on the last day at the Barra de Tijuca in Rio de Janeiro.
Next stop, Russia!
03.07
10.30 – Ecuador 1-6 Bolivia (9th-place playoff)
12.00 – Peru 2-5 Chile (7th-place playoff)
13.30 – Uruguay 4-3 Paraguay (Semi-final)
15.00 – Brazil 3-1 Colombia (Semi-final)
04.07
12:00 – Venezuela 4-3 Argentina (5th-place playoff)
13.30 – Colombia 2-4 Paraguay (3rd-place playoff)
15.00 – Brazil 3-1 Uruguay (FINAL)
Final Standings
Champions – Brazil *
Runners-up – Uruguay *
3rd – Paraguay *
4th – Colombia
5th – Venezuela
6th – Argentina
7th – Chile
8th – Peru
9th – Bolivia
10th – Ecuador
*Qualify to 2021 FIFA Beach Soccer World Cup Russia
Awards:
Top Scorers: Carlos Carballo (PAR) and Edson Hulk (BRA)
Best Goalkeeper: Alberto Prado (VEN)
Fair Play: Brazil
For full details on the CONMEBOL Championship, head to www.conmebol.com.
Photo: CONMEBOL