The sport has been officially confirmed by ANOC for the 2023 and 2025 editions, with 16 Men's and 12 Women's teams
---
Great news do not stop coming, as beach soccer keeps arising the interest of the Olympic family, with the sport having been recently confirmed by ANOC (Association of National Olympic Committees) as a part of the program of the World Beach Games 2023 and 2025. And with an even stronger presence!
After the amazing success of beach soccer in the maiden edition of ANOC's World Beach Games, held in Qatar in 2019, in which beach soccer stood undeniably as one of the highlights of the Games, the discipline will hold a very preeminent position in the coming episodes of this very special sports festival.
This time, 16 Men's National Teams and 12 Women's National teams will have the opportunity to compete at the World Beach Games, what stands as a significant growth and an exciting step forward in the growth of the discipline.
Following the great success of the ANOC World Beach Games Qatar 2019, ANOC decided to focus the core programme exclusively on beach and water sports that could be delivered sustainably and in line with the Games' commitment to youth and inclusion, some parameters where beach soccer perfectly fits.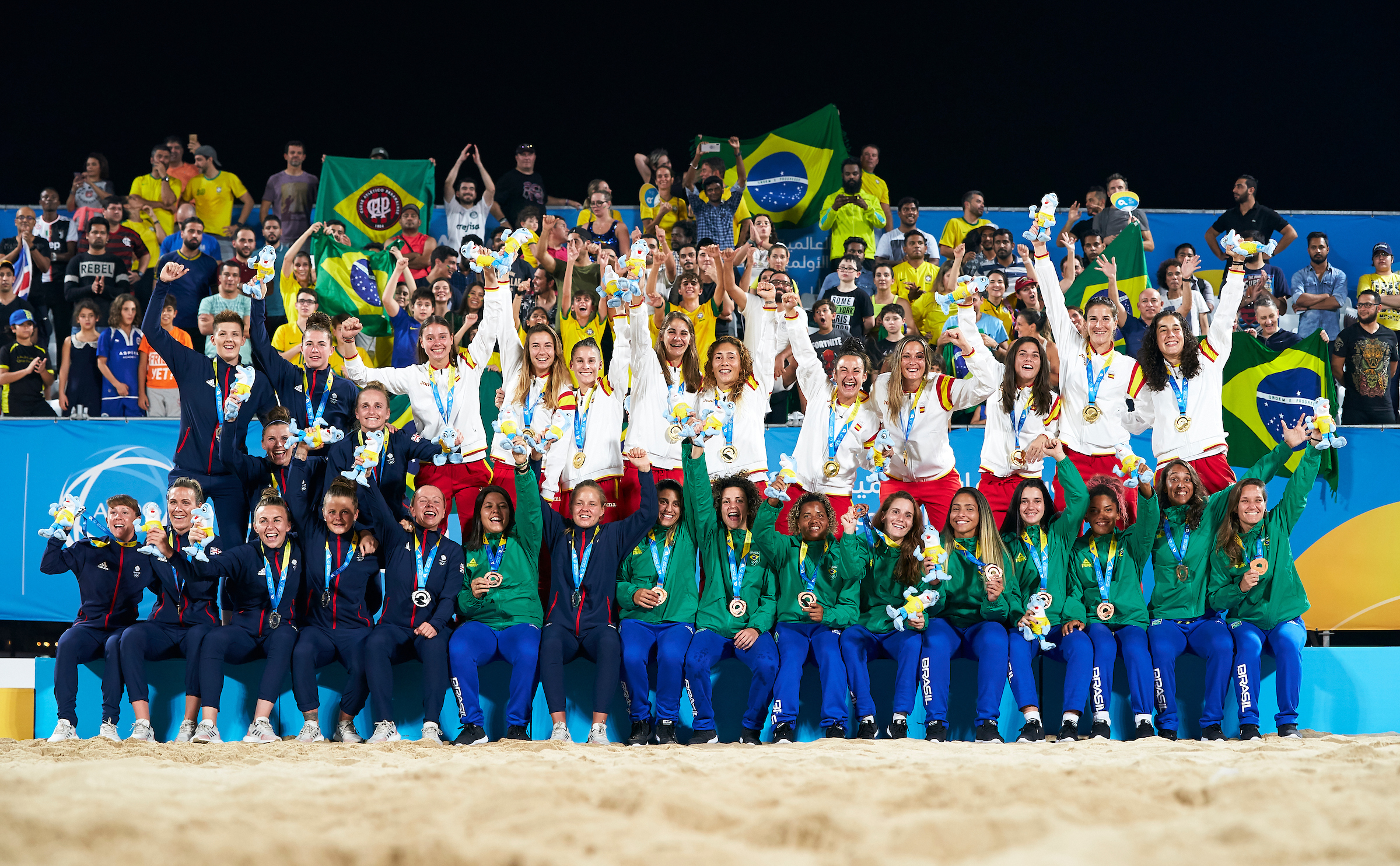 The nine sports on the core programme are:
Aquatics – Open Water Swimming 5km & Beach Water Polo
Beach Soccer
Beach Handball
Karate – Individual Kata
Sailing – Kite Foil
Beach Tennis
Triathlon – Aquathlon
Beach Volleyball 4×4
Beach Wrestling
Joan Cusco, BSWW President said:
"We were really proud to feature in the very first edition of the World Beach Games in Qatar, and we are absolutely certain that beach soccer was one of the main attractions in Doha. Fans and athletes alike enjoyed an unforgettable experience, and the conversations with ANOC kept very alive across all these months to make sure we all make everything possible to bring on an even better spectacle in these coming editions".
ANOC Secretary General Gunilla Lindberg said:
"We are delighted to announce the core sports for the next two editions of the ANOC World Beach Games. We have a dynamic and diverse mix of youth-centred beach and water sports which will ensure the ANOC World Beach Games continues to allow NOCs to engage new athletes and a new generation of sports fans. By confirming the core programme now, we are also giving NOCs and International Federations (IFs) greater certainty and time to plan for the Games.
"After the success of Qatar 2019, we have enjoyed very positive collaboration with all the IFs that participated in the Games and we look forward to working closely with them to deliver fantastic competitions for our athletes and fans. With the bid process for the next two editions of the Games opening tomorrow we are also confident we will have two excellent hosts to showcase the best of our beach and water sports."