3 more teams assured their presence in the next round of the competition
---
AISP San Javier and FC10 Ladies qualify in Group C
Rappiranhas also clinch a place in the quarter-finals
Marseille BT and Terrassa Bonaire won their groups.
Goal difference makes the difference
Newteam Brussels stepped on the pitch against Bavaria Beach Bazis knowing they needed a win and by the biggest possible goal-margin to keep their hopes of qualification alive. Hall made it 1-0 in the first period, Leslie and Thaels extended the lead before Ina and Angstwurm cut the distance for the Germans with two goals that woke up the Belgians again. Hall and Arsenault with a brace led Newteam's reaction but Angstwurm scored a hat-trick to make it put the match back to discussion, although the third period saw no goals.
Which meant that FC10 Ladies needed a win against AD Nazaré 2022 to go through. Led by Kempson who scored a hat-trick, the polish cruised past the local team and won 10-0 to clinch a place in the quarter-finals with AISP San Javier qualifying in the first place.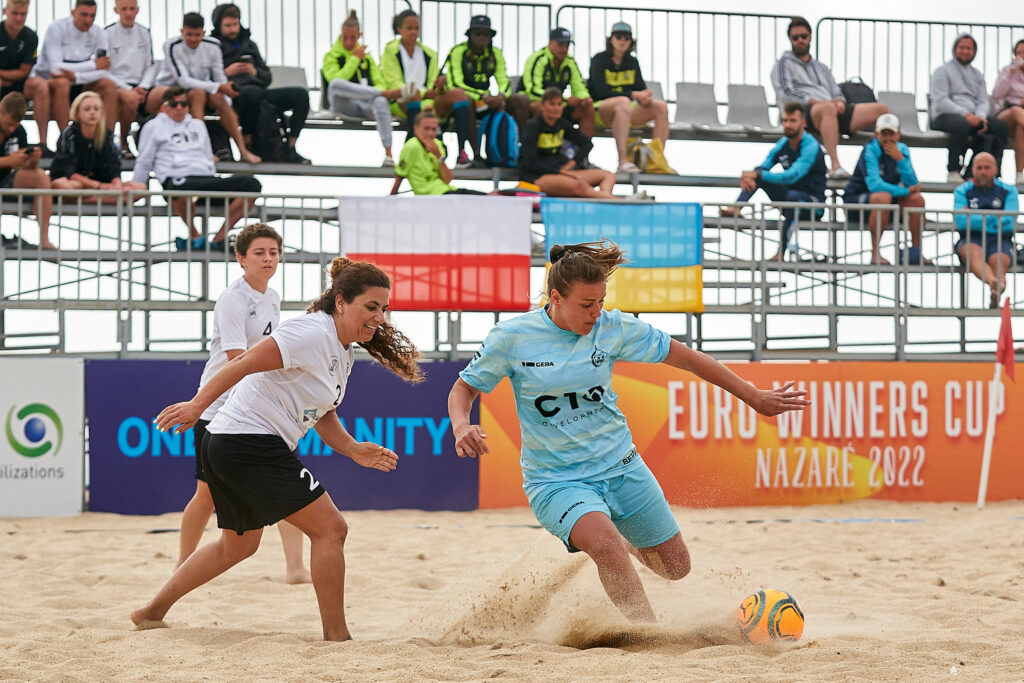 No room for complacency from the Swiss
In Group A Higicontrol had already assured the first place which meant there was an open spot in the quarter-finals to decide. With all to play for, Rappiranhas knew a win would put them through and didn't give any room for doubt putting 10 past Amneville who were still able to score two goals.
This result meant that Sótão already knew they couldn't qualify when they faced group leaders Higicontrol. The Spanish side finished the group stage with a perfect record, this time beating the local team 3-1
Marseille finish first
To decide the first place of Group D, Cáceres hit first through Carmen but they were facing a Marseille BT team that had an inspired Melissa Gomes scoring a hat-trick and Adri showing her class on the sand with a wondergoal. The French won 7-3 and took the first place.
In the other match of the group, BS Zeeland and KylPä took it to penalties after a 4-4 scoreboard in regular time. The Finnish ended up taking the point winning 4-2 in the shootout.
Terrasa lead the group
Terrassa Bonaire and AD Pastéis had already secured qualification and stepped on the sand to discuss the first place of the group. With a goalless draw in the first period, Aina and Manau gave the lead to the Spanish team in the second period. Manau would then score her second in the final period to seal the final result on 3-0
Already without possibilities of qualifying, Recreativo Huelva beat Gibraltar 7-1.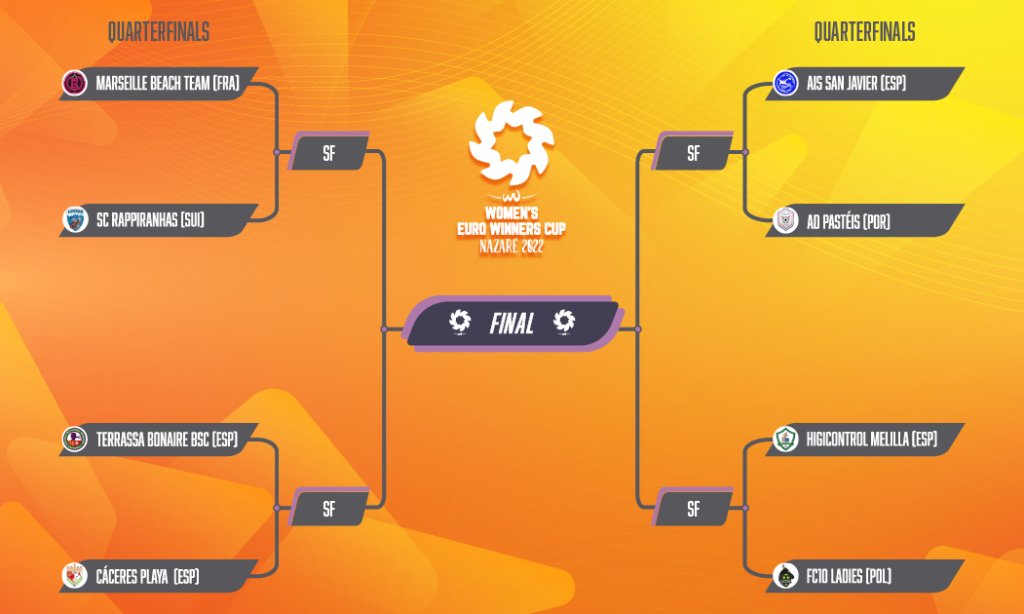 The quarter-final draw determined that Marseille BT will face Rappiranhas, Terrassa will play against Cáceres, while AISP San Javier will matchup with AD Pastéis and Higicontrol will face FC10 Ladies.
Watch all of the action live on Recast.
Results
Group A
ACD O Sótão 1-3 Higicontrol Melilla
CSO Amenville BS 2-10 SC Rappiranhas
Group B
Terrassa Bonaire 3-0 AD Pastéis
Recreativo Huelva 7-1 Gibraltar Wave
Group C
Bavaria Beach Bazis 4-6 Newteam Brussels
AD Nazaré 2022 0-10 FC10 Ladies
Group D
Marseille BT 7-3 CFP Cáceres
BS Zeeland 4(2)-(4)4 KylPä
Quarter-finals Draw
Marseile BT (FRA) vs SC Rappiranhas (SUI)
Terrassa Bonaire (ESP) vs CFP Cáceres (ESP)
AISP San Javier (ESP) vs AD Pastéis (POR)
Higicontrol (ESP) vs FC10 Ladies (POL)