ACD O Sótão claim the Campeonato Nacional Feminino, as Leixoes prevail at Campeonato Nacional
---
It took Sporting Clube Braga not even a month to earn a new title and shake off the disappointment of having lost the final of the Euro Winners Cup 2021. The Guerreiros put together an amazing comeback to end up prevailing over Casa Benfica de Loures in extra time and become the new Portuguese national champions.
Despite seeing themselves trailing 0-3, and then 2-5, in two phases of the final of this Campeonato Nacional Divisião Elite, held at the Estadio do Viveiro Jordan Santos in Nazaré, SC Braga fielded some magnificent beach soccer, combined with their undeniable winners pedigree, to turn the score around and claim the trophy.
Goals from Bê Martins, Filipe Silva, Léo Martins (2) and Lucão (2) tipped the balance in a terrifically tight battle, in which Miguel Pintado (3) lead the scoring for Casa Benfica, aided by Chiky and Batalha.
Besides the stunning action, the game also brought another special moment: seeing Jordan Santos back on the sand.
In the game for third place, 2020 champions Sporting Clubs Portugal ended up overcoming Os Buarcoos from the penalty spot (3-2) after normal time ended in a tie (3-3).
Leixões SC won the National Championship division after beating São Domingos FC by five goals to one. In reaching the final, both teams secured a place in the Elite Championship alongside the country's best clubs for next season.
ACD Sótão claim first Campeonato Feminino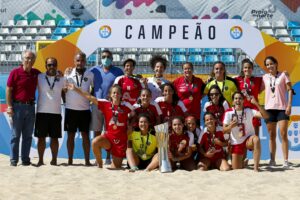 In the Women's Division, ACD Sótão became the first ever Women's Beach Soccer National Champions following a narrow win over AD Pastéis da Bola in the final held at the Estadio do Viveiro Jordan Santos.
The host club saw their names written this bright era of the Portuguese beach soccer history, becoming the champions of the first ever Campeonato Nacional Feminine (Women's National Championship).
AD Paredes snatched third place thanks to a comfortable 8-3 win over GD Macedense.
Leixões prevail at the Campeonato Nacional
In the Campeonato Nacional, the portuguese second dividison, Leixões SC secured the trophy, after clearly bending São Domingos (5-1) in the decider of the division. Both teams, after having reached the final, had the promotion to Divisião Elite already secured, though.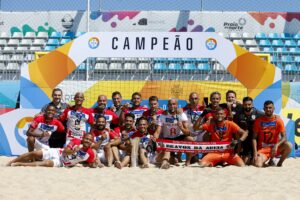 For more information head to fpf.pt