Poland and Belarus also won to secure the final tickets to the Superfinal in Figueira da Foz
---
Russia, Portugal and Italy overcome their Swiss and Spanish rivals on the final day of the group stage in Nazaré.
Switzerland's Philipp Borer deservedly took home the MVP trophy, while Pietrasiak netted an impressive eight goals in three games to win the Top Scorer award. The Best Goalkeeper was Portuguese Elinton Andrade.
Elsewhere, Belarus and Poland claimed the last places in the Superfinal with dramatic wins over Turkey and France, while Ukraine lost to the current world champions, Portugal, on penalties but still make the Superfinal.
Turkey, as the lowest ranked team after the group stage, will also return to Portugal in September but to fight to stay among the continent's elite beach soccer teams for another year in the Promotion Final.
RUS 6-5 ESP (Group 3)
Russia and Spain had already secured their tickets to Figueira da Foz with two wins in the opening matchdays, but now they had each other to contend with for the group, and potentially the Regular Stage title.
The game started with the world's best beach soccer goalkeeper being beaten surprisingly easily by his opposite number, Juanmi, after less than a minute. Pablo Perez then doubled the Spanish advantage, and the David Ardil powered home a freekick to make it three.
Russia were being totally overrun by the time Zemskov leaped to redirect a Shkarin corner, pulling one back just before the first break. Another corner after the restart saw Boris Nikonorov cut the difference to just one.
A third Russia goal came from – you guessed it – a corner, as Novikov glided in at the far post to nod in the equaliser. Javi Torres rose to meet a Chiky throw soon after, smashing in a stunning bicycle kick, but three minutes after his short back-pass was intercepted by Novikov, who calmly converted his second of the match.
Makarov then struck a fizzing shot from the half way mark to make it 5-4 and Russia were ahead for the first time. Llorenç put away and equaliser but in the dying seconds of extra time, Romanov arrived at the back post to bundle the ball over the line and win the EBSL Nazaré title at the death!
Goals: 0-1: Juanmi, min. 11 (1); 0-2: Perez, min. 5 (1); 0-3: David Ardil, min. 2 (1); 1-3: Zemskov, min. 2 (1); 2-3: Nikonorov, min. 10 (2); 3-3: Novikov, min. 10 (3); 3-4: Javi Torres, min. 6 (3); 4-4: Novikov, min. 3 (3); 5-4: Makarov, min. 2 (3); 5-5: Llorenç, min. 2 (3); 6-5: Romanov, min. 1 (ET);
SUI 5-6 ITA *AET (Group 2)
Places at the Superfinal already in the bag for both sides, the last game in Group 2 was for a first-place finish.
Yet another rocket from keeper Eliott, his third of the tournament, saw Switzerland go ahead after just two minutes. Then a brilliant bicycle kick from Hodel doubled the lead before Zurlo got Italy off the mark, and he had a brace by the time the first whistle blew.
Gori and Borer also found the net, competing for the title of top scorer, and the sides started the second period at 3-3. Goals were also guaranteed when these sides meet, but it seems going ahead in a match is not the best strategy for the Nati, as Gori converted a perfectly take penalty in the second period to take the lead for the first time.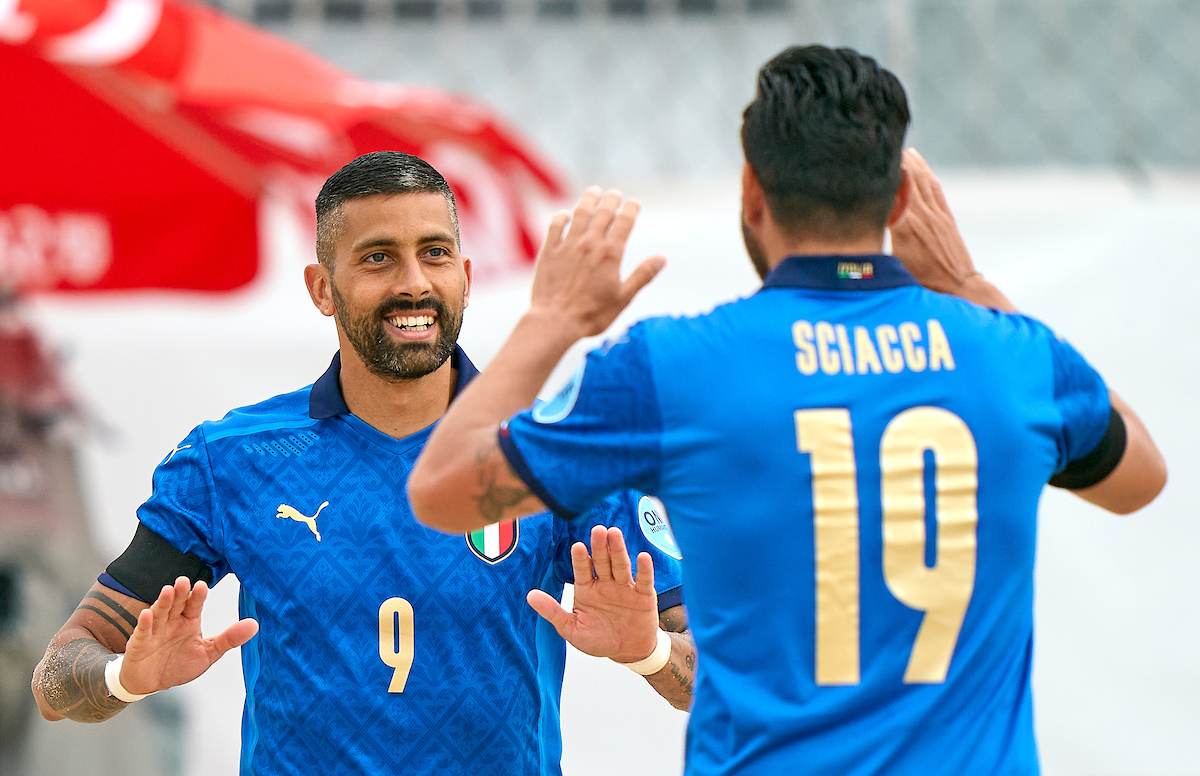 Spacca drew Schirinzi's side level but Gabriele Gori scored his third and fourth goal of the game in the final third to cancel out yet another rocket from Swiss goalkeeper Eliott, and win the match for Italy, as he has done on so many occasions before.
Another fascinating contest between two of the continent's top teams saw the Azzurri take the group title, while Switzerland claimed the MVP in Philipp Borer.
Goals: 1-0: Eliott, min. 10 (1); 2-0: Hodel, min. 7 (1); 2-1: Zurlo, min. 5 (1); 3-1: Borer, min. 4 (1); 3-2: Gori, min. 3 (1); 3-3: Zurlo, min. 2 (1); 3-4: Gori, min. 4 (2); 4-4: Spacca, min. 10 (3); 4-5: Gori, min. 5 (3); 5-5: Eliott, min. 5 (3); 5-6: Gori, min. 5 (3);
POR 3(4)-(2)3 UKR (Group 1)
The defending champions had already swept aside their other Group 1 rivals with ease, but in the battle to finish the Regular Stage on top, they struggled to build momentum against Ukraine.
Voitenko struck after four minutes to shock the world champions who, clearly unaccustomed to trailing, became agitated. The unrest of Narciso's squad grew as the Ukraine number 15 scored again, converting a penalty to double the advantage for the men in yellow.
It wasn't until the very last touch of the second period that Portugal broke through when Coimbra turned in a Leo Martins bicycle kick.
Kostenko's side still led going into the final period but Leo Martins made it 2-2, only for Ruben Brilhante to redirect a powerful corner, scoring an unfortunate own goal. Leo Martins was on hand once more though, slotting home to force extra time.
It was to be another penalty shootout for Ukraine, but this time Andrade was equal to the efforts of Voitok and Korniichuk, earning Portugal their hardest won point of the campaign.
Portugal top the group and Ukraine will finish second.
Goals: 0-1: Voitenko, min. 8 (1); 0-2: Voitenko, min. 3 (2); 1-2: Coimbra, min. 0 (2); 2-2: Leo Martins, min. 7 (3); 2-3: Brilhante (OG), min. 4 (3); 3-3: Leo Martins, min. 3 (3);
PSO: 0-1: Medved, scored; 1-1: Be Martins, scored; 1-1: Voitok, saved; 2-1: Belchior, scored; 2-1: Korniichuk, saved; 3-1: Leo Martins, scored; 3-2: Pashko, scored; 4-2: Coimbra, scored;
FRA 3-4 POL (Group 2)
One of the last spots at the Superfinal, to be held in Portugal in September, was potentially up for grabs in the final match for these sides in the Regular Stage in Nazaré.
France and Poland had been unlucky to lose so narrowly in their opening games despite playing very well, and Poland took the lead after just 20 seconds through Pietrasiak, his sixth of the tournament.
France were trailing as the second period began until Barbotti netted at the game's midway point. Brochocki retook the lead but Barbotti was there once more to drag Claude Barabe's men level. Basquiase then stretched to volley in France's third with just minutes left.
The game slowed after an awful injury to Santos Dias saw him leave the pitch on a stretcher, and French heads seemed to drop after this event, and Pietrasiak netted a late brace to cruelly snatch the victory from Les Bleus.
Poland did enough to secure themselves a ticket to the Superfinal, to be held in Figueira da Foz later in the year, while France are safe in Division A for another year at least.
Goals: 0-1: Pietrasiak, min. 11 (1); 1-1: Barbotti, min. 6 (2); 1-2: Brochocki, min. 0 (2); 2-2: Barbotti, min. 5 (3); 3-2: Basquiase, min. 3 (3); 3-3: Pietrasiak, min. 1 (3); 3-4: Pietrasiak, min. 0 (3);
BLR 8-2 TUR (Group 3)
Belarus and Turkey had failed to register any points so far in the Regular Stage of the 2021 Euro Beach Soccer League, but Day 3 gave the sides the option to clinch one of the remaining places in the Superfinal.
After a nervy and equally-matched opening period of play, Ryabko smashed Belarus in front with three minutes of the first stage left. A minute later Chaikouski doubled the advantage and the Hardzetski tripled it.
Alvarado's men had found their rhythm and it was one-way traffic from that point on as the goals kept coming, with Kanstantsinau and Mahaletski making it four and five before Turkey finally managed to break through the Belarussian backline.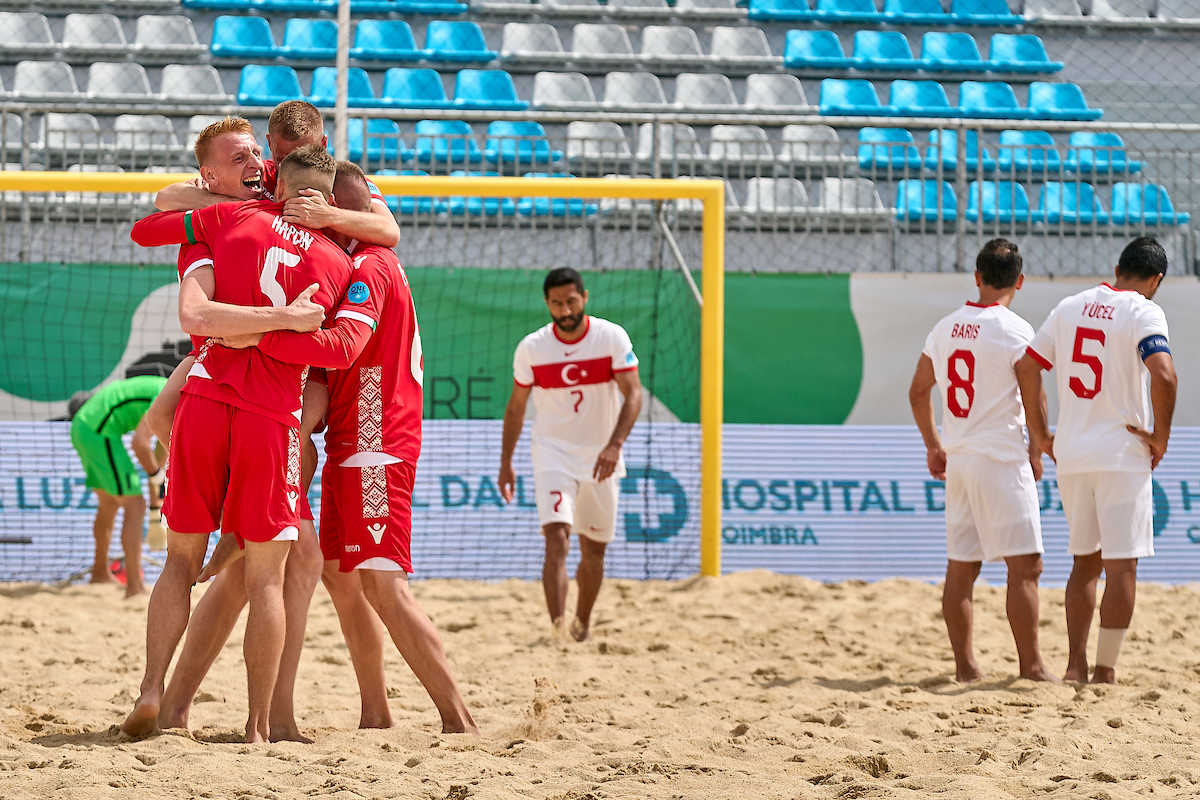 Semih pulled one back but it did not stem the flow of goals as Novikau, Bokach and Piatrouski took Belarus' tally to eight. Baris turned in a second for Turkey but it was too little too late as Belarus' superior performance saw them claim a spot in the EBSL Superfinal in September.
Turkey will also be travelling to Figueira da Foz, but to fight in the Promotion Final to keep their place in the EBSL Division A.
Goals: 1-0: Ryabko, min. 3 (1); 2-0: Chaikouski, min. 2 (1); 3-0: Hardzetski, min. 1 (1); 4-0: Kanstantsinau, min. 8 (2); 5-0: Mahaletski, min. 7 (2); 5-1: Semih, min. 7 (2); 6-1: Novikau, min. 7 (2); 7-1: Bokach, min. 0 (2); 7-2: Baris, min. 9 (3); 8-2: Piatrouski, min. 6 (3);
GER 5-4 AZE (Group 1)
These two sides went into their final game of the Regular Stage of the 2021 Euro Beach Soccer League in Nazaré without a win, in a playoff for third place in Group 1.
A win would also likely clinch a place in the Superfinal in September, and Körner gave Die Mannschaft an early edge by pounding them in front midway through the first period, coolly converting a freekick.
Germany lead at the break, until Elchin equalised with a sublime strike from his own box which eluded defender and keeper to nestle in the top corner. Christian Biermann sprang upon a loose ball between defender and goalkeeper to rifle in his first of the tournament, only to see it cancelled out by a sweet volley from captain Asif.
When Metzler and Körner put Germany ahead twice, only to see them pinned back by Amid and Sabir once more, the match looked destined for extra time…
But in literally the last second, the German number 10 Metzler found some space to power home an unbelievable winner and the German bench didn't even wait for the final whistle to swarm onto the pitch and celebrate wildly.
Germany did not quite manage to seal a place in the Superfinal, but Azerbaijan did enough to save themselves in another relegation battle in the Promotion Final.
Goals: 1-0: Körner, min. 4 (1); 1-1: Elchin, min. 8 (2); 2-1: Biermann, min. 6 (2); 2-2: Asif, min. 5 (2); 3-2: Metzler, min. 10 (3); 3-3: Amid, min. 7 (3); 4-3: Körner, min. 7 (3); 4-4: Sabir, min. 3 (3); 5-4: Metzler, min. 0 (3);
Head to beachsoccer.com for full details on the Men's Euro Beach Soccer League.