The champions of the second NEOM Beach Soccer Cup will be decided on Saturday
---
The coaches of the finalists, alongside event officials at the NEOM Beach Soccer Cup, were invited to a press conference held at the media centre of the NEOM Beach Games on Saturday morning.
The four coaches – Fabricio Santos (Brazil women's coach), Steven Black (England women's coach), Marco Octavio (Brazil men's coach) and Joaquin Molas (Paraguay men's coach) – were joined by Neal Coupland, Head of NEOM Sports Partnerships, and Joan Cuscó, BSWW President, were also on the panel facing a packed conference room.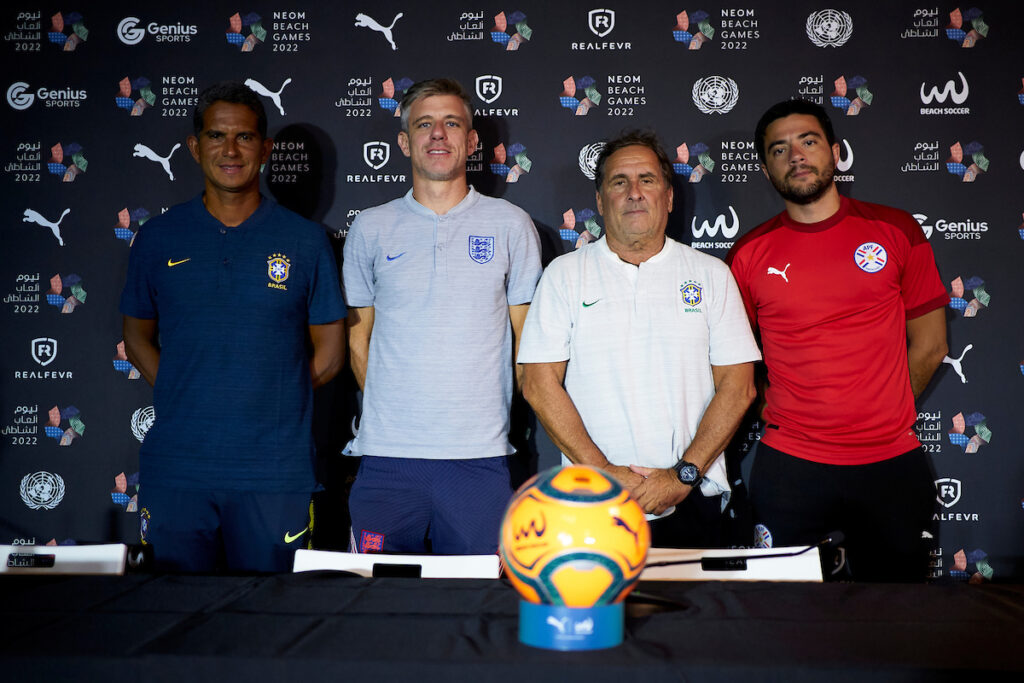 After offers of congratulations on what has been, for several of the delegates and coaches present, one of the "best beach soccer events ever", questions were then put to the panel.
Marco Octavio was asked if he felt pressure, having lost two finals previously in the 2022 season (Copa America versus Paraguay and the Intercontinental Cup against Iran), to which he answered, "I do not feel pressure. We are seen as the favourites but we are playing against the world's top teams."
Joan Cuscó was then asked how far he thought beach soccer was from being an Olympic sport, to which he replied, "closer than ever. Paris is too close, but Los Angeles in 2028 our objective is."
Brazil and Paraguay will go head to head in the men's final, while England and Brazil will meet for the first women's title.
The finals of the NEOM Beach Soccer Cup will be played at 13:45 local time (women's) and 21:00 (men's), and will be streamed live on Recast.