Switzerland and Italy will miss the 2021 FIFA Beach Soccer World Cup in Russia
---
The day of the quarter-finals was the one everyone had been waiting for, as the winners of these matches would seal the four places in the biggest beach soccer show of all. The action did not disappoint.
An all or nothing contest between Spain and Italy saw late drama to hand La Roja their first place in a FIFA Beach Soccer World Cup since 2015, and Ukraine held on against Switzerland to seal their first appearance since 2013.
Portugal cruised into the final four by beating Azerbaijan 6-1 and Belarus made it two consecutive World Cup qualifications with a handy win over Germany.
Spain will play Belarus in semi-finals of the European Qualifier, while Portugal take on Ukraine. The teams that lost today will tussle for fifth place.
But the game of the day…
Quarter-finals
ITA 5-6 ESP *AET
Spain were looking for their first qualification to the FIFA Beach Soccer World Cup since 2015 in this Mediterranean derby, but the finalists of the last edition stood in their way.
A match which saw third in the world ranking take on fifth, started with Simone Marinai slotting in from close range to give Italy the lead and within a minute Zurlo had smashed in a second. Riduan pulled one back but Josep Jr scored his fifth of the Qualifier for the Azzurri's third.
Llorenç flew down the right wing to hit an outrageous volley to make it 3-2 just before the second whistle. But not long after, the star number 10 and 2018's Best Player in the World was sent off, a devastating blow for Spain.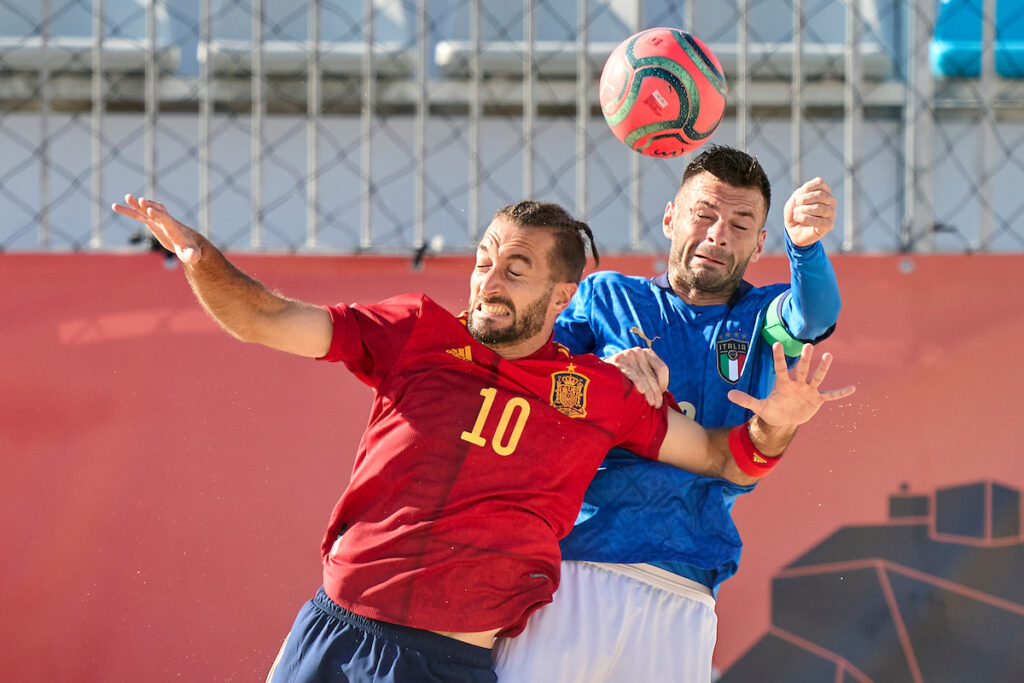 Cintas equalised with a neat finish at the beginning of the third period, then Marinai took the lead again for his second, but La Roja were level soon after once more, this time thanks to a rocket from Chiky to force extra time.
Tensions rose between these old beach soccer rivals, and when Chiky was brought down in the penalty area, the big striker held his nerve and converted the penalty with just seven seconds of extra time left.
The reaction of the Spanish players and from the bench was explosive, and they held tight for the remaining seconds to earn their first place at the World Cup since 2015. Elation, relief, tears, the full-time whistle saw it all, as the runners-up of the 2019 FIFA Beach Soccer World Cup exit the 2021 Qualifier.
It's been a long time, but Spain are back!
Goals: 1-0: Marinai, min. 9 (1); 2-0: Zurlo, min. 9 (1); 2-1: Riduan, min. 5 (1); 3-1: Josep Jr, min. 1 (1); 3-2: Llorenç, min. 1 (2); 3-3: Cintas, min. 11 (3); 4-3: Marinai, min. 9 (3); 4-4: Chiky, min. 7 (3); 4-5: Chiky, min. 0 (ET);
POR 6-1 AZE
The reigning FIFA Bach Soccer World Cup champions took on Azerbaijan, ranked 30 places below them in the Official World Ranking, in their match to seal a place at the 2021 edition.
Ruben Brilhante took the first step on the road to title retention, as he teed himself up superbly to volley in the opener. There was then a long stretch where Azerbaijan defended well against the world's top team but a second goal was coming.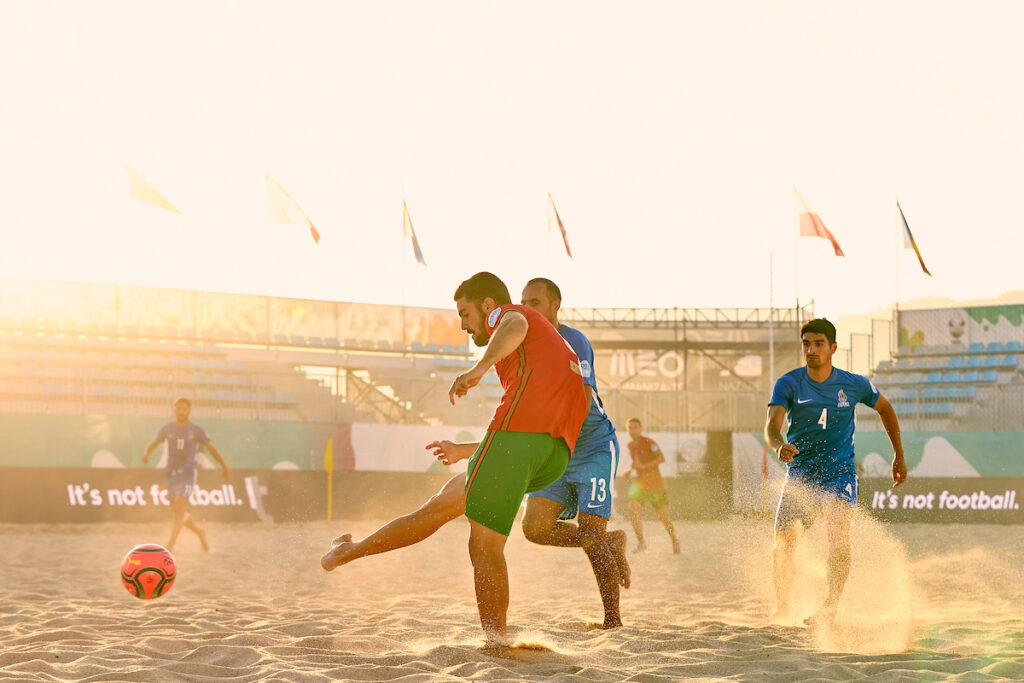 Be Martins' favourite assistant, his twin brother Leo, set the number eight up to double Portugal's lead in the second period. Belchior then converted a penalty and the dream of a debut World Cup appearance slipped further away for the men in blue.
As much as they tried they couldn't break down the Portuguese defence, even with the towering figure of Rui Coimbra absent after being stretchered off earlier in the game.
Be Martins doubled his tally and an unfortunate Elshad own goal put Portugal five to the good. A goal to take away from the such an important match came when Sabir hit a fine consolation from far out. Leo Martins joined his brother on the scoresheet to wrap up what turned out to be an easy win for the Qualifier hosts.
Portugal will play Ukraine in the semi-finals tomorrow, while Azerbaijan will meet Switzerland in the playoffs for fifth place.
Goals: 1-0: Brilhante, min. 6 (1); 2-0: Be Martins, min. 10 (2); 3-0: Belchior, min. 10 (2); 4-0: Be Martins, min. 8 (2); 5-0: Elshad (OG), min. 7 (2); 5-1: Sabir, min. 0 (2); 5-1: Sabir, min. 0 (2); 6-1: Leo Martins, min. 7 (3);
SUI 5-6 UKR
Ukraine hadn't appeared in a FIFA Beach Soccer World Cup since 2013 which, as it happens, was the last time Switzerland did not make it to the world championships.
However, it was Mykola Konstenko's side who came onto the sand the sharper of the two. Zavorotnyi opened Ukraine's account after four minutes and then a simply stunning overhead volley from Shcherytsia snuck in just under Swiss keeper Eliott's crossbar.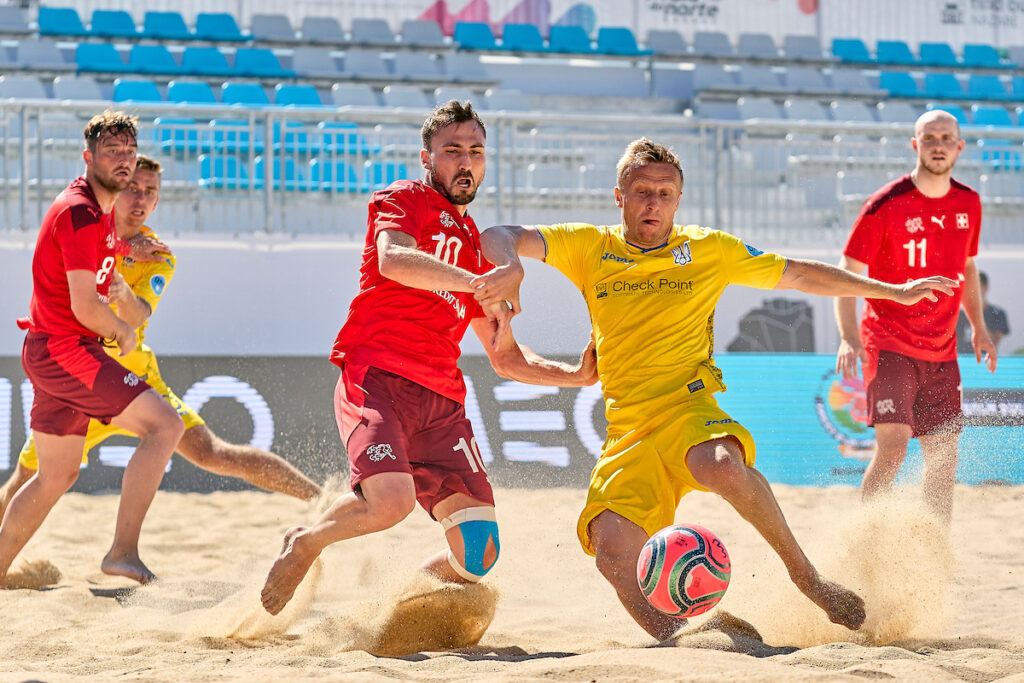 Borer pulled one back from distance, then goals from Voitenko and Stankovic meant that the sides were tantalisingly close at the first break. A devastating injury to the man who started the day as top scorer at the European Qualifier, Philipp Borer, meant that Switzerland were forced to try and mount one of their famous comebacks without one of their most important players.
Shcherytsia and Voitenko both scored again to push the advantage to three goals until Switzerland were able to find the net again, when Hodel converted freekick and Stankovic buried number four.
The hero of the day was Shcherytsia, whose shot from distance bounced on the sand and over Eliott, to complete his hat-trick. Although Eliott hit a signature missile from his own penalty area, the Swiss turnaround never came and the final whistle was drowned out by the screams of joy from the men in yellow.
It seems these two are not destined to meet on the biggest stage of all…
Goals: 0-1: Zavorotnyi, min. 8 (1); 0-2: Shcherytsia, min. 8 (1); 1-2: Borer, min. 7 (1); 1-3: Voitenko, min. 3 (1); 2-3: Stankovic, min. 2 (1); 2-4: Shcherytsia, min. 6 (2); 2-5: Voitenko, min. 5 (2); 3-5: Hodel, min. 0 (2); 4-5: Stankovic, min. 10 (3); 4-6: Shcherytsia, min. 8 (3); 5-6: Eliott, min. 3 (3);
BLR 5-1 GER
This match was to name the first European side to claim one of the few places at the FIFA Beach Soccer World Cup.
Belarus burst onto the world stage in the 2019 European Qualifier when they reached the World Cup for the first time in their history, under the management of Nico Alvarado. The Spaniard pulled off the impossible, and was one win away from repeating the feat.
Germany were the first to find the net after an opening period of hesitant stalemate, with golden opportunities squandered, when Christian Biermann scored arguably the goal of the entire qualifier so far, finding the top corner from his own penalty area.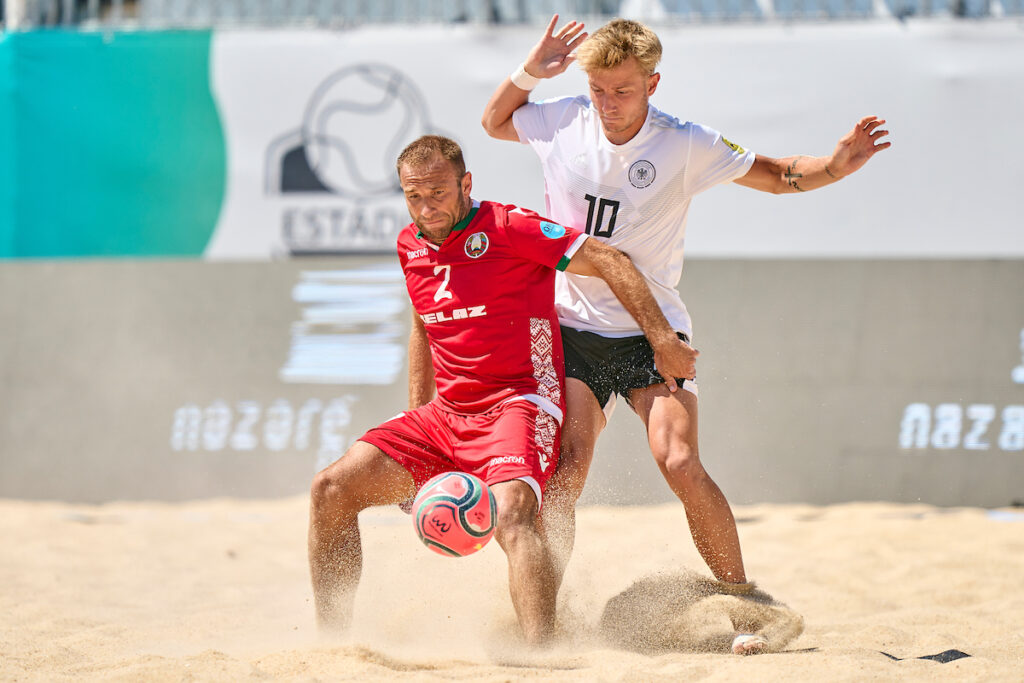 But that was where the German joy ended and just seconds later Hardzetski responded with an incredible strike of his own. Chaikouski then put Belarus in front when he flew in at the back post to head home.
Things went from bad to worse Kanstantsinau then took advantage of a goalkeeping error to make it three before the end on the period.
Belarus tightened their grip on the match with goals from Hapon and a second for captain Kanstantsinau, as a well-beaten Germany were denied their first ever place at the FIFA Beach Soccer World Cup. Belarus however, exploded into raucous celebration – they've done it again!
Goals: 0-1: Biermann, min. 3 (2); 1-1: Hardzetski, min. 2 (2); 2-1: Chaikouski, min. 2 (2); 3-1: Kanstantsinau, min. 0 (2); 4-1: Hapon, min. 11 (3); 5-1: Kanstantsinau, min. 4 (3);
Playoffs
FRA 5-4 POL (9th place) *AET
An extra time winner from Barbotti snatched ninth place for France against a Polish side who had led for most of the match.
Gosselin continued the excellent form he's been in recently by hitting the first goal of the game, but a Tremoulet own goal put Poland back on level terms. Poland then took the lead through Błaszczyk, and then Marciniak doubled it.
France were trailing 3-4 with just minutes to go but Angeletti converted just in time to force an added three minutes, where Barbotti floated in at the far post to volley in the winner.
Goals: 1-0: Gosselin, min. 9 (1); 1-1: Tremoulet (OG), min. 4 (1); 1-2: Błaszczyk, min. 8 (2); 1-3: Marciniak, min. 3 (2); 2-3: Barbotti, min. 11 (3); 3-3: Belhomme, min. 8 (3); 3-4: Jesionowski, min. 4 (3); 4-4: Angeletti, min. 2 (3); 5-4: Barbotti, min. 1 (ET);
TUR 10-1 ROU (11th place)
Cem Keskin and Baris put on a masterclass in offensive beach soccer against a notoriously difficult to break down Romania, in Friday's bout for an 11th-place finish in the European Qualifier for the FIFA Beach Soccer World Cup.
Baris struck first them Cem Keskin a minute later, taking early control of the game. From the second period the game was a one-sided affair, the Turkish number eight and ten continued to assist and score.
Pislaru pulled one back for Romania at the midway point but thanks to more goals from Efe, Omer and Oguzhan, Emrah Aykurt's men ran out 10-1 winners, and finish the qualifier in 11th.
Goals: 1-0: Baris, min. 3 (1); 2-0: Cem Keskin, min. 2 (1); 3-0: Omer, min. 0 (1); 4-0: Baris, min. 11 (2); 4-1: Pislaru, min. 5 (2); 5-1: Baris, min. 4 (2); 6-1: Efe, min. 2 (2); 7-1: Cem Keskin, min. 7 (3); 8-1: Baris, min. 5 (3); 9-1: Omer, min. 5 (3); 10-1: Oguzhan, min. 2 (3);
EST 6-7 DEN (13th place)
Casper Dorph fired in a dramatic last-second winner to seal 13th place in the European Qualifier for the FIFA Beach Soccer World Cup for Denmark.
In the last game for both Estonia and Denmark's in Nazaré, a seesaw contest saw Estonia take the lead through keeper Kotter, but Axel Damm hit back soon after. Dorph and Palm then took it in turns to bag goals keep the score close deep into the second period.
Estonia went two ahead on two occasions but the all-important brace came in the final minutes when the Danish captain Dorph turned the game around, winning it at the death with a cool low strike into the bottom corner.
Goals: 1-0: Kotter, min. 8 (1); 1-1: Damm, min. 5 (1); 1-2: Dorph, min. 4 (1); 2-2: Palm, min. 3 (1); 2-3: Dorph, min. 3 (1); 3-3: Palm, min. 7 (2); 4-3: Remmelgas, min. 7 (2); 5-3: Mäeorg, min. 1 (2); 5-4: Frandsen, min. 10 (3); 6-4: Laurits, min. 6 (3); 6-5: Damm, min. 3 (3); 6-6: Dorph, min. 2 (3); 6-7: Dorph, min. 2 (3);
KAZ 2-7 NOR (15th place)
Norway finished their time in Nazaré with a comfortable win over Kazakhstan, scoring some incredible goals to clinch 15th place.
Kazakhstan went ahead through Perevyortov but a Salve double turned the game around in the first 12 minutes. Li then scored an outrageous chip from a freekick to make it 1-3.
Makazhanov pulled one back but an unfortunate Chornyy own goal restored the Norwegian lead. Norway moved into a superior gear in the third period to seal 15th place with a hat-trick completing hit for Salve, a spectacular hit off the crossbar from Anno and a final minute goal from Gaare.
Goals: 0-1: Perevyortov, min. 10 (1); 1-1: Salve, min. 9 (1); 1-2: Salve, min. 5 (1); 1-3: Li, min. 9 (2); 2-3: Makazhanov, min. 3 (2); 2-4: Chornyy (OG), min. 2 (2); 2-5: Anno, min. 5 (3); 2-6: Salve, min. 4 (3); 2-7: Gaare, min. 0 (3);
For full details on the FIFA Beach Soccer World Cup European Qualifier, including standings, stats and fixtures, head to beachsoccer.com.