The defending champions defeated Ghidighici in the final on Saturday at the La Izvor Stadium
---
BSC Nistru retained the Moldovan Beach Soccer League in the stunning La Izvor Stadium in Chisinau this weekend, just a month after hosting the EBSL Division B.
It was the second year in a row that Ruslan Pernai's side claimed the national title, following a narrow battle for the top spot against FC Ghidighici, hanging on to claim the match by three goals to two.
Nistru featured many of the stars that won the EBSL Division B title in the same stadium just a month ago, including fan favourite Ruslan Istrati, as well as Andrei Negara, Leonid Podlesnov, Alexandru Florea, Nicolae Ignat and Grigore Cojocari. They were also managed by the Moldova national team coach, Ruslan Pernai.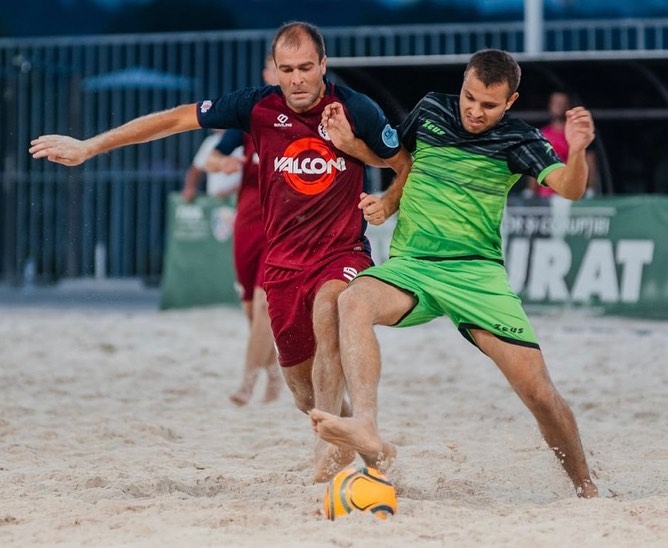 In match for third place, Sportul Studențesc ULIM beat FC Tinerețea by 2-0. FC Olimpic ended the championship in fifth position after winning their duel with FC Budești.
Leonid Podlesnov (BSC Nistru) was the Top Scorer with 28 goals, surpassing his teammates Andrei Negara and Nicolae Ignat, as well as Dumitru Cibotru (FC Ghidighici) and Viorel Purcică (CS Ialoveni), all of whom netted 18 goals.
RESULTS
BSC Nistru Chișinău 3-2 FC Ghidighici (FINAL)
Sportul Studențesc 2-0 FC Tinerețea (3rd-place)
FINAL STANDINGS
Champions – Nistru Chișinău
2nd – FC Ghidighici
3rd – Sportul Studențesc
4th – FC Tinerețea
5th – FC Olimpic
6th – FC Budești
Photo: FNSFP