Czechia and Georgia finished second and third
---
The final day of the Euro Beach Soccer League – Division B played out in Sardinia, as the champions were crowned and the final standings were confirmed…
WATCH ALL MATCHES LIVE ON BEACHSOCCERTV.COM – SIGN UP HERE!
Final
Lithuania come from behind to lift the trophy
Lithuania win 3-2 against Czechia.
The first Division B fixture of the day was a fixture between Lithuania and Czechia, with both teams one win away from capturing silverware in Alghero.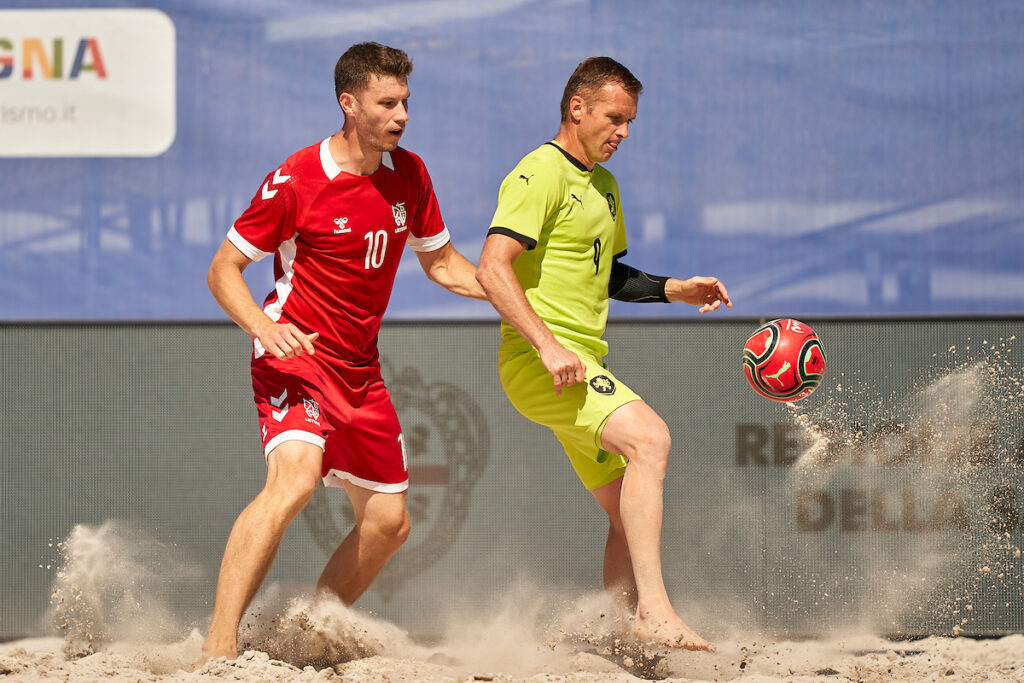 Czechia drew first blood in the fixture, as Trampota's overhead kick found its way low into the back of the net with less than three minutes remaining in the opening period. The score remained the same until the end of the period, as Czechia had the 1-0 advantage after 12 minutes.
The Czechs doubled their lead in the second period as Trampota secured his brace with a free-kick into the bottom corner. However, with two and a half minutes to play in the period, Lebedevas pulled one back for the Lithuanians, leaving the score at 2-1 after two periods played in Sardinia.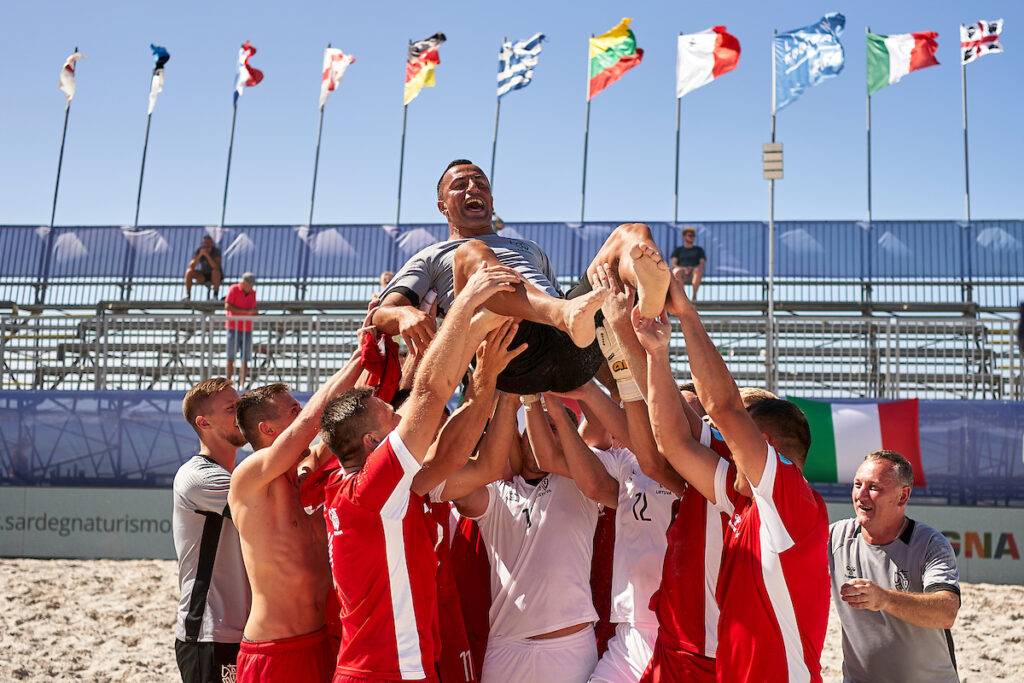 With Lithuania needing one goal to become level, they couldn't have asked for a better start to the third period as Plytnikas netted a vital equaliser just four seconds in. Both teams fought to attempt to secure the winning goal in the remainder of the period, and that all important came for Lithuania, as the comeback was complete. Novičkov found the back of the net with just over half the period played to crown Lithuania champions.
Play-offs
3rd-4th place
The 3rd-4th play-off match in Division B saw Georgia defeat Norway 3-2. Goals from Diakvnishvili, Shamiladze and Lomidze secured 3rd place for the Georgians, whilst Norway finished 4th.
5th-6th place
England won 4-1 against Slovakia in the 5th-6th place play-off fixture. Braces from Lawson and Clarke ensured that England finished in 5th place, as Slovakia ended their campaign in 6th.
7th-8th place
Sweden came out on top 5-3 victors over Malta in the 7th-8th place encounter. Victory for the Swedes confirmed their 7th place finish, as Malta came 8th.
To have a look back at the Euro Beach Soccer League 2023 – Division B – Alghero, make sure to visit beachsoccer.com!
WATCH ALL MATCHES LIVE ON BEACHSOCCERTV.COM – SIGN UP HERE!
Results
Final
Lithuania 3-2 Czechia
3rd-4th place
Georgia 3-2 Norway
5th-6th place
England 4-1 Slovakia
7th-8th place
Malta 3-5 Sweden
Final standings
1. Lithuania
2. Czechia
3. Georgia
4. Norway
5. England
6. Slovakia
7. Sweden
8. Malta