The defending champions lost to Amarelle's San Francisco, Braga took their first win and Madjer Junior made his Euro Winners Cup debut
---
– Kristall lose 4-3 to San Francisco
– SC Braga win big on Day 1
– Zborovskyi hits six for Artur Music to top scoring charts
When Kristall, current European and Russian champions, took the lead early on through a Carballo own goal it looked as if Schirinzi's men were in for another of the big wins that they have grown so accustomed to.
But Amarelle's side turned it around to hand Kristall their first Euro Winners Cup loss since June 2019 when they lost on penalties to Euroformat. La Roja star Javi Torres was playing against them that day too, and he got on the scoresheet today as Amarelle's debuting Spaniard club take an historic win.
Last year's other finalists, SC Braga, swept aside AD Torrejon (ESP) in Group L, with goals coming from Brazilians Lucao (3) and Filipe (2), as well as a double from Leo Martins, sending a clear message that they are on the hunt for title number four.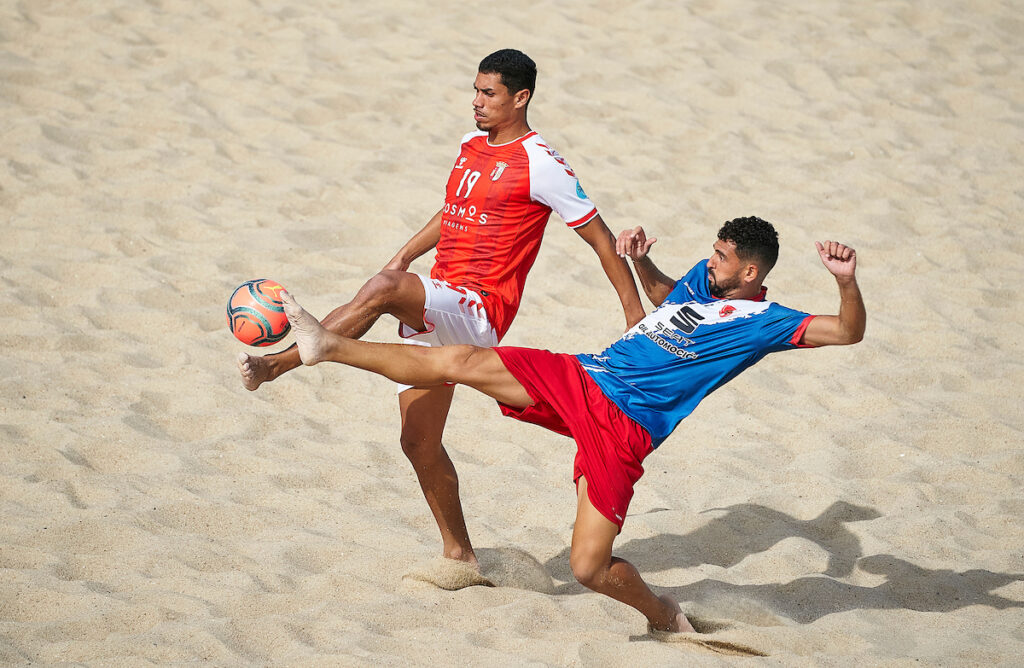 There were goals galore across both men's and women's tournaments today, and no less than 17 of them went to Artur Music whose Ukrainian international Zborovskyi had his name next to six of them, occupying top spot in the scoring charts – for now!
The two-time runners-up of the Euro Winner Cup welcome Telavi to Nazaré with a finishing masterclass to enter Day 2 with a goal difference of 16!
Elsewhere, Bernardo Saraiva – son of Madjer, arguably the best beach soccer player of all time – made his debut at the Euro Winners Cup for his beloved Sporting, as Nuno Belchior starred to see the Lions of Lisbon beat Belgian newcomers Raal La Louviere.
Goals from Stankovic and Ott were not enough to stop some other debutants Rosh Haayin (ISR) opening their Euro Winners account with a win against previous winners Viareggio, thanks to four goals from the top scorer of the recent CONMEBOL, Brazilian Edson Hulk.
Real Münster finished in an historic third-place in the 2020 edition of the European champions after becoming the first German club to reach the knockout stages, and they picked up where they left off last year with a decisive 8-2 win over Vila Flor
Local club ACD Sotão hosted yet more first-timers Norsjo (SWE) with a convincing 6-1 victory, kicking off their campaign in the best way and going top of Group A alongside fellow Portuguese side Os Belenenses who beat Djoker (MDA) earlier in the day.
The teams return to the sand tomorrow where we can look forward to Braga taking on a Servit side studded with Ukrainian international stars, and Kristall will try and make up for lost ground by defeating Os Nazarenos in their home stadium.
Results Day 1
Group A
Norsjo (SWE) 1-6 ACD O Sótão (POR)
OS Belenenses (POR) 5-2 CS Djoker (MDA)
Group B
CD San Francisco (ESP) 4-3 BSC Kristall (RUS)
OS Nazarenos (POR) 6-7 Marseille BT (FRA)
Group C
Raal LA Louviere (BEL) 1-5 Sporting CP (POR)
Varzim SC (POR) 2-7 Falfala KQ BSC (ISR)
Group D
Minots De Marseille (FRA) 2-6 Lokomotiv BSC (RUS)
Caxinas (POR) 0-4 BSC Molniya (UKR)
Group E
Newteam RCS (BEL) 2-11 Levante UD (ESP)
GD Chaves (POR) 2-4 BSC Krylia Sovetov (RUS)
Group F
Telavi (GEO) 1-17 Artur Music (UKR)
AD Buarcos 2017 (POR) 3-4 CD Melistar (ESP)
Group G
Vila Flor (POR) 2-8 Real Munster (GER)
Delta Saratov (RUS) 5-1 Playas De San Javier (ESP)
Group H
CD Nacional (POR) 3-5 GRAP (POR)
Rosh Haayin (ISR) 8-6 Farmae Viareggio BS (ITA)
Group I
Nistru (MDA) 4-1 Newteam Brussels (BEL)
Bemannia FC (SWE) 2-9 Rostocker Robben (GER)
Group J
BS Bohemians (CZE) 4-2 Napoli Patron (GRE)
CB Caldas Da Rainha (POR) 1-0 GD Sesimbra (POR)
Group K
Porto Mendo (POR) 1-8 Grande Motte (FRA)
Group L
AD Torrejon (ESP) 1-9 SC Braga (POR)
BSC Servit (UKR) 6-5 Copenhagen BSC (DEN)
Group M
Dinamo Batumi (GEO) 3-1 ACD Sotão B (POR)
For full details on the Euro Winners Cup, including results, standings, stats and fixtures, head to beachsoccer.com.