The Russian club defended their title with a 6-3 victory over their old rivals SC Braga
---
– Kristall win a record 4th Euro Winners Cup
– Mauricinho scores 2 in final and claims 4th MVP award
– San Francisco finish 3rd on debut appearance
FINAL
Another Euro Winners Cup final, another Kristall versus Braga.
The fight for a record fourth European title got underway in fierce fashion, where physicality and speed were the themes of the opening period, but there were no goals.
The start of the second, however, was all about the Brazilians as Mauricinho hit two in quick succession to snatch the lead. Braga keeper Rafa Padilha wasn't far behind him with a rocket from his own area, and then a deflected Leo Martins shot looped over Maksim Chuzhkov to see the scores levelled.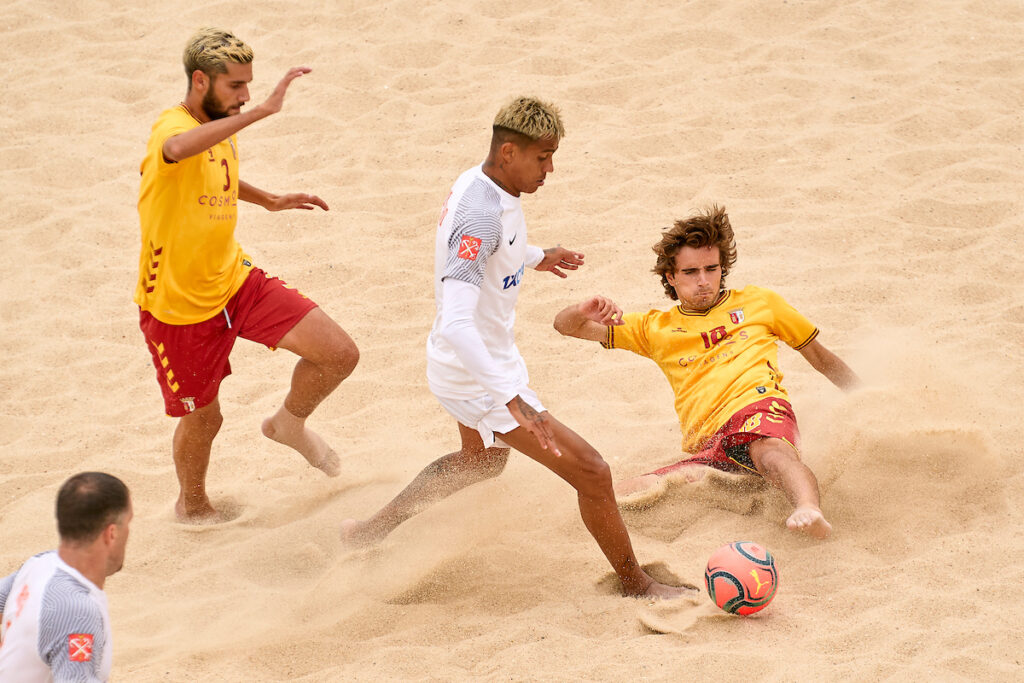 It wasn't until the final period that a gap started to form between the two dominant clubs in Europe. The Russians of Kristall joined their Brazilian teammates on the scoresheet as Remizov, Paporotnyi and Shishin took the tally for Schirinzi's men to five, while Braga hit a third through Filipe.
With Kristall in control, there was still time for one more goal, and it came in incredible style with just 52 seconds on the clock, where veteran Russian international Shishin leapt to catch an overhead volley from distance to take the final score to 6-3.
Both previous finals between the two had ended in penalty shootouts but, after losing their first game of the 2021 Euro Winners Cup campaign, Kristall lifted an historic fourth European title.
To add more trophies to the suitcases bound for Saint Petersburg, Mauricinho won his fourth – yes fourth! – Euro Winners Cup MVP award, and Chuzhkov took home the Best Goalkeeper award.
They were joined in the award ceremony by an incredible breakthrough talent, Bernardo Lopes (GRAP), who made his debut with the Portuguese national team last month, and netted no less than 18 goals in the 2021 campaign – remember the name!
The story of beach soccer dominance in Europe is far from over, but advantage Kristall..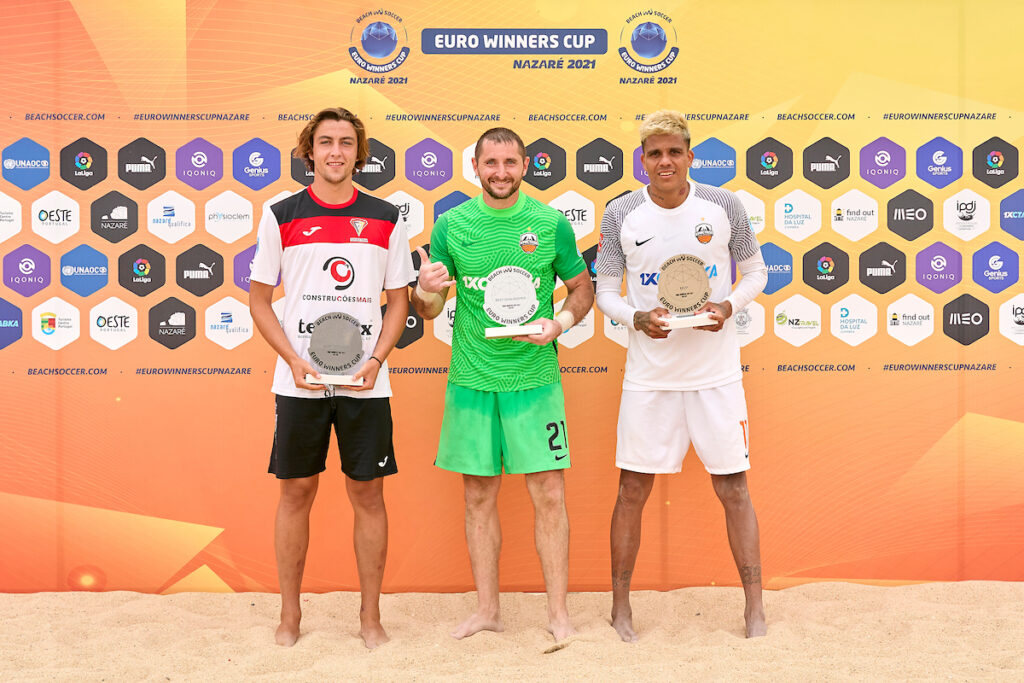 PLAYOFFS
Real Münster fell to the champions Kristall in the semi-finals, and their second third-place playoff in as many years saw them take on the last team to beat Kristall, Ramiro Amarelle's San Francisco.
In an entertaining game which had incredible goals, fierce individual battles as well as a remarkable example of FairPlay, the debutant Spaniards came out on top with a 7-4 win to take the third-place off the Germans.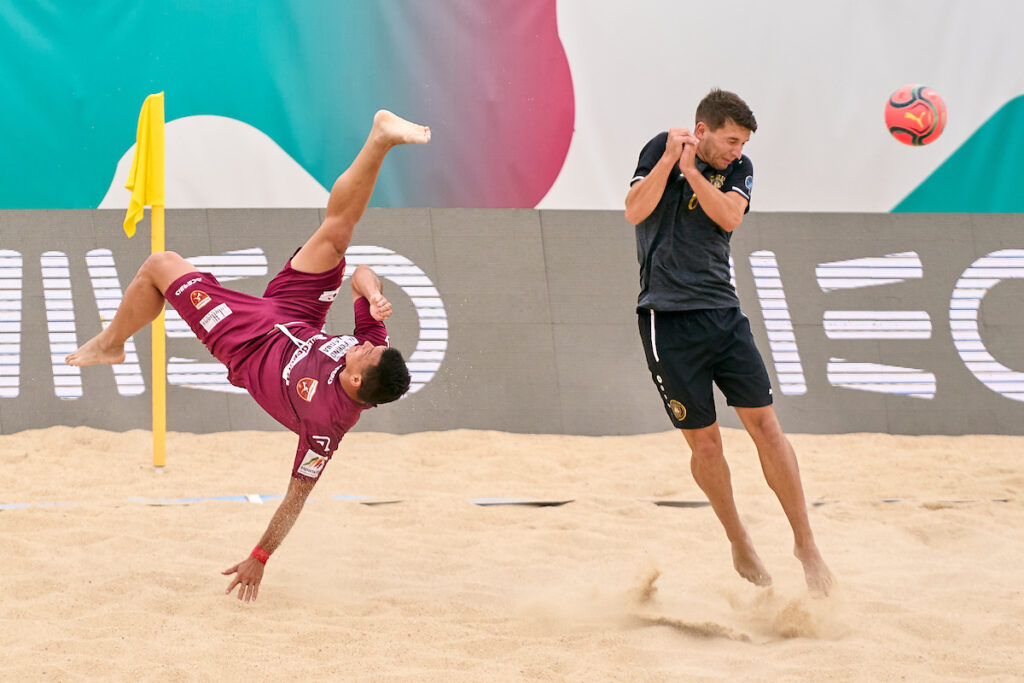 Lokomotiv, the first-ever winners of the Euro Winners Cup back in 2013, fought for fifth in an all-Russian battle against Krylia Sovetov. The 2020 Russian champions just edged the game thanks to Boris Nikonorov's late goal, ending this edition of the European champions in fifth place.
ACD O Sotão held on to the seventh-place finish that they won last year when they defeated Bulgarians MFC Spartak in a tense penalty shootout. The host club matched their best-ever finish, while Spartak took eighth, the highest EWC finish in their history.
Zborovskyi's late winner nicked 11th for two-time runners-up, Artur Music from Ukraine, while Moldovan club Nistru defeated Grande Motte on the final day in Nazaré thanks to doubles from Hapon and Cojocari to take 13th. Elsewhere, an historic meeting between the Casa Benfica clubs saw their first ever meeting end in favour of the House of Loures.
Spanish international Chiky, who was on amazing scoring form this campaign, hit a final-day hat-trick to take his tournament tally to 12.
Final Day Results
BSC Kristall (RUS) 6-3 SC Braga (POR) – FINAL
Real Münster (GER) 4-7 CD San Francisco (ESP) – 3rd-place playoff
BSC Lokomotiv (RUS) 4-3 Krylia Sovetov (RUS) – 5th-place playoff
ACD O Sotão (POR) 2(2)-(4)2 MFC Spartak (BUL) – 7th-place playoff
Individual Awards
MVP: Mauricinho (Kristall)
Top Scorer: Bernardo Lopes (GRAP)
Best Goalkeeper: Maksim Chuzhkov (Kristall)
For full details on the Euro Winners Cup, including results, standings, stats and fixtures, head to beachsoccer.com.