Houriya Al-Taheri, Head Coach of the women's UAE football team and the first female Arab FIFA-certified coach, turns her attention to beach soccer
---
There are few people who can match the innate and infectious passion for football that Houriya Al-Taheri has. A short conversation – or a swift scroll down her Instagram page – is all you need to see that.
As a coach, role model and leader in the world of women's football, Houriya is using her historic status as the first ever female FIFA-certified Arab to take ground-breaking steps in the development of the female game.
Born in Dubai, the 35-year-old coach of the women's UAE national football team has already attracted collaborations with huge sporting organisations such as FIFA, LaLiga and Nike in recent years, due to her achievements, her influence across the global footballing scene and her crystal clear visions for the future.
She was instrumental in the formation of the first women's football club in the UAE, and then the national team. She was the goalkeeper when the UAE won the WAFF (West Asian Football Federation) Championships in both 2010 and 2011, and has been the head coach since 2013.
She is changing the face of women's football in the UAE, Asia, and even worldwide, and now, for remarkable reasons that she explains in eloquent detail, Houriya is turning her attention to more to coaching and, excitingly, beach soccer…
We managed to secure a slot in Houriya Al-Taheri's incredibly busy schedule, between training the UAE women's national team and Dubai beach soccer club AFC, to discuss her story, motivations and visions for the future.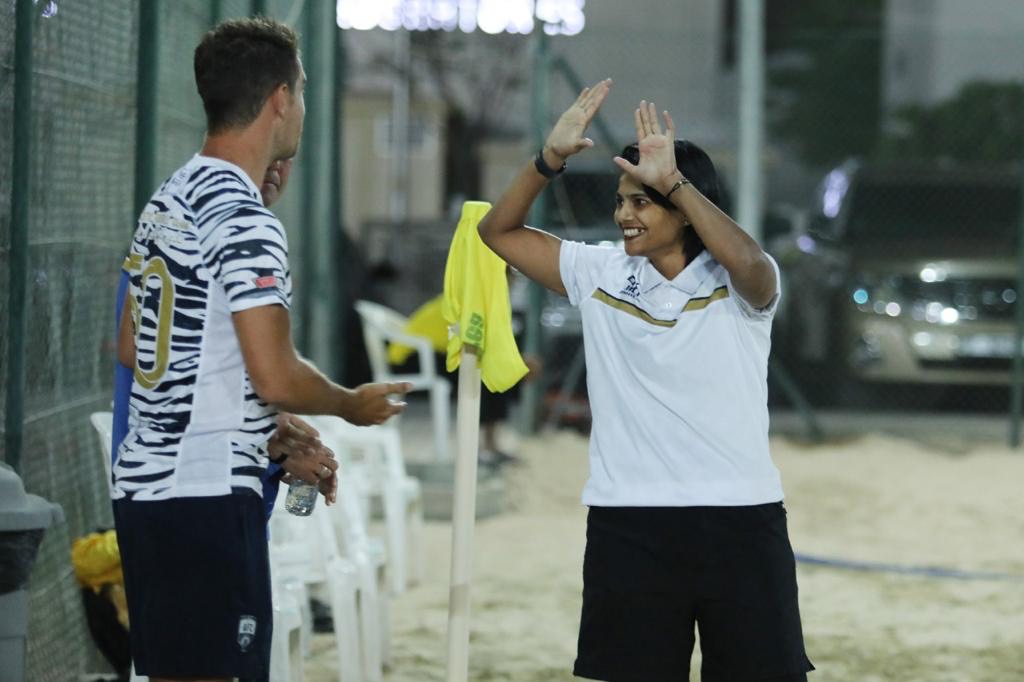 So you've not long finished the UAE national league there in Dubai. How was the experience coaching AFC Dubai? How do you rate the performance of the team?
Good! We are a new team. We have a lack of experience. We came for the big games. Our group was very difficult, but we learnt a lot. We improved every game and our team did very well. It was all about gaining experience and growing in the game, which we did.
Your story in football is incredible and it's now starting in beach soccer. Can you explain where it all began?
I just loved the game as a kid and playing football was a dream. I started playing in the street, on the beach because it was an easy game to play anywhere with my brothers. There weren't many girls playing football, because especially culture-wise it's not accepted that women can play sport and especially football, because "football is for men".
How did you deal with that?
I was lucky because my parents and my brothers were supportive. I could play anytime I wanted to play. I wanted to play for the national team and some clubs when I grew up but there were no clubs and no national team.
But now they have both, and you were involved in the beginning of both the first women's club and the national team.
Yes, when they started the first women's club in the UAE, I joined the team as the goalkeeper and I played for them for many years, and then when they created the national team I was part of that. But my dream was bigger than this. I wanted to play in a league and I knew that competition would make me grow as a player.
What made you switch to becoming a coach?
I wanted more girls to be involved. I realised that there are not many women coaching in my country and the main thing about being a coach is that I can influence and attract families to accept that their girls can play and be trained by women. It was a good beginning, I had a full squad of players, Emirati players, and I started coaching my first team in the league in 2013.
We started the first official league in January and the women's national team. I wanted to play so badly because I was younger at that time, but it was better to be a coach to reach my goal, because as a coach I knew I would have more power to inspire more girls to play.
This is a big sacrifice for someone whose dream was to play football.
I never gave up on my dreams or my goals; my goal was to represent my country, to have more girls playing and to have a strong competition. I wasn't involved as a player, but I reached my goal by creating a women's domestic league and competition.
And I knew it wouldn't be an easy journey because being the first is not enough, you need to be the best. Being the best is not always related to results, sometimes it's about the changes you make in people's lives.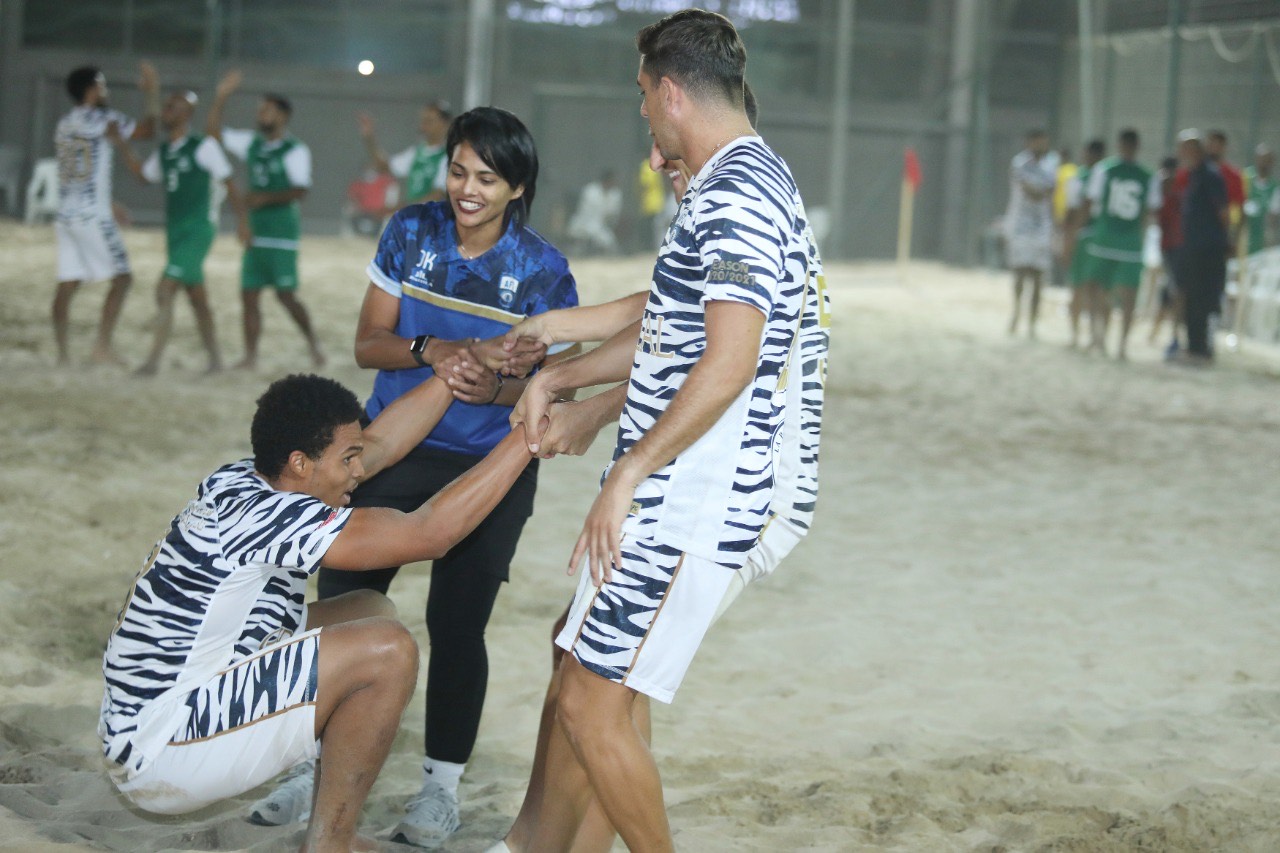 How did you go about starting your new role?
I decided to educate myself more because I was young and didn't have much experience like the big coaches, I had never been mentored by a top coach. I just decided to start from scratch.
I travelled and worked in different countries. I started my coaching qualifications very early in 2008. At around 30 I got my A licence, then I became a FIFA expert and now I can be a coach for coaches!
But still I wanted to have more experience because for me that wasn't enough.
I studied the FIFA Diploma, I went to the other side to management to improve my management and then I took my beach soccer certificate in 2014.
Do you think in the future you will have a women's beach soccer team? Would you play in it?
Definitely. This is one of the reasons I started coaching in men's beach soccer. This is one of my roles: to open doors for us. To prove to everyone that you can have women beside men and be successful. It's normal life. It's not about women or men, it's about the game. If you know the game, then you can lead in it.
I think that by being a part of this league there will be lots of new opportunities and the first step is to create something for women in beach soccer – and become the first in Asia!
It's always my aim to represent my country and I think that in my region we need to be the best and I need to represent the AFC (Asian Football Confederation). So, by taking a step forward, we will grow. Not just here, the whole Asian region will grow. Other countries will start growing.
Have you faced much opposition as a woman in football?
In the beginning I had a lot but I decided not to listen to them to be honest. I had my father, my brother and my whole family. So why should I care? I have no one to be scared of. I have the strongest part in my life – my family. Not just my family, but my father and my brother. This is very important in my culture when you have men to fight with you, you become stronger. I believe women and men together are stronger.
Everyone was there for me, I just needed to prove that I could do it. I accept challenges and struggles because it is part of the journey. If I cannot face them, then I cannot fix the stress. Life is not easy, but this is how life should be.
So it didn't affect your motivation?
I think judgment makes me a better person because when they say, "women shouldn't be part of this" I always think, "Why? Why shouldn't we be part of this? Because we're not educated enough? Because we don't have enough information? Are we missing something?"
What do I need to improve in myself? That's why I decided to go and get my education. I'm still doing it now. I got my beach soccer certificate in 2014, and with the national team, then my fitness licence. It is not a job for me anymore, it's about self-development.
It's not just about being on the field, I have many things off the field. I don't believe in people who say that management is not important – it is. As a coach I need to be a good manager.
You need to face many different situations. Coaching players means you're changing lives and mentalities so you need to have many different skills.
I read this quote from you: "We are raising a generation of women who love football who are the champions of the UAE and will one day, with hard work and dedication, become champions of the world." That's a huge ambition, is it really possible?
Yes. And I really believe this. I choose each individual player to become a national team player to fight against everyone. With respect to everyone, I will fight with this team until the end, because I believe they are champions. You don't need to win all the time because winning needs experience… and a domestic league. We are a very new country in this, but we will fight until the end.
It's not about which generation is going to be the first. One generation will achieve this goal. A goal is a goal, you don't change your goals. You change the way you reach them.
So when are we going to see a women's national beach soccer team in the UAE?
I think we will see it soon. I already spoke about this. My players are very excited and they asked me. They were the first influence, they said "coach, we are ready to play beach soccer". It's time for a beach soccer team.