The club from Zgierz achieved national glory by conquering both the men's and women's tournaments.
---
FC10 Zgierz and FC 10 Ladies are the new Polish champions! Last weekend saw the men's and women's teams win their respective leagues at the LOTOS Stadion Letniin Gdansk.
Men's final-four
FC 10 Zgierz started the weekend by beating Hemako Sztutowo six goals to two in the semi-finals and in the final they faced KP Łódź who eliminated defending champions Boca Gdańsk in the other semi-final with a seven-four win.
In the final, Brazilian Paulinho put KP Łódź ahead and Patryk Pietrasiak equalised in the first period.
FC10 had to chase again the result after Dmytro Medvid scored for Łódź, and they managed to do so with a strike from Danish international Axel Damm.
Pietrasiak netted his second goal to put FC10 leading for the first time, and the team from Zgierz managed to hold on to that result despite KP Łódź's attempts to invert the scoreboard and lifted their second trophy of the year after having won the Polish cup earlier this season.
Hemako Sztutowo finished third by winning against Boca Gdańsk in the third place play-off.
RESULTS
Semi-finals
KP Łódź 7-4 Boca Gdańsk
FC10 Zgierz 6-2 Hemako Sztutowo
Final
FC10 Zgierz 3-2 KP Łódź
FINAL STANDINGS
1. FC10 Zgierz
2. KP Łódź
3. Hemako Sztutowo
4. Boca Gdańsk
5. UKS Milenium Gliwice
6. LZS Dragon Bojano
7. Zdrowie Garwolin
8. Futsal & Beach Soccer Kolbudy
INDIVIDUAL AWARDS
MVP: Jakub Bistuła (Boca Gdańsk)
Best goalkeeper: Krystian Karolak (FC10 Zgierz)
Top goal-scorer: Marian Maciuca (LZS Dragon Bojano)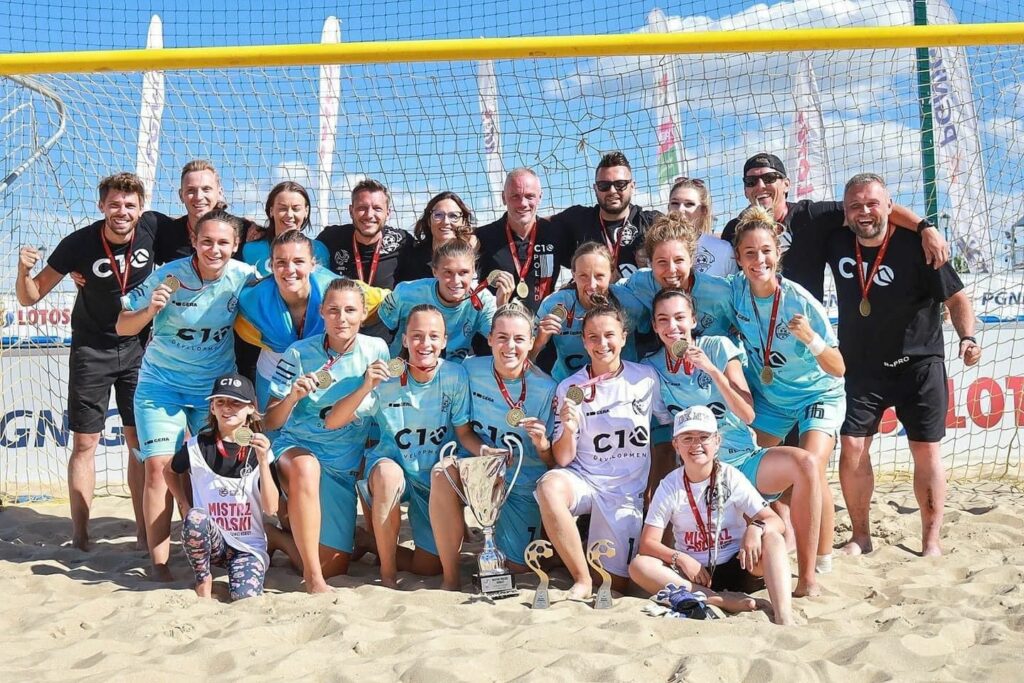 Women's tournament
FC10 Ladies put an end to a five-year reign of Lady Grembach Łódź as champions, winning against the titleholders in the semi-finals three goals to one.
Bogusław Saganowski's team faced Sparta Daleszyce in the final and, with a result of four goals to one, were crowned the new champions of Poland.
In the play-off for the bronze medal, Lady Grembach Łódź beat Pogoń Dekpol Tczew six goals to three.
RESULTS
Semi-finals
FC 10 Ladies 3-1 Lady Grembach Łódź
UKS Sparta Daleszyce 4-3 KS Pogoń Dekpol Tczew
Final
FC10 Ladies 4-1 UKS Sparta Daleszyce
FINAL STANDINGS
1. FC10 Ladies
2. UKS Sparta Daleszyce
3. Lady Beach Soccer Club Grembach Łódź
4. KS Pogoń Dekpol Tczew
5. Red Devils Ladies Chojnice
6. LKS Czarni Rząśnia
7. UMKS Saller Zgierz
8. MUKS Sokół Kolbuszowa Dolna
INDIVIDUAL AWARDS
MVP: Paulina Bednarska (FC10 Ladies)
Best goalkeeper: Dominika Dewicka (FC10 Ladies)
Top goal-scorer: Frederica Dall'ara (UKS Sparta Daleszyce)